James Spann is talented and renowned American television meteorologist and host of the WeatherBrain Podcast. Spann has gained wide recognition for his work in ABC's affiliation WBMA-Ld 33/40. His work and service at ABC is the main source of his income. James Spann's net worth is estimated to be $2 million.
James Spann was born on June 6, 1956, in Huntsville, Alabama, American. He was born to parents Carolyn Spann and Max Spann. When James was just seven years old, his father abandoned his family.
He spent most of his childhood days in his hometown Greenville, AL, and Tuscaloosa. Before becoming a meteorologist, he was playing rock n roll on the radio. And this was the place where he started his broadcast career. In 1973, he started working at WTBC radio.
Initially, Spann began his television journalism career in 1978 at WCFT in Tuscaloosa. The same year, he joined NBC affiliated WSFA as weekend sports and part-time weatherman.
In 1985, Spann was named Best Weathercaster by Dallas Press Club. Despite, having no formal degree related to weather.
Spann went on to work for Top 40 station WHHY-FM as afternoon drive announcer. Soon, Spann went on to be hired as the chief weatherman for WAPI-TV in Birmingham who made him one of the youngest chief weathermen in the country at the age of 23.
Moreover, his fame in Journalism sector raised when he made a live coverage of the deadly tornado that hits Tuscaloosa on December 2000. Later in 2001, he was awarded Emmy Award from the National Academy of Television.
James has been named Best Weather Anchor in Alabama for thirteen times including the Best Weather Anchor Award in April 2010.
Also, Spann is 32nd person to earn Certified Broadcast Meteorologist status from the American Meteorological Society (AMS). He is also the founder of The Weather Factory which provides weather data to various radio stations.
Adding to his successful career, he is founder and chairperson of the AllWorship.com, a non-profit organization that webcasts three streaming radio stations that feature worship music.
Additionally, James is a Chairman of the Board of Trinity Medical center and member of the University of Alabama College of Communication Board of visitors.
His voice and stats on the show, WeatherBrains podcast is liked by millions of fans.  Not to mention, he also leads Children's worship at Double Oak Community Church every Sunday.Importantly, as a meteorologist, he considers J.B Elliott as his mentor. Elliott was an employee of National Weather Service at ABC 33/40.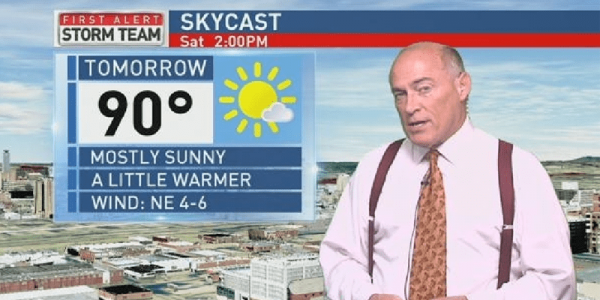 James Spann Forecasting Weather report at ABC 33/40.
Image Source– ABC 33/40
James Spann is a well-known name in Metereology sector and has struggled a lot for such success, fame, and money.
When he was just 22, he worked at FM station, and that job paid him $200 per week. Being a chief meteorologist, Chairman of a board of Trinity Medical and founder of The Weather Factory, James has earned priceless fame and millions of fans.
According to Glass Door, the annual salary of Chief Meteorologist ranges from $53,000-$126,000 and Average base pay of $81,889 per year. The salary includes yearly compensation ranging from $594-$8,777.  James with four decades of experience in journalism field earns more than the average salary.  James Spann net worth is estimated to be $2 million.
James Spann is married to Karen Spann for 36 years and has two children, James-Paul and Ryan Christoper Spann, together.
James Spann married to rush counsellor, Karen Spann on June 6, 1981.  Also, it was James birthday on June 6. James Spann's wife, Karen is a happy wife, and they have two children together. James-Paul (J.p) Spann, 33 years old,  is an elder son and Ryan Christopher Spann, 20 years old, is younger son.
Moreover, James and Karen are grandparents of a grandchild, Kason Paul.  Born on July 1, 2013, Kason is the son of James Spann's eldest son James-Paul Spann. Additionally, the Spann family lives in Birmingham, Alabama. And James younger son Ryan is a song producer at BlackBird studious.
Stay with us on SuperbHub for more Celebrity biography.
Published on 3/16/2017 and updated on 2/14/2018.