six-time Emmy award winner, Harris Faulkner is not a person we haven't heard about. Her voice sounds mesmerizing while hosting on her show Outnumbered Overtime. The show airs on FOX News, and it's all about conversation with celebrities. As an employee of Fox Entertainment Group, Harris Faulkner's net worth reaches around $4 million.
She doesn't limit herself up to anchoring on television as she is an author and a motivational speaker. Furthermore, she is the mother of two young daughters, Bella and Danika and wife of the reporter, Tony Berlin. Her successful career is a story that inspires lots of young people especially females. She knows the pressure and the way to handle those in between Male-dominated industry.
Best Newscaster award winner, Faulkner is one of the few black female anchors. Despite that, she is the one of the top anchors and news reporter in Fox News Network. Born on October 13, 1965, in the Harris family in Fort McPherson, Atlanta.
Childhood & Early Life
Harris Faulkner's father used to teach her the lessons that are essential to led success. Her father, Bob Harris was a retired lieutenant and Army Aviator of USA. Faulkner's mother, Shirly was a housewife who died in 2016 due to lung cancer. And due to death, she took leave for two weeks.
When she was young, she has traveled all over the world with her mother as her dad was in US Army. During that period her family migrated to Stuggart, Germany and then to Atlanta, Georgia.
Faulkner completed her degree in business economics and mass communication from University of California, Santa Barbara. After she finished her graduation, her struggle began.  In fact, she discovered that she loves to write. Then, she became a freelance business writer for LA Weekly and was getting $50 per article. Well, that was good to start with.
Career
Faulkner already had a kick-off to her career as a freelance writer. As she was good at communicating she didn't take much time to develop a network around her. Through her networking, she got the job with a cable access station where she got an encouragement to explore her story covering skills.
She got various opportunities including the Fox affiliate in Kansas City where she worked for eight years (1992-2000). Here, she also became a victim of sexual harassment.
But working for KSTP-TV in Minneapolis- Saint Paul for four years turn her life upside down. Faulkner was a member of an evening anchor team. Working for KSTP-TV, she won her first Emmy award of Best Local Anchor. Then she joined 20th century Fox's national News magazine, A Current Affair as a substitute host and a correspondent.
Her work at Fox Magazine attracted Chairmen Roger Ailes and called for an interview and liked her work. Afterward, she presented News headline updates on Fox News Live. She also was covering breaking News for two hours. Faulkner also became a substitute for Shepard Smith on The Fox reports weekdays.
Then in April 2014, she got the chance to co-host a show Outnumbered along with Sandra Smith. After co-hosting the show, Outnumbered for three years, she became the host of her own show named Outnumbered Overtime. Surely, the way she is progressing and taking long jumps, she will be adding millions more to her fortune.
Net Worth
Faulkner is one of the talented and experienced anchors at Fox News. Afterall, she is six-time Emmy award winner. In her excellent career, she had the fortune to take an interview with Olympic Gold medalists like Gabby Douglas and Gail Harris. That's really an achievement.
Due to such achievements, she surely is getting an adequate salary. Otherwise, an anchor or a reporter at Fox New gets an average salary of $45,265 annually. But the annual paycheck may range from $43,298-$47,235.  According to Career Trend, the median salary of Fox News anchor in 2012 was $55,380.
While in 2014, Fox Network was paying an average salary of $74,000. But the 2013 contract shows, Sarah Palin earned $250,000 in a year. Meanwhile, Megyn Kelly made $6 million, and Bill O' Reily was earning $17 million. So, we can assume her annual salary in a million to Harris Faulkner's net worth as she is an experienced candidate.
Harris gets much more than salary from the Channel. Undoubtedly, she is getting bonus, incentive, allowance, and compensations as her show, Outnumbered Overtime gets 1.6 million daily average viewers. Overall, Harris Faulkner's net worth is not less than $4 million.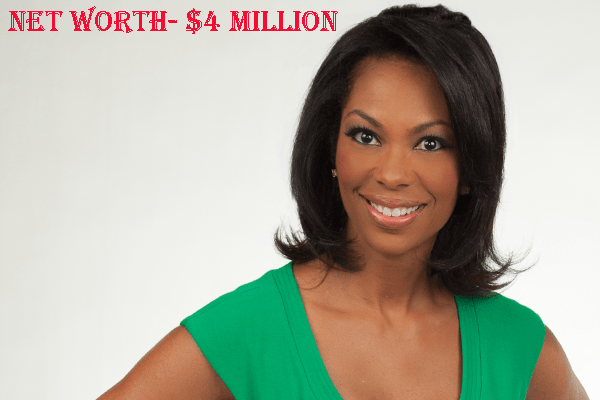 Harris Faulkner's net worth is approximately $4 million.
Image Source- Radio and TV Talk
Once Hasbro, a toy manufacturing company used her stardom, name, and likeness to make the plastic toy Hamster. It was unacceptable for her that led her to sue the Hasbro company for $5 million.
House and Car
Faulkner and her loving husband moved near New York City in 2005 as she was a Fox News weekend anchor. She used to spend Mondays and Tuesdays in a house with her family. As of now, she is full-time anchors for Fox News. And spent time with her kids whenever she gets chance. Not only this, but she is also a supportive mom as she moves with kids to support their teams.
For instance, she was at Rutgers University to her daughter Danika's team in Twilight Knight Gymnastics Invitational.
Harris with her kids to support Danika's team competing in the Twilight Knight Gymnastics.
Image Source- Instagram
Furthermore, Faulkner also likes to drive her car wherever she wants. Her car is the ultimate vehicle when she wants to travel, either with family or alone.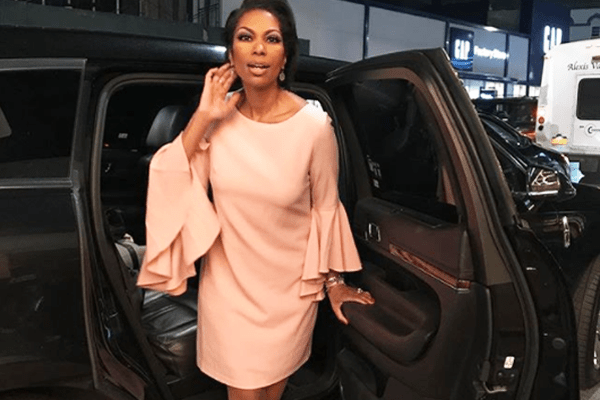 Faulkner is just stepping out of the car to attend a ceremony.
Image Source- Instagram
Earning from BookSelling
Harris Faulkner's net worth of  $4 million is accumulated from bookselling as well. She is an author of a book Breaking News: God has A Plan was published on November 1, 1999. In this book, she has described the difficulties that were obstacles at one stage.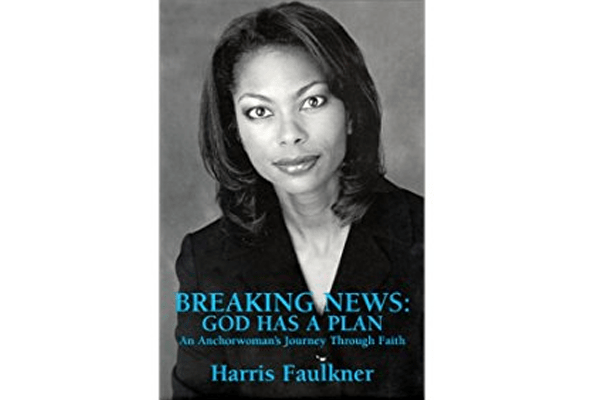 Faulkner is an author of a book, Breaking News: God Has A Plan where she has described her struggling Journey.
Image Source- Amazon
Furthermore, she has also described the harassment; she faced in Kansas City. On Amazon, the books cost $48.04 for the hardcover.
Marriage and Kids
Faulkner's happiness has doubled after she met husband like Tony Berlin. The couple met in Minneapolis where Harris was there to receive the Emmy awards. The sweethearts fell in love immediately. Then the relationship becomes stronger when they began dating and tied the knot in 2003.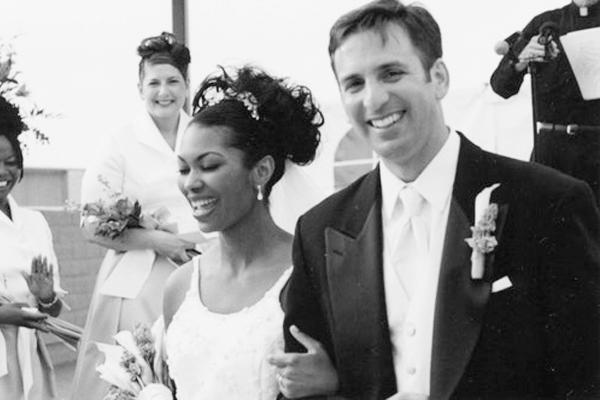 Bride Faulkner and Groom Berlin showing happiness through a smile.
Image Source- Star Tribune
On the wedding day, Bride Harris Faulkner was extremely beautiful in that white gown. Meanwhile, groom too was looking handsome in that wedding suit plus smile was adding charm. The climate too was romantic in Minnesota, and the wedding venue was decorated with flowers.
The couple took a wedding vows that promises the togetherness and finally kissed and sealed the marriage. After four years of marriage, the romantic couple was blessed with a baby girl, Bella. While the couple was again blessed with a baby girl, Danika in 2009.  Harris Faulkner's husband, Berlin is a decent husband and a father of two kids.
Read: Harris Faulkner Enjoys Family TIme
This family loves to go on hiking and tour various places. But every year they visit the historic Little Red Lighthouse along the Hudson River. And this is a favorite place of Harris.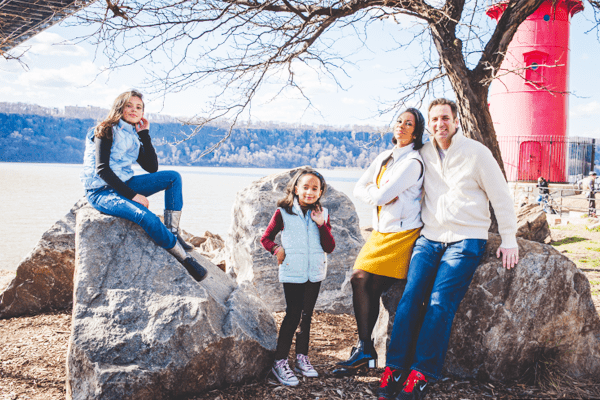 Every Year, Harris Faulkner's family travels the historic Red Lighthouse.
Image Source- Fox News
For such inspiring Biographies stay with us on SuperbHub.
This article was published on 5/14/2017 and updated on 4/5/2018.