Guy Martin is a famous British motorcycle racer, a television personality, and primarily a lorry-mechanic. He is best known for competing in Isle of Man TT events from 2004 to 2017.
Guy is well known for having broken his back twice during racing events. He broke his back during the 2010 TT and 2015 Ulster Grand Prix. Let's know more about the racer below.
Personal Life
Martin, who loves the country lifestyle, is committed to his beautiful long-time partner, Sharon Comiskey. The couple met back in 2010 in Ireland when Guy Martin's girlfriend was working for a publisher in DUBLIN.
Though the couple is not married, they welcomed a daughter named Dottie Martin on 23 October 2017, in Kirmington. The motorbike racer revealed in his autobiography " We Need To Weaken the Mixture" that the birth of his first child changed his life completely.  Furthermore, he loves his baby girl and can do anything for her.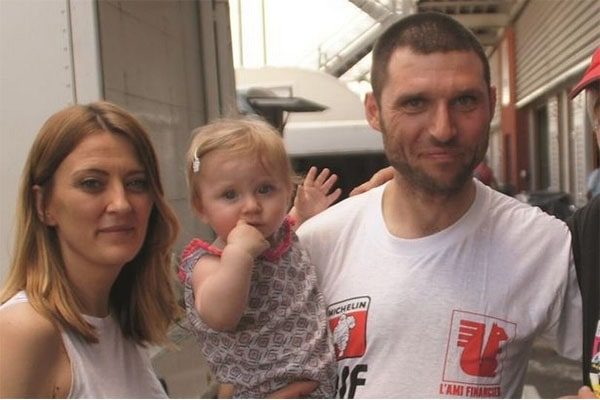 The family of three is extremely happy. Image source: Guy Martin. 
As of now, the beautiful family of three lives in  North Lincolnshire, peacefully enjoying the parenthood.
Net worth
Guy Martin's net worth was £1.5 million ($2 million), as per The Sun in 2018 which is possibly increased now. He makes his money through various races he competes in. He receives $18,000 per race in Isle of Man TT. Besides, he gets a substantial amount of money from his endorsements and racing companies.
Martin also owns a lot of cars and motorbikes. He has a 2013 Ford Transit van, Vox supercar, and various Vauxhall Astra vans. In the past, he also owned a BMW E46, Porsche GT3, and many more. He is also known for constructing his bikes and cars. Besides racing, Guy Martin's fortune is aided by his career as a television personality and an author.
The 2018 Isle of Man TT didn't see Guy Martin along with the likes of renowned riders like 23 times TT winner John McGuiness, Flying KIWI Bruce Anstey, and Englishman Ian Hutchinson.
Family, Parents, and Siblings
Guy Martin was born in Grimsby, Lincolnshire, England, on 4th November 1981. His father was a successful private motorbike racer, having competed in multiple Isle of Man TT races.
Guy Martin's father, Ian Martin, was forced to become a lorry mechanic to supplement his income. He also showed interest in trucks at the early age of 12. Similarly, Martin's mother, Rita Kidals was of Latvian heritage, her father having come to Britain in 1947 as a political refugee.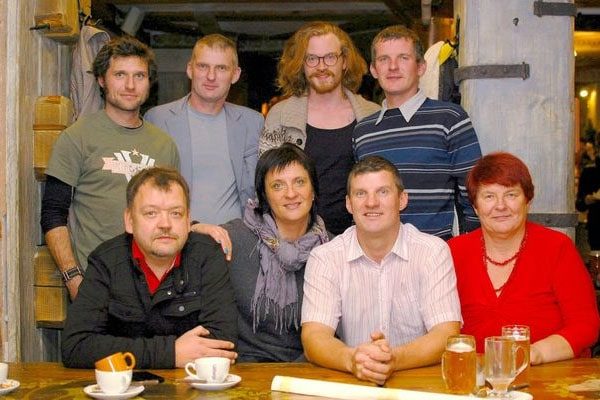 Guy Martin's family has a great historical background, and all of them are in the line of machinery. Image Source: Channel 4. 
The talented Guy grew up along with three siblings, two sisters, and a brother. Martin's brother, Stuart Martin, is also a truck mechanic and motorbike racer. Likewise, his younger sister Kate Martin was the first female mechanic in the BSB before she decided to start a family with Patrik Farrance. His other sister's name is Sally Martin.  Martin attended every Isle of Man TT along with his siblings until their father crashed in 1998. Guy Martin's father did not race again after recovery.
Early Life
Martin joined the Kirmington Church of England Primary School as well as The Vale Academy school. He left school at the age of 16. He again joined North Lindsey College on a motor vehicle engineering course but left after not being paid and taught the things he already knew. Martin started working as a truck fitter after leaving college.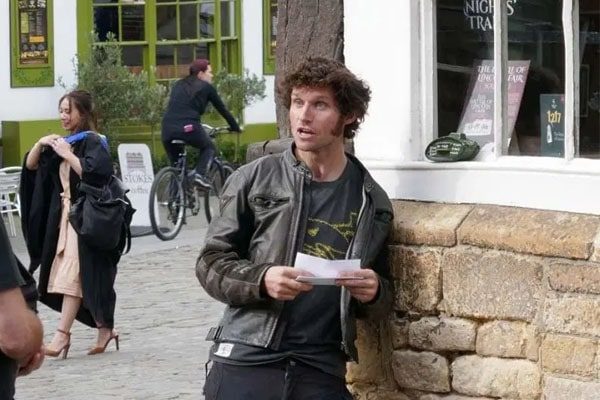 Guy Martin started his career pretty early. Image Source: Tim Wells-Cole.
Martin attended every Isle of Man TT race his father participated in until his father's crash, breaking his hip in the process.
Having started racing as early as 1988, Martin began to compete in Isle of Man TT events in 2004. He competed in the Isle of Man until 2017, attaining 17 podium finishes in the process.
Other than the Isle of Man, Martin has also competed in Formula 1, North West 200, and Southern 100. He also starred in the 2011 documentary Closer to the Edge.
Career
Martin started his career in Isle of Man TT at the age of 16, assisting Baz Kirk as a race mechanic. He moved to Ireland and joined Team Racing before moving to Uel Duncan Racing Team in 2004.
Throughout his career, Martin raced for several other teams, most notably AIM Yamaha, TAS Racing, Honda Racing, and many more.
| | |
| --- | --- |
| No. of TTs contested | 14 |
| Wins | 0 |
| Podiums | 17 |
Throughout his 15 years long Isle of Man TT career, Martin managed to claim as many as 17 podium finishes. However, he was unable to win a single Isle of Man trophy.
Crashes
Guy Martin is also known for having broken his back twice during races. The first crash occurred during the final race of Isle of Man TT 2010. He broke his back along with suffering chest injuries and fractures.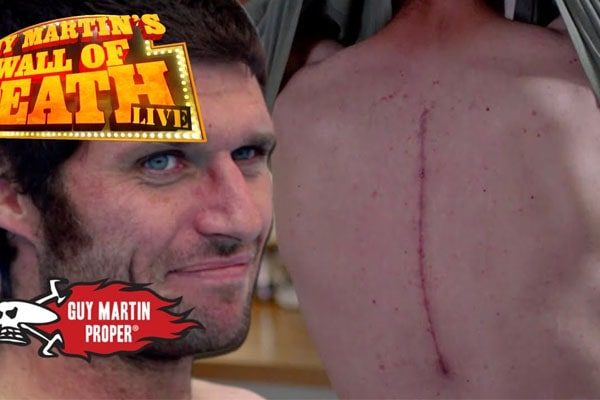 Guy Martin had several injuries throughout his career. Image Source: YouTube.
The second crash occurred during the 2015 Ulster GP while Martin was in pole position, fracturing his thoracic vertebrae. Rods were placed on his back and pins on his hand.
Despite rumors that he might retire after the crash, he returned for the 2017 Isle of Man TT.
Speed Records
Martin holds many speed records. Those records include as many as 3 Guinness World Records. He has the record for fastest speed in a soapbox, highest speed on a Wall of Death, and many more.
| Record | Record Issuer | Speed |
| --- | --- | --- |
| Fastest Speed on a gravity powered snow sled | Guinness World Records | 134.368 km/h (83.49 mph) |
| Fastest speed in a soapbox | Guiness World Records | 137.78 km/h (85.61 mph) |
| Highest speed on a Wall of Death | Guiness World Records | 125.77 km/h (78.15 mph) |
| Fastest hovercraft | British record | 121.04 km/h (75.21 mph) |
Writing and Television
Along with his racing career, Martin also has written three books. His first book was titled Guy Martin: My Autobiography and reached No.1 in Sunday Times' bestseller list. He further wrote When You Dead, You Dead, and Guy Martin: Worms to Catch, both being hugely successful.
Apart from being a writer, Martin is also a television personality. He has appeared in many TV documentaries. He has appeared in TV shows like The Boat the Guy Built, How Britain, and many more. In addition, Martin also has his cleaner company Proper Cleaner and also works for Moody Central as a truck fitter.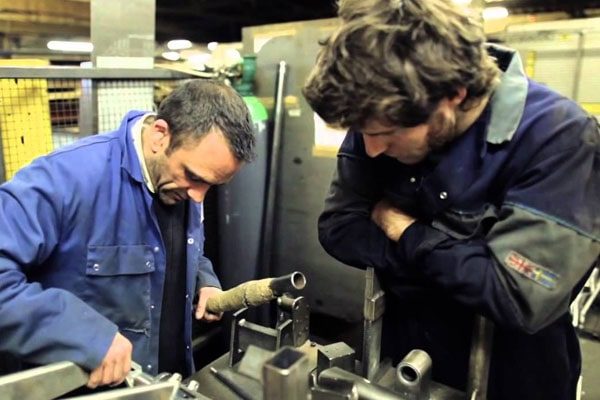 Along with his racing career, he has also appeared in numerous documentary shows. Image Source: YouTube. 
Guy's passion for machinery and speed is unworldly, and he has, by far, worked on a variety of automobiles; keeping the cars and race bikes aside, he has also made a replica of a WW2 tank. Martin had worked with a team of experts to create the 26ft long and 10 ft wide tank replica from scratch.
The 4 mph speed Deborah II tank was used in a documentary of Channel 4, which is housed at Norfolk Tank Museum accessible for visitors to see. Martin's adventure in building a tank from scratch is detailed in the documentary Guy Martin WW1 Tank released in 2017.
Guy Martin: The World's Fastest Van?
Martin has laid his fingerprints in many races and courses around the world, and his love for machinery and speed doesn't seem to fade despite life-threatening accidents. In the show The World's Fastest Van, Martin rebuilds his transit van and attempts to break the van lap record at the Nurburgring race track in Germany.
Similarly, the daredevil attempted to break another record in 2019, intending to prove his van to be the fastest. Martin was on a mission to break the van land speed world record, set at 177 mph. Also, the lap record for a van at the Nürburgring, the world's most dangerous circuit in Germany. He was able to break the lap record.
Furthermore, Guy Martin, with his strong attitude, smashed the Guinness World Record for the fastest tractor at a top speed of 153.7mph.
So by looking at his lifestyle and endeavors, we can clearly see that Martin is a high spirited person who loves challenges and speed.
For more News, Biography, and Entertainment, visit SuperbHub.