Hollywood rising star Greta Gerwig is an American Actress and Filmmaker majorly known for Damsels in Distress, Lady Bird, 20th Century Women, New Generation. Greta has wide-recognition around the United States for the association with the mumblecore.
Greta Gerwig was born as Greta Celeste Gerwig on August 4, 1983, in Sacramento, California, United States. She is the single child of Gordon Gerwig and Christine Gerwig.
Her father is an employee of a credit union on small business loans (financial consultant) and computer programmer. Whereas her mother Christine is an OB-GYN Nurse.
She joined St. Francis High School, an all-girls Catholic school in Sacramento, California. She ended up graduating from Barnard College with a degree in English and Philosophy.
Apart, she also gained a degree in musical theater from New York as she has a keen interest in dance.
Though Gerwig's enrolled in Barnard with a vision to gain knowledge on English and Philosophy, she ended up pursuing her career towards acting.
She embarked her career in the entertainment industry since 2006 making a debut appearance in the film LOL as Greta. Successively, she then appeared in numerous films and television shows.
After her debut movie LOL, Greta gradually appeared in another film titled Hannah Takes the Stairs (2007) both as an actress and co-writer.
The following year, she made several appearances in the film sector as actress, co-writer, co-director, and producer. Some of the remarkable films are Nights and Weekends (2008), The House of the Devil (2009), Mistress America (2015), Lady Bird (2017), and many more. Further, Isle of Dogs is Greta's post-production.
Overall in the film sector, she gained a huge appreciation for her work. Once, according to Bellazon, New Times critics A.O. Scott also commented on her as "an ambassador of a cinematic style that often seems opposed to the very idea of style."
Gerwig did not confine self within the movies only, she made a distinct appearance on television shows as well. Initially, she voiced the show titled China, IL (2011-15) and then apparently appeared in several shows. Some of them are How I Met Your Dad (2014), Portlandia (2015), The Mindy Project (2016), and Saturday Night Live (2017).
Gerwig made her stage debut, in May 2014, in Penelope Skinner's The Village Bike on Off-Broadway company MCC Theater, according to Hollywood Reporter. The show ran till the end of June. For the work, she got nominated for the Outer Critics Circle Award for Best Actress.
Gerwig won several awards like Satelite Awards, National Board of Review, Los Angeles Film Critics Association, Golden Globe Award, and so on. In 2014, Greta also served as a jury for the 64th Berlin International Film Festival.
At Athena Film Festival in 2011, Gerwig earned an Award as one of Hollywood's definitive screen actresses of her generation.
As an actress, Greta Gerwig's net worth is estimated to be $2 million as of 2018, according to Muzul. A professional career as an actress, producer, and director is the major source of Greta Gerwig's net worth.
Besides, several stage performances and tours are adding up the certain sum to Greta Gerwig's net worth.
Since late 2011, Gerwig is dating writer-director Noah Baumbach, following the success of drama comedy 'Greenberg'. The couple met in 2009 while casting for Greenberg and are dating to date.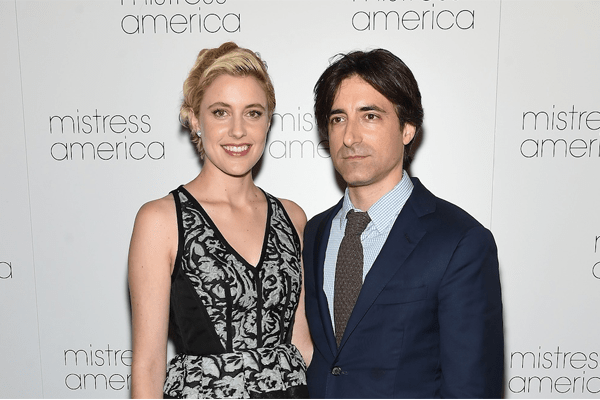 Greta Gerwig with her long-time partner Noah Baumbach
Image Source: IndieWire
However, according to Romper,  Baumbach was married to Jennifer Jason Leigh in 2005 after dating for four years. He is also a father of Rohmer with Leigh in 2010.
But, unfortunately, after seven months of Rohmer's birth, the couple separated citing irreconcilable differences.
Greta Gerwig has an average height of 1.72 m and body weight 124 lbs. She is an American native. She raised as a Unitarian Universalist and has German, Irish and English ancestry.
Stay in touch with SuperbHub for newer updates on celebrities.