Graciela Montes is all over the internet. Surf through the web for emerging stars and models and you'll definitely see the name of Graciela Montes. She is one of the most talented girls and also happens to own her own makeup business. Graciela hit the spotlight due to her sheer honesty about everything. So, let's dig some more information on her.
Graciela Montes is an entrepreneur who owns her own makeup business. She is of Mexican ethnicity. Residing in Los Angeles, California, she rose to fame by posting pictures of her hot body on the internet, gaining millions of fans in the process. Standing at 5ft 11inches tall, people adore her hot body and her fans are increasing exponentially.
Graciela Montes Dating life/Boyfriend
Graciela is very open about her dating life. She once revealed about her boyfriend that he taught her Armenian language. It led to speculation that her boyfriend is an Armenian guy. But, she posted a picture on her Instagram on Valentine's day with the caption #singlelife leading many to believe that they might have broken up.
However, she finally disclosed her relationship status. She revealed that her boyfriend used to be a Californian rapper and producer Mally Mall. She also shared a picture of them kissing.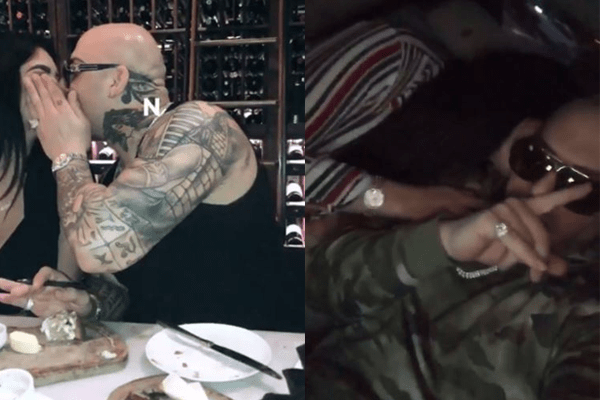 Mally Mall and Graciela Montes kissing.
Image Source: Graciela's Instagram
For those curious about Mally Mall, He is a record producer and rapper and owns the label "Mally Mal Records". He has collaborated with top artists like Snoop Dog, Justin Bieber, Tyga, Drake, Chris Brown and many more and is worth around $20 million.
Mally is known for having many relationships over the years. He previously had an on and off relationship with his longtime girlfriend Nikki Mudaris. But he allegedly cheated on Nikki with his ex-girlfriend Masika Kalysha.
But it seems now that the two have broken up as the two are no longer seen together. They have also removed all references of each other from social media leading us to believe that the two have parted ways.
Graciela has revealed that she was engaged twice before, but information on only one of them is known. She entered the glamour industry after calling off her second engagement. When asked about her ex-fiance, she replied:
'All started after I left my ex-fiance. I started becoming more confident, taking more body pictures, something that he never allowed. When my pictures became popular, I started sharing my stories with other girls.'
Graciela Montes Net Worth, Earnings From YouTube and Makeup Business
Graciela Montes' Net Worth is well over $2 million as of 2018. She makes her money as a web star i.e. posting videos and photos on YouTube, Instagram, amongst others. She also makes additional cash through her business ventures. Graciela mostly sells makeup items like eyeliners and other stuff on her website.
Mexican-American Graciela is often seen visiting bars and traveling to new places, so her income must be pretty high. She owns an iPhone X and as seen on her Instagram and drives around in her luxurious white Mercedes car.
Graciela recently bought a Lamborghini Aventador S as well and was seen driving around in it. The car costs around $417,650.
Graciela Montes Body Transformation/Surgery
The reason Graciela Montes stands out from the rest of the hot girls on the internet is that she has been open about her body transformation and surgeries, which is pretty rare.
It helps her connect with the audience on the web. She openly stated that she has no problem with conducting surgery on her body parts she's not comfortable with.
Graciela was almost 300 pounds before but now has a slim and perfect body. She lost her weight and became slim trim at the age of 18, as she underwent gastric bypass surgery, which happens to be her first surgery.
She further underwent 3 cosmetic surgeries to maintain her perfect body. The first of those was done by a Beverly Hills doctor, who unfortunately botched it. Ater surgery, she did multiple-cardio and elliptical to stay fit.
For more News, Biography, and Entertainment visit SuperbHub.