Ghida Fakhry is an International Broadcast Journalist and hard news program presenter of TRT World in Washington, DC. Fakhry has actively involved in the field of communication and has experience as a reporter, news anchor, columnist/opinion writer, and moderator.
Fakhry covers New York and the US for AL- Jazeera. She was a primary anchor at Doha, Qatar. She is a contributor to Huffington Post and acts as moderator at UN conferences and other global forums. Ghida also hosted an award-winning documentary Witness. Ghida Fakhry net worth is amassed from her astounding Journalist career.
Fakhry grew up in a cosmopolitan environment and was born in Ghana. Her father had a successful pipe and plastics factory. She grew up in Beirut and Switzerland.
Ghida attended Richmond University, London for her undergraduate degree. She holds a master's degree in Near and Middle Eastern Studies from the University of London with distinction in 1996.
The Israeli invasion of Lebanon in 1982 forced her family to move from West Beirut to the Christian quarter of East Beirut. She recalls anger about the influence of the United States.
She also received a Master of Arts degree in International Relations.
Ghida Fakhry is bilingual and is fluent in English, Arabic, French and Spanish.
Initially, Fakhry started her career in the London-based daily Asharq Al-Awsat as a political correspondent. Later she became New York Bureau Chief and Columnist, covering annual General Assembly meetings of UN.
Fakhry is currently working in Washinton DC as a presenter of a current affairs program for the International broadcaster TRT World.  She is also a contributor to Huffington Post and regular moderator at UN conferences.
She had covered the 9/11 attacks as New York Correspondent and Bureau Chief for Al Jazeera in 2000. Fakhry has conducted several interviews in Washington D.C. with U.S. Secretary of State, Colin Powell, Secretary of Defence, Donald Rumsfeld and officials of Pentagon.
In 2003, Fakhry reported from Baghdad and Kabul after the US-led Invasion. She has interviewed Muammar Gaddafi, Shimon Peres, Hamid Karzai, Evo Morales, Mary Robinson, Kofi Annan.
Aljazeera English launched in 2006, she then served as a lead anchor for the broadcast center in Washington D.C. Fakhry presented the daily "Newshour" conducting high-level interviews for "Talk to Aljazeera". She is in love with her work and is dedicated to what she does.
Fakhry in November 2008, had co-anchored the 12-hour live coverage of the US presidential election from Washington D.C.  She worked as Senior News and Programs Presenter in the channel's Doha headquarters in 2010.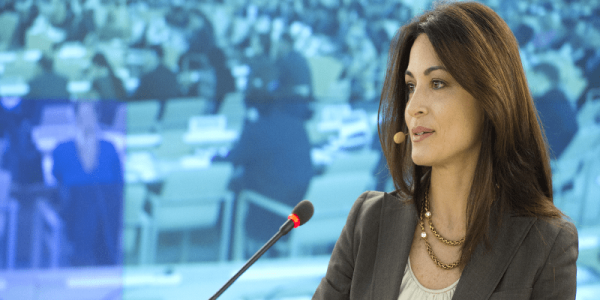 Ghida Fakhry addressing during the Human Rights Day 2013, Palais des Nations.
Image Source: Violaine Martin
Ghida has done extensive reporting from the United Nations in New York, covering Security councils and annual sessions of the General Assembly.She had traveled with Secretary-General Kofi Annan in the Middle East and Africa. She conducted several in-depth interviews with General Annan throughout his 10-year tenure.
Ghida Fakhry a versatile Moderator
Apart from her career as Journalist, Fakhry is an experienced and accomplished moderator who facilitates high-level debates and panel discussions on a broad range of topics and subjects.
Fakhry specializes in subjects including:
International relations
Peace and security
Human rights
Sustainable development
Women Empowerment
Renewable Energy
She harnesses her Journalistic experiences with a sharp and distinct style to challenge her interviewee and discusses tactfully on timely topics. Fakhry moderates high-level events organized by the UN and its specialized agencies, the world bank, European Union, government and NGO's.
Policy and opinion makers include personnel from Head of State/Government, academics, social activists and Business Leaders. As a moderator, a substantial amount is added to Ghida Fakhry net worth.
With 20 years and more experience in the field of Journalism, Ghida Fakhry net worth amasses in millions. According to Paysa, Al Jazeera's correspondent average network salary is $ 108k representing total compensation, Base salary, Equity and annual bonus.
She also worked at Doha as a primary reporter which might have added substantial bonuses to Ghida Fakhry net worth. Her career as a moderator also adds a heavy sum of amount to her net worth.
Her present work as Broadcaster for TRT World should also provide a healthy money to accumulate Ghida Fakhry net worth to around $2 million according to unconfirmed sources.
Apart from her Professional life as a Journalist, Ghida seems secretive about her personal life. She is keeping her private life in the limelight and hasn't revealed whom she's dating.
Ghida is rumored to be dating her mysterious boyfriend whose identity is disclosed for now. Apparently, she is having a long-distance relationship with her unknown boyfriend.
Also read Ghida Fakhry mysterious boyfriend and dating.
Stay with SuperbHub for more Celebrity NEWS.