Legends create legends, and we can all accept this fact. Billie Eilish, who managed to charm David Grohl's daughter, Violet, has a wonderful spine, her elder brother, Finneas O'Connell.
Here's everything you need to know about this charming young man more.
Relationship, Dating, and Girlfriend
Finneas O'Connell is a handsome young man fluttering the hearts of millions through his looks and his songs. But his heart blushed only after meeting a beautiful YouTuber, Claudia Sulewski.
Finneas O'Connell's girlfriend Claudia is a Youtuber and social media influencer. Moreover, she shares her life with 1.4 million Instagram followers and entertains 2.07 million subscribers on her YouTube channel. She has earned a truck-load of success at this early age.
Billie Eilish's brother Finneas O'Connell is totally smitten on his lover, Claudia, since the first meeting as he wrote an entire song dedicated to her. Aww!! That's sweet! What's sweeter are the vlogs, Claudia shares of them together in her channel.
Well, the couple started dating since 2018 and are going strong even today because we know the love birds of this generation. Finneas O'Connell shares pictures of them together and GOD!! they are irresistible. The anniversary caption is long, cute, and sentimental.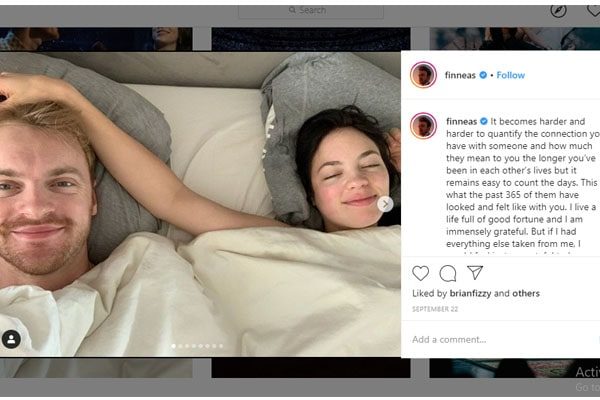 Finneas O'Connell shared goofy pictures of him and his girlfriend, Claudia together. Image Source: Instagram. 
We hope for the best to this couple and hope they last more than the eternity itself.
Net Worth and Earnings
Finneas O'Connell is a diamond with many edges. He not only settles for one but has widely spread career choice. However, all of them revolve into the Entertainment Industry. The singer, Finneas O'Connell's net worth is estimated to be at $4 million.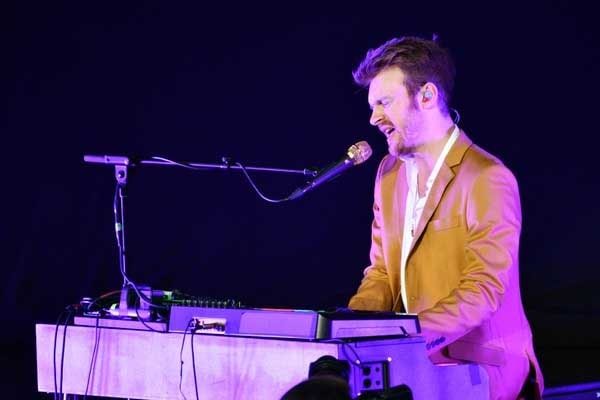 O'Connell is an extremely talented man with an angelic voice. Image Source: Spin.   
The lavish lifestyle and the touring proves that O'Connell has earned an impressive amount. The successful singles and co-written songs with his darn good sister add to his bank account.
Moreover, Finneas O'Connell earns from his movie and TV series credits as well. He has starred in movies like Life Inside Out and Bad Teacher. Along with the film, he also appeared in TV series. Some of his TV credits are Modern Family and Glee. Thus, all the movie credits, Billboard chartbusters, and series credits earn him well.
Besides his income from music and movies, Finneas earns dimes from his merchandise as well. Some of the products are listed below with their respective prices:
Blood Harmony+ Merch Bundle: $69.98
Vinyl Bundle: $57.99
Finneas long sleeve + digital download: $34.00
T-Shirts: $20
Hoodie: $35
Besides, Finneas paid $2.73 million for a 95-year-old Spanish-style mansion in Los Angeles. He bought the house in 2019.
Family, Parents, and Siblings
Finneas was born in a musical family. He has confirmed that they were always surrounded by musical instruments. And thus, their parents were always into music and entertainment.
Matter of fact, Finneas' mother, Maggie Baird, is an actress and vocalist. She is known for her movie Life Inside Out. As of now, Maggie goes around with her daughter Billie Eilish assisting her in her tours.
Patrick O'Connell, the father of junior O'Connell, is known for his role in The West King (1999). We all know Billie Eilish is the younger sister to this gigantic talented man, Finneas. They have written songs together and outgrown on one another.
Even today, the happy family of four share a strong bond in a wonderful musical environment.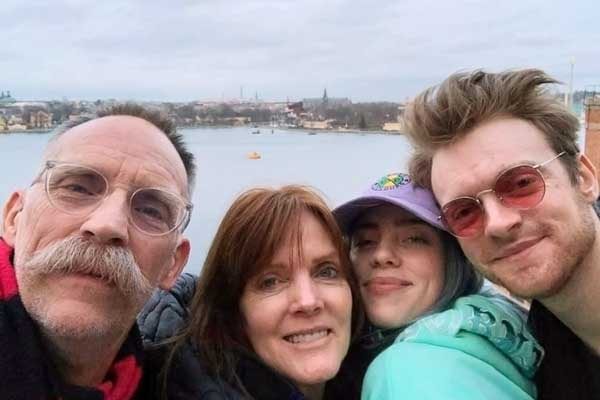 Finneas' family share an amazing bond together and share their spare time. Image Source: Rolling Stone.    
Finneas O'Connell, as a good brother he never forgets to wish his sister on her birthday as well.
Early Life and Career
Finneas O'Connell was born on July 30, 1997, in Los Angeles, California. The extremely talented man was born into a musical family and was always surrounded by music. Billie and Finneas share a good bonding with each other.
Furthermore, Finneas was homeschooled along with his sister Billie Eilish. Later, he started writing songs at the young age of 12 and appeared in a musical comedy TV show, "Glee," at the age of 15.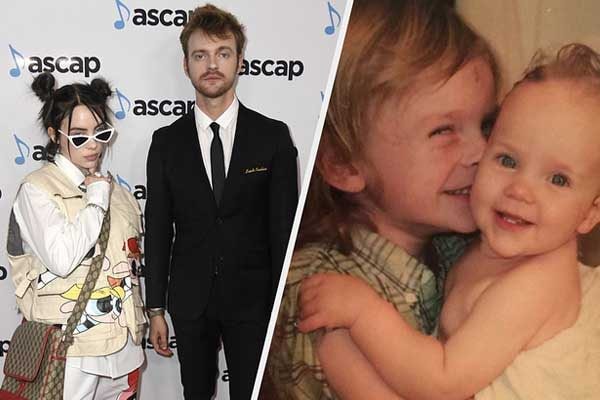 Finneas O'Connell shared his childhood memory with BuzzFeed in July. Image Source: BuzzFeed.   
Regarding his career, Finneas owns his own band, The Slightlys, and is a lead vocalist plus songwriter. According to sources, "Ocean Eyes" was originally written for his band, but Billie debuted from the song.
In addition, Finneas' first single "New Girl" was released in 2016. Today, Finneas writes and produces songs for his sister Billie. Similarly, Billie must feel victorious to have such a talented man as a brother.
Finneas O'Connell as Billi Eilis's Brother
Billie paid tribute to her brother in the Grammy's, explaining how she wouldn't be here if it was not for her brother Finneas. In return to that, Finneas replied that being a brother to Billie is just enough for him and all he ever would want to be.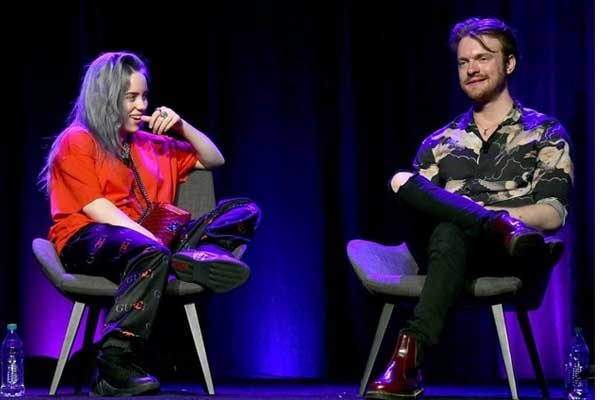 Billie Eilish and Finneas O'Connell support each other. Image Source: Eonline.    
Thus, this beautiful bonding proves how connected they feel and how thankful they are for one another's existence.
What's More?
The multi-talented Sapien has the brain to learn and play complicated musical instruments such as piano, keyboard, guitar, etc. Moreover, he is nominated for 5 Grammys, two for "Bad Guy," another for "When we all fall asleep, Where do we go? And last for the producer of the year.
Finneas always remain behind Billie and supports his sister eternally and continue to blossom together. The sibling-duo went up together and hope they continue to rise.
Make Sure To Follow SuperbHub For More Updates On Celebrity News, Entertainment, Biography, and many more.