FaZe Rug is an American YouTube vlogger. His real name is Brian Awadis, plus he is the Director of the famous YouTube gaming clan FaZe Clan.
Born on 19th of November, 1996 in San Diego, California. Rug has been active in YouTube since 2012.
FaZe Clan has a number of members. FaZe Banks, Alissa Violet, RiceGum are some of the widely known associates of the famous FaZe Clan.
Among all the FaZe Clan members, Brian also known as FaZe Rug has the highest numbers of subscribers with over 8.5 million subscribers. He began his YouTube channel when he was in the first year of his college. And after a couple of months of college, he made YouTube his full-time job.
FaZe Rug Net Worth and Earnings                             
The YouTuber FaZe Rug has an estimated net worth of $3 million. A huge sum of money comes as a revenue from his YouTube channel.
According to Social Blade, Rug's earning ranges from $14.7K-$235.3K and his yearly earning ranges from $176.5K to a whopping amount of $2.8M. So it's no surprise that Rug has a net worth of $3 million.
The thing is his most viewed videos are of his vlog and prank videos rather than his Call of Duty videos.
The 21-year old has also got an eye for expensive cars. He owns a silver-colored Lamborghini and a white colored Range Rover.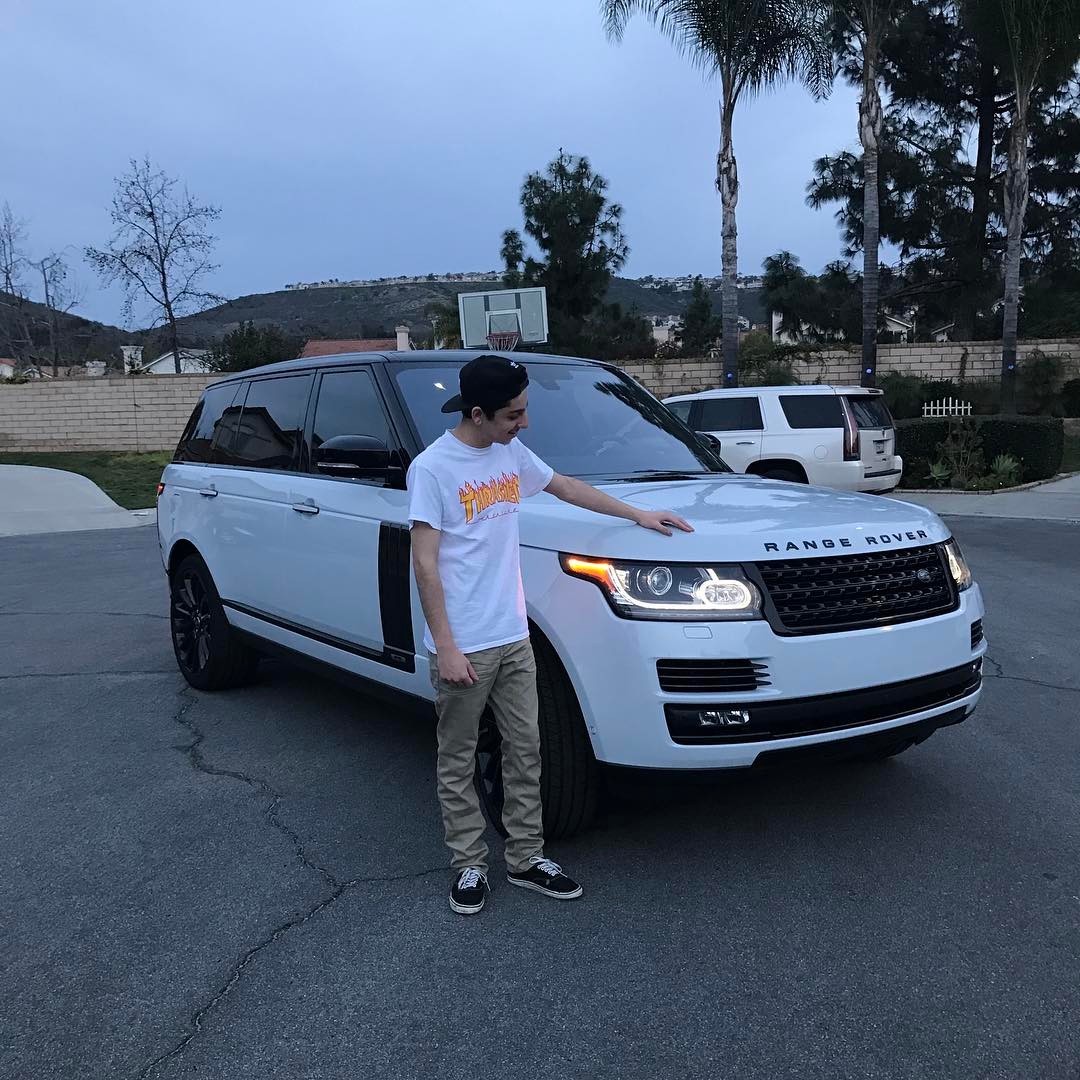 FaZe Rug posing in front of his luxurious Range Rover.
Photo Source: FaZe Rug's Instagram.
Lamborghini would cost around $200,000 and the Range Rover would cost around $87,350. Plus he recently bought his mother a Mercedes SUV which costs around $49,500.
The vlogger Faze Rug can afford all these exotic cars thanks to his $3 million net worth.
FaZe Rug Relationship
The director of FaZe Clan has a pretty confusing relationship. As he is always with Molly Eskam, an internationally published model. Rug and his alleged girlfriend Molly Eskam are seen frequently together hanging out.
Are they in a relationship or not? Are they dating or is it just a fling? A lot of question raises in mind seeing the pair together. After seeing his fans in dilemma about his relationship status, he uploaded a video regarding his relationship with Molly.
In the video, he revealed that even he is not sure of what to call the relationship between those two. Rug too is into her plus he has never called Molly his girlfriend.
Before being with Molly, Rug was dating a girl named Kaelyn and even before that had a girlfriend named Jenny.
Looks like the 21-year old YouTuber has got quite a number of girlfriend under his sleeves.
FaZe Rug Family
Just like many of us, Rug too has got a small family. His parents also have a YouTube channel under the name of "Mama Rug and Papa Rug". And he has also got a sibling named Brandon Awadis. His mother's name is Sana Awadis and the name of his old man is Ron Awadis.
Brandon is also a YouTuber and has his own YouTube channel.
It is as if the whole Awadis family has taken YouTube as their main profession, and seeing their lavish style we can clearly presume that it has been suiting them well.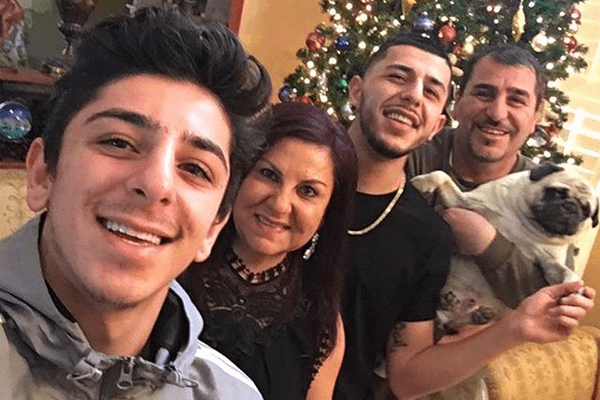 FaZe Rug with his family. Mama Rug, Papa Rug, and his sibling Brandon Awadis. Image Source: Instagram/Faze
It surely is a big feat for someone aged 21-year old to achieve such great things at such an early age, and Rug's parents must be so proud of him.
For more News and Entertainment follow SuperbHub.