Well, everybody knows the unique style of rapping of Rap God Marshall Bruce Mather a.k.a Eminem. He has overcome bizarre situations throughout his life. Eminem is the father of three daughters, where two are adopted, while one is biological.
Among three, Eminem daughter Alaina Marie Mathers is one. She is an adopted daughter of 13 Miles star, Eminem. She is a biological daughter of Eminem's ex-wife's twin sister Dawn.  Also, she is one among three children from Dawn.
Born on May 3, 1993, she was adopted by Eminem and that time wife Kimberly Ann Scott in 2000s. But the reason behind her adoption is still confusing. It is reportedly said that her biological mother was addicted to drugs. And she died in 2016 due to the overdose of Heroin.
Furthermore, her mother Dawn was a serious user of drugs, and she was constantly in and out of prison. Finally, she was found dead in Motor City Trailer Park due to the heroin overdose.
Facts about Ariana Marie Mathers father are disclosed due to legal issues. Her name, Ariana Marie Mathers was given to her during her adoption process. And her birth name is Amanda Marie Scott.
Alaina was unfortunate that she didn't get a chance to spent her childhood with her siblings Adam and Patrick Scott. But she was fortunate as Rap God Eminem adopted her.
Even if Alaina is adopted daughter of Eminem. She calls him Uncle. She is also mentioned in Eminem's song Mockingbird. He has referred her saying "Lainy" in the lyrics. The lyrics also say, "Uncle's crazy" referring to Alaina.
He is not Alaina's biological father, but he never fails to show love and affection towards her.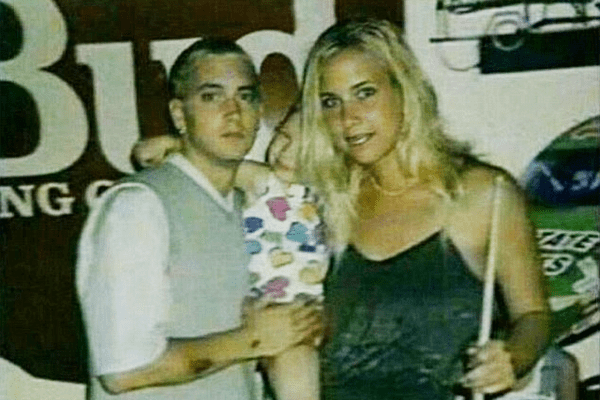 Caption- Eminem with wife, Kim, and daughter, Alaina.
Image Source- Daily Mail
Earlier, Alaina Marie Mathers mother, Dawn, and Kim ran away from the house at the age of 13. They went to Eminem's house while Eminem was fifteen. Eminem's mother Deborah was the one who took care of twin sister as her daughters.
Alaina has siblings Adam and Patrick Scott from biological mother, Dawn. While Hailie Jade Scott and Whitney Scott Mathers. Moreover, Whitney is a daughter from Eminem's ex-wife Kim and Eric Hatters.
Talking about Eminem's relationship, he married twice and divorced twice and divorced twice with the same girl. First, the school sweetheart, Eminem, and Kim got married in 1999. But, Eminem daughter Hailie Jade Scott was born before the marriage in 1995.
The relationship didn't take the height, and they divorced in 2001.  Second, they remarried in January 2001. But this time the relation stood for only four months. Eminem filed a divorce in April.
The divorce resulted in the agreement of joint custody of daughter Hailie, Alaina, and Whitney.
Eminem Daughter Alaina Marie Mathers already has a priceless fortune of Eminem as her father. Regardless of her activity in the showbiz industry, she has a million fan.
Furthermore, the mainstream source of income is maybe from Eminem's net worth of $190 million. While Alaina Marie Mathers father's income source is mainly his rapping career.
Eminem is an owner of a mansion located in Michigan. In 2003, he bought this house at whopping $4,750,000. House posses six-bedroom, nine and a half bathroom. More than $4.5 million Michigan Mansion currently values $1,999,000.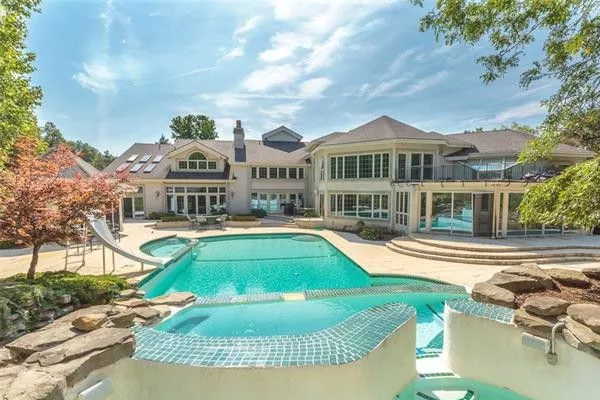 Caption- Eminem's Michigan Mansion for which he paid more than $4.5 million.
Image Source- Curved Detroit
Meanwhile talking about his car, here is the list of Eminem's car and their current price.
| Name of the Car | Type of car | Cost |
| --- | --- | --- |
| Aston Martin V8 Vantage | Luxury | $45,000 |
| Ferrari 575 | Sports | $45,000 |
| Porsche Carrera GT | Sports | $749,900 |
| Ford GT | Luxury | Starting from $453,750 |
| Audi R8 Spyder | Sports | Starting from $164,900 |
| Porsche 911 GT3 RS 4.0 | Sports | starting from $187,500 |
| Porsche 911 GT2 RS | Sports | $293,200 |
| Lamborghini Aventador | Sports | Starting from $488,895 |
| Porsche 911 Turbo | Luxury | starting from $161,800 |
| Ferrari 599 GTO | Sports | $699,000 |
| Ferrari 430 Scuderia | Sports | $279,990 |
Alaina is a native American and belongs to white ethnicity. She has an eye-captivating personality and an attractive hazel colored eyes.
Alaina has a long dark-brown colored hair.She is currently at age 24. She is 172.7 cm tall with a body weight of 132.2 lbs.