Ember Moon is an American professional wrestler who works for WWE, where she is assigned to the RAW brand. She previously was a part of WWE's developmental territory NXT, where she was a one-time NXT Women's Champion.
Before joining WWE, Moon, whose real name is Adrienne Reese, competed in various independent promotions like Shimmer Women Athletes, Women Superstars Uncensored, Anarchy Championship Wrestling, amongst others. In the latter promotion, she won the ACW American Joshi Championship thrice
Ember is married to another professional wrestler Matthew Palmer. Matthew wrestles in various independent promotions but is best known for his work in Anarchy Championship Wrestling (ACW). The two got engaged in 2015 and later got married as well.
Net Worth, Earnings From WWE Events, Merchandise Sales
As of 2018, Ember Moon's net worth is $1 million dollars. She makes most of her money through the salary she receives from WWE. The average salary of a WWE star is around $500,000, with bigger stars making even more than a million (John Cena and Brock Lesnar made $10 million and $6 million respectively in 2018.)
Unfortunately, women in WWE do not have the same salary as the men as they receive far less money. A women performer receives around $250,000-$400,000 per year. So Ember Moon must have received that much cash as her salary.
Moon also made good money during her stint in NXT. NXT stars generally receive about $100K a year, so we can expect Moon to earn a similar amount too.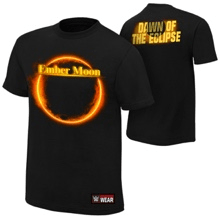 Ember Moon shirts on WWE Shop.
Image source: WWE Shop
Ember also earns good cash through live event bonuses as well as PPV bonuses. She also receives bonuses for the sale of her merchandise via WWE Shop. All in all, Moon has earned a good sum of money thanks to impressive salary and a whole host of bonuses she receives from WWE.
Married to Matthew Palmer
Ember Moon is married to fellow wrestler Matthew Palmer. Palmer is mainly known for his work in the promotion Anarchy Championship Wrestling (ACW), where he held multiple championships.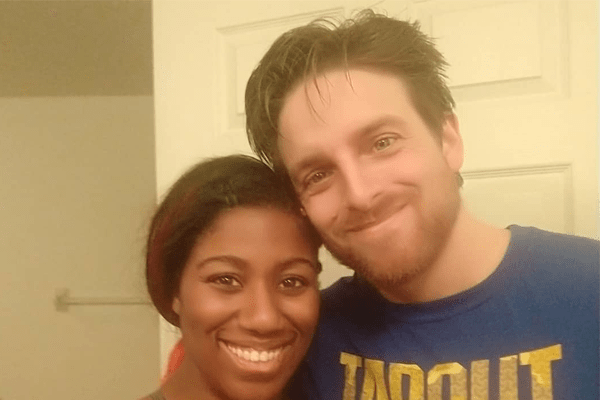 Ember Moon and her husband Matthew Palmer
Image Source: Moon's Instagram
Ember and Palmer were dating for a while before they eventually got engaged in 2015. Palmer proposed Moom inside the ring at a wrestling event as he got down on his knees and brought out a ring. Ember was filled with joy as she quickly said yes.

Palmer was involved in some controversy as he released a shirt writing "King of Black Women". The t-shirt was heavily criticized by people for being racially discriminative. He soon stopped wearing that shirt.
Career Summary, Rivalry with Asuka, NXT Championship Win
Ember started wrestling in 2007 in Anarchy Championship Wrestling. She then competed for years in many independent promotions like Shimmer Women Athletes, Women Superstars Uncensored, amongst others.
In 2015, Moon signed with WWE and started wrestling in WWE's developmental territory NXT. In NXT, she had a classic feud with then NCT Women's champion Asuka, having great matches with her at NXT Takeover: Orlando and NXT Takeover: Brooklyn III. She was also well known in NXT for her deadly finishing move, The Eclipse.
She eventually won the NXT Women's Championship after Asuka vacated it at NXT Takeover: WarGames. She lost the title to Shayna Bazler and moved up to the main roster as she joined RAW on the night after Wrestlemania.
For more news, biography, and entertainment visit SuperbHub.