According to Forbes, Elizabeth Anne Holmes became the world's youngest self-made billionaire. Elizabeth Holmes net worth was $4.5 billion until 2015 as she owned 50% stake of her company, Theranos.
In 2003, Holmes was only 19 when she founded her blood testing company collecting money from the private investors. Elizabeth introduced blood-testing machine 'Edison' which could test the blood painlessly at an affordable price. As normal blood-testing is expensive, painful, and inconvenient.
However, it didn't take much time for the self-made billionaire to decline with net worth reduced to zero. Yes, because Elizabeth was alleged for the massive fraud. Let's get into detail of Elizabeth Holmes's journey of becoming a young billionaire to nothing.
Elizabeth Holmes was born to a reputed family on February 3, 1984 in Washington, D.C. US. Her father was an employee of USAID. Before the birth of her younger brother, Christian, Elizabeth's mother was a staff in Congress committee.
Holmes is also a granddaughter of Christian R. Holmes, who was the dean of the University of Cincinnati College of Medicine.
She was the very enthusiastic person in reading and was an active thinker. In 2002, she completed her graduation from St. John's School in Hoston. Elizabeth learned tough language Mandarin during her school days.
Later, she enrolled herself in Standford University to study chemical engineering after her graduation. Holmes was inspired by the professor of the university Channing Robertson with whom she discussed important issues in medicine.
Former CEO Elizabeth chose physics as her subject as she was inspired by her great-grandfather. Besides her grandfather, the reason to pursue medical field was her uncle's early death by cancer.
Since her childhood, Elizabeth had fear of needles which became her bridge to form health technology and medical laboratory company Theranos, which made blood-testing easy with less amount of blood.
During her education at Standford University, she introduced her idea of the wearable patch for monitoring variables in a blood which can also be monitored remotely.
Elizabeth took her internship in Singapore which was searching ways to detect SARS traces of blood and mucus within a minute. Right after her internship, she returned back and began working on her patent of patch-worn drug delivery system.
According to SEC, Elizabeth showed her patent to professor Robertson, she also informed him that she is dropping out to start her own company. Professor Robertson also agreed to join the board of Homles after her request.
In 2015, she was listed in youngest self-made billionaire. Elizabeth Holmes Net Worth was $4.5 billion. In 2016, her estimated Net Worth from $4.5 billion reached to nothing according to the Forbes.
Theranos enjoyed dramatic success in early days collecting tremendous funding.  Her method of using a finger-stick to take a few drops of blood and analyzing tiny sample in a compact proprietary device, Edison received positive response.
Theranos started earning high amount each year. In 2004, just after a year of its formation, the company collected $6.9 million,  in 2005 it made $16 million and in 2006 the earning was $28.5 million. By 2014, she had $400 million.
Elizabeth earned $700 million from the investors and the value of her company was $9 billion before the allegation.
After the allegation was proved that the technology she claimed of testing blood was not efficient and as she promised. The decline of the billionaire began.
Former CEO of Thermos, Holmes agreed to pay a $500,000 penalty for a fraud charge and also agreed to return 18.9 million shares that she collected during her fraud according to SEC.
If the company was running smoothly, no wonder former CEO Elizabeth would have become next Steve jobs in no time.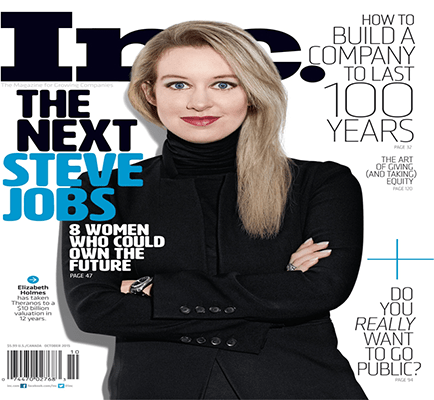 Elizabeth Holmes was in the cover photo of Inc. Magazine who entitled her as next Steve Jobs. Image source: Etleboro
Just in 11 years of formation, Theranos raised millions of dollars, received deals from huge health companies and had a good profile in medical technology. Theranos was labeled one of the prestigious labs in the world.
Things began to fall apart for Elizabeth when the investigative journalist of Wall Street John Carreyrou was very dubious about the magic used for blood-testing and tremendous growth of the company.
Pulitzer Prize-winning journalist Carreyrou started his investigation. He found the company was nothing that it seems. During his investigation, he came up with the truth that the Edison machine used for blood-testing could not detect the molecules in the blood.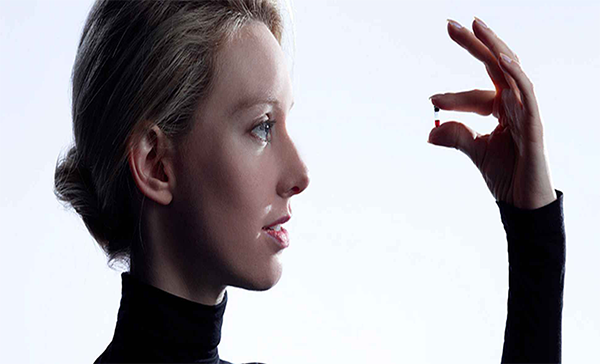 Elizabeth Holmes blood-testing machine Edison. Image source: Inc
The company was doing the majority of the tests from the other machines that it brought from other companies including Siemens AG.
Moreover, in 2014 out of over 200 listed tests, the company did only 15-20 test with the famous method it promised. Around sixty of the tests were done by collecting blood from finger-stick but was later diluted into larger samples to test from other machines. While others were done through venipuncture.
Obviously, that doesn't sound very disruptive.The company was then closed in 2015, the company alleged fraudulent conduct for its false blood test result. The former CEO and President of Theranos, Elizabeth and Ramesh Balwani now have no control over her company that she founded.
She might start her another private business but from 2018, she is not permitted to lead any other public companies for long ten years.
Elizabeth was often called inspirational women until her Theranos was alleged with its inaccurate test reports. Holmes had once made an attempt to clarify that the test reults in her company are accurate but in vain.
For more Celebrity Biography, Stay tuned with SuperbHub.