Drummer Charlie Benante was born on November 27, 1962, in The Bronx, New York, U.S.
Benante is a musician, songwriter, and artist best known for his work as drummer for the Thrash Metal Band Anthrax since 1982.
Charlie Benante is a multitalented artist and specializes in Drums, guitar, Percussion, keyboard.
He is associated with his side projects Stormtroopers of Death, Heavy the fall, Metal Allegiance.
Charlie has composed many tracks and music throughout Anthrax's discography and has his fingerprints in eleven studio albums, five live albums, seven compilation albums, ten video albums, twenty-six singles, six extended plays and twenty-six music videos.
Drummer Charlie Benante joined Anthrax in 1963 and recorded the band debut album Fistful of Metal and has been the Band's drummer since.
He is a technical drummer and known for having a fast double pedaling ability and popularizing blast beat drumming technique in the Early Thrash Genre.
He has composed lead guitars for the band Strom troopers of death's album Speak English or Die.
Charlie has also produced music and drum tracks for the band Anthrax as well and has recorded guitar solos for the 1995 album Stomp 442.
Benante is also a graphic designer and has created many Anthrax's album cover and T-shirt designs.
Benante is the uncle of Anthrax bassist Frank Bello.
Frank's younger brother, Anthony, was murdered in the Bronx, NYC, on March 25, 1996. To the agony of Benante, the murder never solved.
Drummer Charlie Benante has stated in most of the old Anthrax interviews that his favorite fictional character is Darth Vader.
He is an avid fan of the film Jaws and owns a collection of the film's merchandise.
Throughout 2012, Charlie Benante faced several personal issues that forced him to miss several shows with Anthrax.
Early in the year, his mother died, which also resulted in Frank Bello (Charles mother is Frank's Grandmother) taking some time off during the band's Argentina Tour.
Benante had to step out during the summer's Rockstar Mayhem Fest after suffering a minor hand injury.
Also during the summer, Charles Benante was involved in a domestic conflict with his wife in front of his daughter, Mia, which had the couple arrested.
Benante later missed Anthrax's UK and European tour to take care of "personal stuff" according to Scott Ian.
In 2012, MetalSucks raised concern over Benante's well-being and future with the band. 
He stepped out of Australian Tour dates in 2013 for personal reasons.
Drummer Charlie Benante is an endorser Tama drums and hardware since 1986.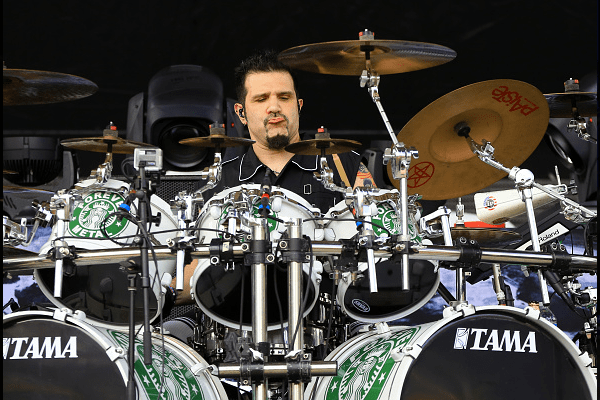 Image Source: metalhammer. de
He uses Paiste cymbals, Vic Firth sticks, Evans Drumheads, and ddrum electronics.
Benante's setup includes;
3 rack toms up front (10″, 12″, 13″),
2 floor toms (14″ & 18″) on the right.
Double kick drums (18″x22″)
6×14 Starclassic G Maple Snare Drum.
In 2010 Benante switched to Tama's Speed Cobra pedals.
Benante was one of the drummers who still used Tama's HP35 Camco chain-drive pedals from 1984.
Drummer Charlie Benante has a deep and passionate love for the taste of Coffee.
He launched his own production Bennante's Blend on collaboration with Dark Matter and had enhanced high-quality coffee beans.
Charlie approached a different methodology to roast the coffee beans to create more flavorful taste.
Benante's Blend is available in two different varieties at the same price for both products.
"Forever Metal" a mild coffee and "Be All End All" a dark coffee with the real kick.
Benante had started episodes on his Youtube channel "Talking Coffee with Charlie Benante."
He invited professional musicians like Tom Araya (Slayer), Randy Blythe (Lamb of God), David Ellefson (Megadeth), Corey Taylor to taste and talk about his coffee.