Dick Van Dyke was born Richard Wayne Van Dyke in West Plains, Missouri, U.S. Van is an Actor, Comedian, Singer, Dancer, Writer, and Producer. He is active in Hollywood since 1947. Apart from acting, Van Dyke also had a Military Career in the U.S. Army Air Forces. Dick Van Dyke Net Worth is $30 million according to The Richest.
Van Dyke was born to mother Hazel Victoria McCord, a stenographer and father Loren Wayne Van Dyke, a Salesman. His younger brother is actor Jerry Van Dyke who passed away on January 5, 2018. Van's ancestry includes English, Scottish, German, Swiss-German, and Dutch.
Van had attended high school in Danville where his friends were Donald O' Connor and Bobby Short. They later became successful entertainers. Van for a brief period of time in his youth considered a career in ministry.
However, after joining a drama class in high school he knew what would best suit and bring the best out of him. In Dick's Autobiography "My Lucky Life In and Out of Show Business: A Memoir" Dick writes :
"I suppose I never completely gave up my childhood idea of being a minister. Only the medium and the message changed. I have still attempted to touch people's souls, to raise their spirits and put smiles on their faces"
After launching a successful career as an entertainer, he used to read theologians as Buber, Tillich, and Bonhoeffer in the Presbyterian Church where he also taught Sunday School.
During World War II, Van Dyke was listed in the U.S. Army Air Corps where he served as a radio announcer. He later transferred to Special Services where he entertained troops in the Continental United States.
Dick Van Dyke has a lot of working experience in Radio, TV, and Films. He is a great achiever in the entertainment industry.
Radio and Stage Career
In the late 1940s, Van Dyke worked as a radio RJ in Danville, Illinois. In 1947 Dyke worked with Phill Erickson to form a comedy duo "Eric and Van- the Merry Mutes". They toured together in West Coast nightclub circuit and bought their act to Atlanta, Georgia in early 1950s.
Van Dyke made his Broadway debut in 1959 from the Girls Against the Boys. He then played the lead role of Albert Peterson in Bye Bye Birdie running from April 14, 1960, to October 7, 1961. Van Dyke appeared as the title role on the first Broadway revival of The Music Man in 1980.
Television Career
Van Dyke's started in television with WDSU-TV New Orleans (NBC), initially as a single comedian and later as Master of ceremonies on a comedy program. His first TV network appearance was with Dennis James on James  Chance-Chance of a Lifetime in 1954.
Dick also appeared in the NBC's The Polly Bergen Show and ABC's The PatBoone Chevy Showroom. From 1961 to 1966, Dick starred in the CBS sitcom The Dick Van Dyke Show which gave him a widespread recognition.  In this show, Dick portrayed a comedy writer Rob Petrie.
Dick Van Dyke won three Emmy Award as outstanding lead Actor in a Comedy Series. The series alone received four Emmy Awards for Outstanding Comedy Series.
Van Dyke starred in a sitcom called the New Dick Van Dyke Show from 1971 to 1974 in which he starred as a local television talk show host. From the show, he received a Golden Globe nomination for his performance. Van Dyke eventually ended the show after three seasons.
Van Dyke was a recovering alcoholic for 25 years. He received an Emmy Award nomination for his role as an Alcoholic businessman in the 1974 T.V. movie The Morning After. Dick revealed after the release of the movie that he had recently overcome a real-life drinking problem.
Dick returned to comedy in 1976 with a comedy show Van Dyke and company, co-starring Andy Kaufman and Dave Osborne. Despite being canceled just after three months the show won an Emmy Award for Outstanding Comedy-Variety Series.
In 1989, Dick starred on the NBC comedy series The Golden Girls where he portrayed as a lover of Beatrice Arthur's character.  He was nominated for Emmy Award again for his role after 1977.     
Dick also starred as a college professor Dr. Jonathan Maxwell for series of Murder 101 on the Hallmark Channel.
Dick Van Dyke Film Career
Van Dyke initially started his film career by playing the role of Albert J.Peterson in the 1963 movie Bye Bye Birdie. The same year Dyke was cast in Walt Disney's Mary Poppins(1994) for two roles as a chimney sweep Bert and as bank chairman Mr. Dawes Senior.
Van Dyke's attempt of a cockney accent is described as one of the worst accents in the film history. Van Dyke came second on Empire Magazine's poll for the worst-ever accents in film. According to Dick Van Dyke, he was completely unaware that his accent was sounding off as all the crew members were English and nobody hinted him to improvise.
Many of Van Dyke comedy movies were unsuccessful at the box office throughout the 1960s which includes What a Way to Go!, Lt. Robin Crusoe,  Never a dull moment, Divorce American Style, Fitzwilly, The art of love, and Some kind of a Nut.
He starred in the musical Chitty Bang Bang 1968 which was a success starring Ann Howes. In 1969, Dick appeared in the comedy-drama The Comic written and directed by Carl Reiner.
In 2006, Dick returned to Motion Pictures in the movie Night at the Museum. In 2009, he had reprised a role for a sequel Night at the Museum: Battle of the Smithsonian which was cut from the film. He played the same character again in the third film 2014 Night at the Museum: Secret of the Tomb. His long-term successful career definitely added much money and property in Dick Van Dyke net worth.  
Van Dyke's Filmography is elaborated in the table below;
| Movie | Role | Year |
| --- | --- | --- |
| Bye Bye Birdie | Albert F. Peterson | 1963 |
| What a Way to Go! | Edgar Hopper | 1964 |
| The Art of Love | Love Paul Sloane/Toulouse aka Picasso | 1965 |
| Lt. Robin Crusoe, U.S.N. | Lt. Robin Crusoe | 1966 |
| Divorce American Style | Richard Harmon | 1967 |
| Never a Dull Moment | Jack Albany | 1968 |
| Chitty Chitty Bang Bang | Caractacus Potts | 1968 |
| Some Kind of a Nut | Fred Amidon | 1969 |
| Cold Turkey | Rev. Clayton Brooks | 1971 |
| Tubby the Tuba | Tubby the Tuba(Voice role) | 1975 |
| The Runner Stumbles | Father Brian Rivard | 1979 |
| Dick Tracy | D.A. Fletcher | 1990 |
| Walt: The Man Behind the Myth | Narrator/himself(voice role) | 2001 |
| Batman: New Times | Commissioner Gordon(voice role) | 2005 |
| Curious George | Mr. Bloomsberry | 2006 |
| Night at the Museum | Cecil Fredricks (voice role) | 2006 |
| Night at the Museum: Battle of the Smithsonian | Cecil Fredricks | 2006 |
| Alexander and the Terrible, Horrible, No Good, Very Bad Day | Himself | 2014 |
| Night at the Museum: Secret of the Tomb | Cecil Fredricks | 2014 |
| Merry Xmas | Father(short film) | 2015 |
| Mary Poppins Returns | Mr. Dawes Jr.(Cameo) | 2018 |
As a legendary actor, comedian, writer, and producer Dick Van Dyke had an astounding seven-decade career in Hollywood. Dick's career in Hollywood has made him able to amass a profound wealth to his name. According to the Richest, Dick Van Dyke Net Worth is an estimation of $30 million.
CNN article also stated that Dick Van Dyke show was listed in no.23 on Pay Rank as Rob Petrie the Head Comedy writer earned $ 95,941 base Salary.
Dick Van Dyke's $ 8.995 Million House 
Dick Van Dyke net worth includes $8.995 million house in Los Angeles.
Source: Los Angeles Times
The Encino home was once owned by Dick Van Dyke and after him Brazilian musician Sergio Mendes. In the lavish estate Actor, Harrison Ford had built the recording studio on the property. The great Pele also once played soccer on the estate's ground park.
The Italian Villa-style home is 12,015 square footed comprising of lavish stone fireplace, circular dining room, center-island kitchen, wine cellar, a home theater, gymnasium, and also has elevators inside.
Dick sold the estate for $6.512 million in September 2016.
Dick Van Dyke's Jaguar Car  
Van Dyke's car was in flames on the 101 Freeway in Calabasas on August 2013 after a vehicle failure.  The comedy veteran was pulled out of his burning car which gradually burnt to crisp. Dick was safe and fine but his Luxurious Jaguar left to ashes.
Later Van Dyke took to his twitter to post a photo of the burnt car with the caption, "Used Jag for sale REAL CHEAP!! "
Dick is also an author of four books My Lucky Life in and Out of Show Business: A Memoir, Dick Van Dyke: Keep Moving: and Other Tips and Truths about aging, The Official Dick Van Dyke Show Book: The Definitive History.
Dyke's Vintage Buggati
 Dyke owns a classic Buggati which he showcased on his Instagram on June 26, 2017.
Dick and the former Margerie Willett married in 1948. Interestingly, their wedding took place on the radio show Bride and Groom. The couple together had four children: Christian, Stacy, Barry and Carrie Beth.
Dick and Willett divorced in 1984 after a long separation. He lived with longing partner Michelle Triola for more than 30 years, till her death in 2009 from lung cancer.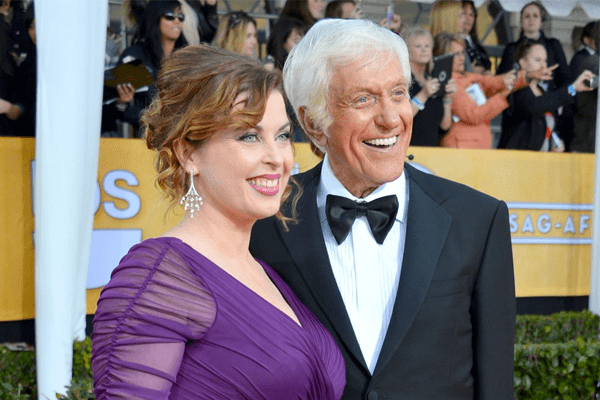 Dick Van Dyke with his current wife Arlene Silver. Dick married Arlene on February 29, 2012.
Source: Parade
On February 29, 2012, Van Dyke tied the knot to the make-up artist Arlene Silver. The couple had met each other at the SAG awards. The wedding took place at a chapel near Dick's home in Malibu.
Stay connected with SuperbHub for more Celebrity biographies.