Deji Olatunji is one of the famous YouTubers with over 9 million subscribers on his YouTube channel called ComedyShortsGamer as of March 2018. With increasing fame, he had earned a lot as a YouTuber and from his own clothing line, 'Tank'. Deji Olatunji Net Worth is thus estimated to be over $1 million(£707,000) according to his earning statistics in Social Blade.
Deji is really famous for his gaming, crazy challenge videos, and pranks that he posts on his channel.  In 2015, 'UK's Most Influential YouTube Creators', Deji was successful to achieve second spot in the list. Whereas, his brother 'JJ Olatunji' made it at the top.
You Tuber Oladeji Daniel "Deji" Olatunji is popularly known as Deji Olatunji with his YouTube channel Comedyshortsgamer.
Deji was born on December 9, 1996 in London. He has spent most of his life in London itself. As of 2018, he resides in Peterborough, England with his parents, father Olajide Olatunji and mother Yinka Olatunji.
Well, Deji got interested to start a career as a YouTuber after he saw his brother's success in it. His brother JJ had began his career by posting gaming videos in YouTube.
With the confidence of achieving the same success, Deji first made his YouTube channel called The AngelzKid in August 26, 2011, and began posting short funny videos. He posted the videos on games like Tekken 6, FIFA 12, Halo 3.
The same year Deji made his another YouTube channel ComedyshortsGamer on December 1, 2011. Deji also appeared on his brother's videos which gave him more popularity than his own uploads initially.
Deji then tried posting different kinds of videos like skits, challenges, pranks and vlogs. He received his victory in November 18, 2013, when he hit 1 million subscribers. His videos of failed pranks with his father gained wide popularity.

Till 2016, Deji uploaded videos of short sketches utilizing parody together with his brother and dad. His Try not to laugh challenge video with brother and dad is equally famous. He has uploaded more Prank and challenging videos from 2017.  How can Deji leave his mom? Watch out a prank video where his dad got involved too.

Along with his brother, Deji Olatunji has made his appearance by playing the role of Freddie in the movie of 2016 Laid in America. The movie was released in the United Kingdom on September 26, 2016. Deji Olatunji net worth includes earnings not only from YouTube Subscriptions, but also as an actor and from his clothing line, Tank.
Also Read: YouTuber Emily Canham net worth
According to the Social Blade, Deji Olantuji Net Worth is over $1 million.
Deji's yearly earnings is estimated to be $115.9 k- $1.9 million and monthly earnings is estimated to be $9.7 k-$154.5 k. YouTubers like Pete Bucknall, Kwebbelkop, Azzyland have been earning millions from their YouTube.
Deji  also earns money by selling merchandise such as hats, tees, wristbands, and backpack.
Deji Olantuji Net Worth includes his mansion outside London. In 2016, Deji has mentioned in his video that he and his parents have bought and moved to a new house. He also gave a tour inside and outside his house in his channel.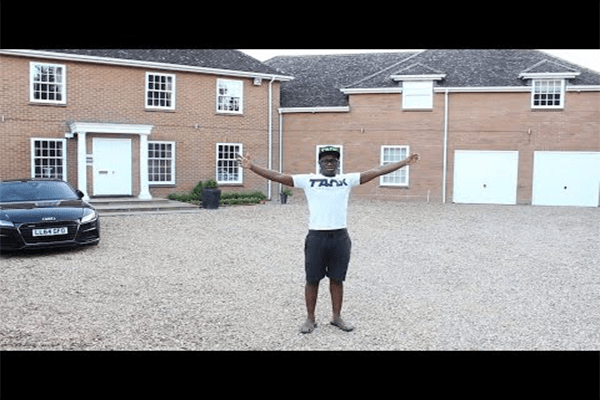 Deji Olatunji's mansion outside London. Image source: Dexerto
As a YouTuber, Deji has gathered a huge amount of money from his channel. He owns a Lamborghini Huracan worth $221351.64 (£156,575) according to Car Keys.

On 3rd September 2016, Deji with his friend however met with a car accident. Deji's shoulder and arm were injured while his friend was safe. They were traveling on Deji's car which he named as Janet.
Deji's brother KSI Olatunji has a purple Lamborghini Aventador with his worth named number plate (KSI FLY) worth $373,268.92 (£264,035).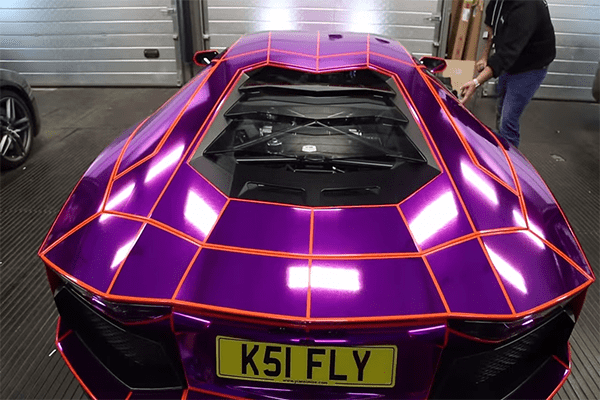 Deji's brother KSI purple Lamborghini. Image source: YouTube
Deji Olajidebt is the child of father Jide Olatunji and mother Yinka Olatunji. He is the youngest child of his parents. Deji is often asked if he is gay, however, he uploaded several videos on his channel with his girlfriend.
Check out the video Try Not To Laugh With his Girlfriend

Deji'selder brother KSI Olajide has 17 million subscriber and1.4 billion views. Deji's brother KSI stands with impressive Net Worth of $5 million. . Deji's brother KSI created his first YouTube channel in the year 2008. KSI is a video game commentator, comedian, and rapper.
According to Celebrity Net Worth, being a rapper, KSI has released the song Lamborghini featuring P Money in 2015. Lamborghini reached on top 7 on the UK R&B chart and on top 30 in the UK.
Previously, both of Deji's parents were happy with their children decision to drop education and pursue a career in social media. Later,they were seen featuring their son's videos.
Stay tuned with SuperbHub, for more Biography