Deepika Padukone, an Indian Actress, is the highest paid actress of India as of 2017. Whereas, she is listed among the top 10 highest paid model in 2016. Thus, Deepika Padukone's net worth is reaching the heights along with her name and fame.
Deepika Padukone is a renowned actress known from the movie Om Shanti Om (2007). In 2017, she has an appearance in Raabata, a special appearance in a title song. Similarly, she has a presence in Hollywood film xXx: Return of Xander Cage.
An eye-capturing personality Deepika Padukone recalled as Indian role model is the highest recipient of monetary value, awards, nominations, and honors. Among the infinite number of movies, Goliyon Ki Rasleela Ram-Leela (2013), Chennai Express (2013), Yeh Jawaani Hai Deewani (2013), Love Aaj Kal (2009) are some of the best movies of Deepika Padukone.
Before being an actress, she was a Badminton Player. But she didn't continue the career as she was no more interested in a professional sports career. Instead, she turned her modeling hobby into a professional career.
Deepika Padukone was born on 5 January 1986 to father Prakash Padukone and mother Ujjala Padukone in Copenhagen, Denmark. Her father is a former Indian Badminton player who is recognized as the first Indian to win All England Open Badminton Championship. Further, he ranked as a No.1 player in the World record list.
Similarly, her mother is a management assistant for travel and tourism. Also, Deepika Padukone is an elder sibling to Anisha Padukone, a Professional golfer.
Padukone initially attended Sophia High School, located in Bangalore following Mount Carmel College from where she completed her pre-university education. Successively, Padukone enrolled at Indira Gandhi National Open University to have a Bachelor of Arts degree in Sociology.
But due to the time constraints, she could not manage an adequate balance between her professional career and academic career. Thus, she quit it and entered the film world.
At the very beginning, she framed her hobby into a professional career in the year 2006. And she appeared in the first film debut Aishwarya, a Kannada film as a remake of Telugu film Manmadhudu. That movie led her to the commercial success with a suggestion to work more on emotional scenes.
Though she has a commercial success from the movie Aishwarya, she was not in the media attention till her appearance in the film Om Shanti Om (2007). Om Shanti Om is a melodrama in which she starred in dual roles as Shantipriya, a leading actress opposite to Shah Rukh Khan.
According to Times of India, in an interview she has addressed, I've grown up watching his movies, and an opportunity to cast opposite to him is Lovely and Fantastic. Om Shanti Om was the highest-grossing film of the year with a revenue of $23 million. And ultimately it increased  Deepika Padukone's net worth.
The same year, standing at the same position of the Shah Rukh Khan, she received Best Female Debut Award and got nominated for Best Actress category. After the successful business of Om Shanti Om, in 2008, she appeared in Yash Raj comedy film Bachna Ae Haseeno starring with Ranbir Kapoor. The film also received the financial success.
Subsequently, she appeared in Kung Fu Comedy film Chandni Chowk To China (2009) with incredible stunts. But the film led to financial failure with earnings of $8.6 million on a budget of $12 million.
Equivalently, she appeared in the romantic drama Love Aaj Kal earning gross of $19 million and recorded as the third-highest grossing film of 2009. Then during the interval 2010-2014, she appeared in movies like Housefull, Lafangey Parindey, Arakshan, Desi Boyz, and so on.
Next, she appeared in Cocktail (2012) and earned several nominations including Filmfare, Screen, and IIFA. In 2013, Deepika remained as a leading actress of Contemporary Hindi Cinema for seeming in the four of the top-grossing production of the year.
Further, the same year, she worked in a sequel to action thriller movie Race as Race 2 receiving negative reviews from critics but standing as a commercial success.
Afterwards, she acted in Yeh Jawaani Hai Deewani grossing a worldwide revenue of $47 million. Correspondingly, she performed at Chennai Express earning income $47 million. Eventually, both the movie ranked among the highest-grossing Bollywood films of all time.
Later, Deepika had an appearance in Ram-Leela. The film also earned $31 million making it the fourth consecutive box office hit of Deepika Padukone. Eventually, she won Screen Award for Best Actress and Filmfare Award for the Best Actress.
As of 2015-16, she played Piku and Bajirao Mastani, starring alongside Priyanka Chopra and Ranveer Singh. The movie earned $22 million and $51 million standing as the fourth highest-grossing Bollywood film of the year respectively.
In addition to Bollywood, she performed in Hollywood film as well. It was xXx: Return of Xander cage (2017), successfully earning $345 million worldwide. For the movie, she also got different nominations including Choice Action Movie Actress and Breakout Movie Star.
As of 2018, she appeared in the movie Padmavati starring alongside Shahid Kapoor.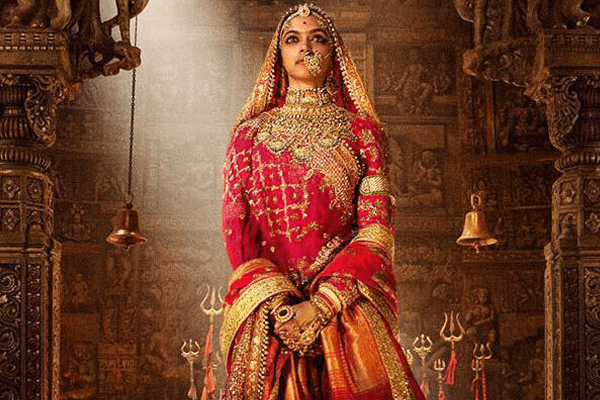 Deepika Padukone as Padmavati
 Image Source: NDTV
And action-based movie Rana is her upcoming project.
Besides acting, she is highly active in social-support programs. She usually is involved in charitable acts to the needy ones. As a part of Greenathon Campaign, she adopted the Maharashtrian village of Ambegaon to provide the regular supply of electricity. And, she even has an appearance on several stage shows.
Who is Deepika Padukone currently dating?
Deepika Padukone filming during Bachna Ae Haseeno in 2008 was in a relationship with her co-star Ranbir Kapoor. The pair got highly admired for their togetherness. But unfortunately the couple split-up in 2009.
According to Hindustan Times Deepika made a statement "he cheated on me." And further, she also insisted that they remained a good friend to the date.
Is Deepika Padukone dating Ranveer Singh after she broke up with Ranbir Kapoor?
Yes! Deepika is currently dating Ranveer Singh.
Before, she has not made any commitment regarding their relationship. But later when the rumors "her break-up with Ranveer Singh" speeded up, she made a statement claiming "He is someone who always has and will always be an important person" according to The Times of India.
An Indian Supermodel Deepika Padukone has an excellent height of 5 Feet 8 Inch and body weight of 127 lbs. Her body measurement is 34-26-36. She is a native of India and has black colored eyes and hair. Zodiac is her birth sign. She belongs to the Hinduism family. Deepi and Deepz is her nickname.
Deepika Padukone's net worth is $16 million as of 2018. A professional film career is the source of Deepika Padukone's Net worth.
Deepika Padukone's net worth would increase higher and higher if she appeared in the best quality film with a distinct content. And that's what everyone dreams.
Stay in touch with SuperbHub to get new information on celebrities. She is active in the social pages like Facebook, Twitter, and Instagram.