Dean Harrison is a Professional Motorbike racer from Bradford, West Yorkshire, England. Harrison had set the high hopes after being the fastest ever newcomer at the Ulster Grand Prix with an impressive lap of 126 mph in his second year at the Isle of Man TT.
Harrison made his debut on the Isle of Man TT in 2011 and has bagged 2 wins in 2013 on the Classic TT and 2014 on Lightweight TT onboard Kawasaki Ninja. Bradford rider Dean Harrison has an impressive fastest lap of 131.163 mph on the Snaefell Mountian Course.
Net Worth and Earnings
Riders Competing in the TT races make a profit if they finish in top three while the sponsors cover the cost of competing in the race. The Tourist Trophy has brought the island Isle of Man with a well-received Tourism Economy. In 2016 £31.3 million was spent on the island by the visitors which contributed to the Isle of Man National Income of 22.5 million and Exchequer bonus of £4.1 million.
So what does the race contributes to the TT riders like Dean Harrison?
The prize pool for TT race win is £18,000 for a clean start to finish which seems like a decent payment. Considering the risks offered by the 37-mile course rocketing into the village streets and corner with an average speed of 130 mph the prize money seems feeble.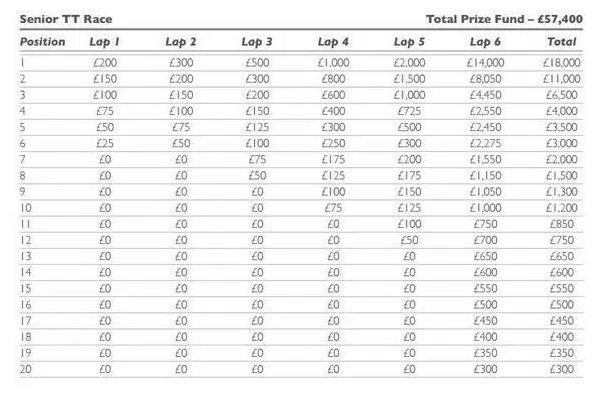 Prize Pool of the Isle of Man Senior TT race. It's dirrect money.
Image Source: tbniblog
Riders like Dean Harrison compete in the Tourist Trophy do it for the love of racing and the grand achievement of tucking a TT win to their career stat. The TT riders spend a countless sum of money and limited vacation time to take part in the TT and snatch the Glory.
TT Riders like Dean Harrison's Net Worth is not only amassed from the racing events but from the regular day job they do for a year. Fellow TT riders like Guy Martin who has a Net Worth of £1.5million and works as a Truck Mechanic. Australian TT rider Cameron Donald works as a Plumber when he's not racing. Likewise, Dean works as a mechanic for the rest of year when he is not competing in the races. Dean Harrison's Net Worth accumulates from his profession as a mechanic and a Road Racer.
Compared to GP Riders who are paid a hefty sum as purse money from race organizers and sponsors, the TT riders take part in the historic event to be part of the tradition and hopefully win the TT.
Dean Harrison TT 2018
Dean Harrison is well tucked to race and compete in the Battle Royale of the 2018 Isle of Man. With top riders like 23 times TT winner John McGuinness, Flying Kiwi Bruce Anstey, and Englishman Ian Hutchison not racing in the 2018 TT race, Dean is determined to make a podium finish on the Isle of Man TT.
Manxman Conor Cummins will be the first rider to go down the Bray Hill with a number plate one on the Padgetts Honda and Dean Harrison slots on number 5 on the Silicone Kawasaki Racing Team.
Top 5 Isle of Man TT finishes
Bike Enthusiast Dean Harrison started racing since he was 18 and road racing was always in the blood of Harrison as his father Conrad competed on the Isle of Man in the sidecar since 1993.
Isle of Man TT Racer Harrison is determined to make his 2018 Isle of Man memorable with Silicone Engineering Racing, Kawasaki. The 2017 Isle of Man TT meeting saw Harrison finishing third in Superbike and Senior TT despite his Kawasaki ZX-10RR Engine Malfunction on Practice.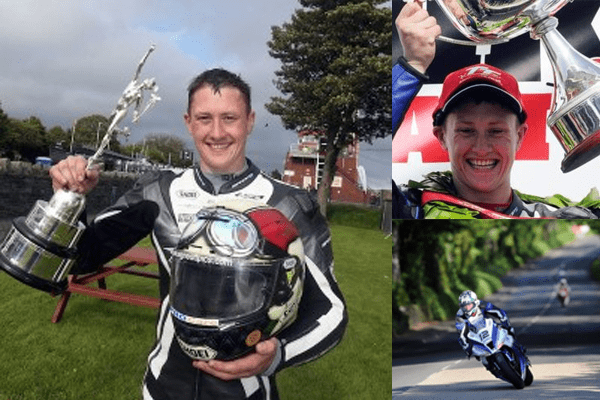 Dean Harrison first TT race win in the 2014 Lightweight TT
Image Source: IOMTT
Dean Harrison was entitled the fastest road racer with an average speed of 134.6 MPH on the Dundrod course's outright lap record. In 2017 Dean Harrison marked his first TT win in a Kawasaki ZXR with a time of 1:12:32.923 and speed of 124.815.
Harrison finished third on the RST Superbike TT on a Kawasaki ZX10R with a time 1:46:11:545 and speed of 127.907. Making way for TT Zero Harrison finished fourth on a Sarolea SP7 with a speed of 108.064 and time of 20:56:934.
Harrison won the 2017 Superbike Classic TT on the Kawasaki ZXR with a time of 1:12:32:923 and speed 124:815. In 2016 Dean finished 2nd on the Bennets Senior Classic TT with a speed of 111.07 mph. In 2016 Harrison finished 2nd in the Supersport TT with a speed of 124.907 onboard the Kawasaki ZX-6R.
In 2015 Dean won the 500 CC  Classic TT onboard a 1971 MV Augusta with a speed of 108.855. 2014 saw the Lightweight TT win on the Kawasaki Ninja with a time of 57:49.129 with a speed of 117.46. In 2013 Harrison finished second in the Lightweight class on a Kawasaki Ninja 650R with a speed of 116.565.
Dean Harrison Top 5 TT Wins is depicted in the table below. Data generated from the official site of IOM TT.
| Position | Machine | Class | Time | Speed |
| --- | --- | --- | --- | --- |
| 3 | Kawasaki ZX10R | TT2017 RST Superbike TT | 01:46:11.545 | 127.907 |
| 1 | Kawasaki ZXR | CT2017 Motorsport Merchandise Superbike Classic TT | 01:12:32.923 | 24.815 |
| 4 | Sarolea SP7 | TT2017 SES TT Zero | 20:56.924 | 108.064 |
| 3 | Kawasaki ZX10R | TT2017 Pokerstars Senior TT | 01:09:48.216 | 129.724 |
| 2 | 1967 MV Agusta | CT2016 Bennetts Senior Classic TT | 01:21:31.627 | 111.07 |
| 2 | Kawasaki ZX-6R | TT2016 Monster Energy Supersport TT 1 | 01:12:29.720 | 124.907 |
| 2 | Kawasaki ZX-10R | TT2016 RL360 Quantum Superstock TT | 01:10:15.187 | 128.894 |
| 3 | Kawasaki ZX-6R | TT2016 Monster Energy Supersport TT 2 | 01:12:29.452 | 124.915 |
| 1 | 1971 MV Agusta | CT2015 500cc Classic TT | 01:23:11.161 | 108.855 |
| 2 | Kawasaki ZX10R | TT2014 RL 360 Superstock TT | 01:11:30.882 | 126.62 |
| 1 | Kawasaki Ninja | TT2014 Bikenation Lightweight TT | 57:49.129 | 117.46 |
| 1 | 850 BSA | CT2013 Motorsport Merchandise Formula Classic TT | 01:28:06.283 | 102.778 |
Dean finished fourth on the Race 1 of the North West on the Kawasaki, Silicone Engineering Racing with a speed of 115.482 mph. Alastair Swwley claimed victory on the Yamaha in time 27:47.289.
Dean continued his dominance in the Superbike Classic TT 2018 by riding the best lap of 126.041 mph on his Kawasaki engine and making it on top in a lap time of 01:13:24:404.
Dean Harrison Family
Road Racing is in the DNA of Harrison Family as all three men in his family are riders. Harrison's father Conrad is a professional sidecar racer who made his Isle of Man debut in 1993 and has tucked one TT win under his belt.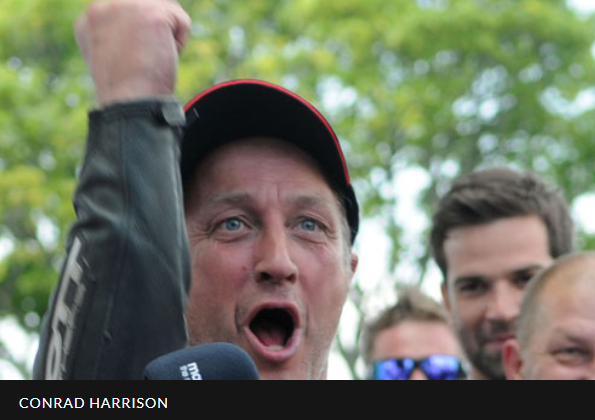 Dean Harrison's father Conrad is a professional sidecar racer who won the TT in Sidecar Race one in 2014. 
Image Source: IOM TT
Dean's elder brother Adrain Harrison had shown some impressive riding by finishing in top 20 in his first TT Race. Dean's mother obviously doesn't like the brothers and father doing road racing but supports them at all times.
In 2014 Dean and his father Conrad became the first father and son to win the TT races in the same year. It was the maiden TT victory for both father and son at the year when Harrison won the Lightweight TT and Conrad made his first Mountain Course Victory.
Dean Harrison has a baby boy with his partner Vicky Ratcliffe who hails from Leeds, England.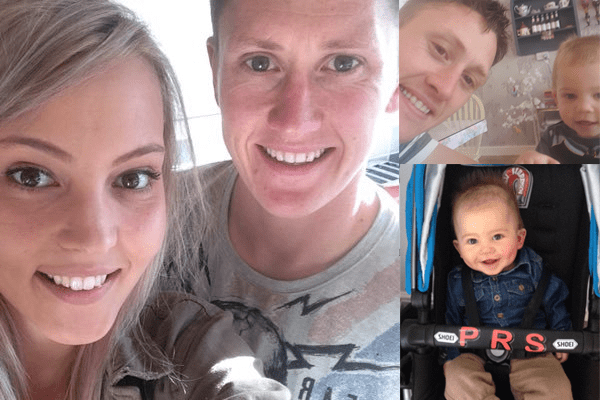 Dean Harrison and Vicky Ratcliffe's baby.
Image Source: Twitter
Dean Harrison Crash Video
In 2014 Harrison had a crash on the Ulster Grand Prix from which he suffered a broken wrist, dislocated shoulder, and four broken ribs.  Dean crashed on a turning in the first Supersport race when his front tire lost traction and riders Dan Kneen and Keith Amor also came off in the same place. The race was stopped with a red flag and riders were taken to the hospital.
Watch Dean Harrison Crash on the 2014 Ulster Grand Prix Supersport race:
For More Celebrity News and Entertainment: SuperbHub.