Famous as Ross Geller from the show Friends, David Schwimmer is an American Actor, Producer, and Director. Schwimmer had his last appearance in a short film The Boss (2017) and the TV show The People v.O.J. Simpson: American Crime Story and Feed the Beast (2016).
On September 25, 2016, Schwimmer served as the board of directors of the Rape Foundation. Also, he is a member of Delta Tau Delta International Fraternity. Schwimmer is the co-founder of Lookingglass Theater Company alongside David Catlin.
David Schwimmer, as David Lawrence Schwimmer was born on November 2, 1966, in Flushing, Queens, New York, United States. His father Arthur Schwimmer is a lawyer and mother Arlene Coleman-Schwimmer is an actor and lawyer.
Schwimmer grew up with an elder sister named Ellie Schwimmer, who was just a year older than David. Surrounded by a family with quality knowledge, he received excellent parenting.
David joined Beverly Hills High school and graduated in 1984. Initially, he wanted to be a doctor as he was a good scorer in both Science and Mathematics. But during his high school, Schwimmer appeared in schools plays and onstage performance. For the play, Schwimmer received good feedback from the school drama teacher. Thus, to chase his career, he flew to Chicago for an acting workshop.
Next, at the age of 16, he enrolled Northwestern University, Evanston, Illinois, United States. Schwimmer studied theater or drama course there. He then graduated with Bachelor of Arts degree in theater and speech in 1988.
Successively, after graduation, David co-founded the Lookingglass Theater Company in 1988.
In 1991 he made his debut in the TV series The Wonder Years as Michael. The Next year, he appeared in L.A. Law following numerous television shows and films. His best performance of all times was in his Hit TV series, Friends.
Since 1993, he portrayed several roles in several series like "Friends (1994-2004), The Single Guy (1995), Entourage (2009), and many more. David directed the TV series and films like Since You've Been Gone (1998), Joey, Little Britain USA (2008), pilot Growing Up Fisher (2014), and so on. In the film Since You've Been Gone, there is a small part of his both father and mother.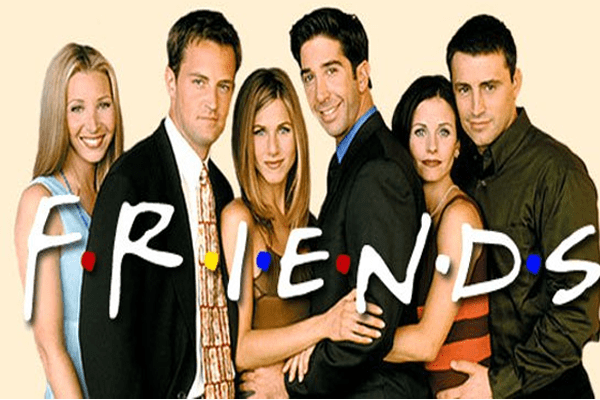 David Schwimmer's Appearance in Friends along with Matt LeBlanc, Matthew Perry, Jennifer Aniston, Lisa Kudrow and Courtney Cox
Image Source: ProProfs
Further, David also voiced series ER (1996, uncredited) and Merry Madagascar (2009).
David first landed the film industry in 1991 through the film Fight of the Intruder. Then he arose in many film roles like Kissing a Fool (1998), Big Nothing (2006), The Iceman (2012), and so on.
He directed the films Run Fatboy Run (2008) and Trust (2010).
Moreover, Schwimmer also voiced films Madagascar (2005) and its sequel Madagascar: Escape 2 Africa (2008), Madagascar 3: Europe's Most Wanted (2012) and Madly Madagascar (2013).
David Schwimmer's Net worth: How much did he receive from the show "Friends" alone?
As of January 2018, David Schwimmer's net worth is $80 million according to AOL Finance. Ross's annual salary of the show Friends fluctuated respectively as per the increment in the newer seasons.
According to Business Insider, an annual salary of Friend's cast including David Schwimmer was $22,500 per episode in the 1st season. Similarly, their salary ranged between $22,500 to $40,000 in the 2nd season. Further, Schwimmer received $75,000 in the 3rd and $85,000 in the 4th season.
David earned $100,000 and $125,000 respectively in the 5th and 6th season. Later, he earned $750,000 in the 7th and 8th season and $1 million in the 9th and 10th season. It was rumored that David, however, received more initially than his other cast members.
A successful professional career is a source of David Schwimmer's Net worth. Apart from a reasonable sum of money, Schwimmer also received several awards including Screen Actor Guild Award, Satellite Award, Glamour Award, and so on.
What does David Schwimmer think of Ross Geller today? 
On August 19, 2016, at Today, David said "Friends" was the hit show after 1994 until 2004. He was the first member to be cast in the show. The members in the show were more like a part of the family.
As an actor, his character was to observe life and to observe other people. But in real life, the effect of the cast was the absolute opposite. The Ross Geller made him hide under a cap and remained distinct from the public. He is trying to protect himself from the media attention and the public.
The cast of Friends includes Matt LeBlanc, Matthew Perry, Jennifer Aniston, Lisa Kudrow and Courtney Cox.
All of them seem to be close to each other.
Schwimmer married Zoe Buckman, British Photographer, in June 2010 after dating for three years. The couple engaged in March 2010.
Later, they welcomed a baby girl name Cleo Buckman Schwimmer On May 8, 2011.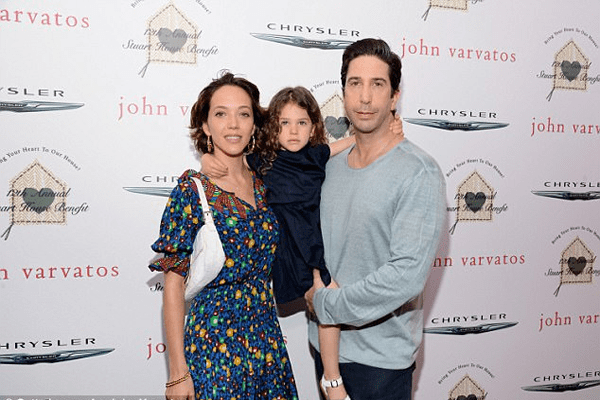 Image Source: Daily Mail
The couple, in April 2017, made a statement "we are taking some time apart."
Reviewing back to the dating histories, David dated Natalie Imbruglia (Australian pop singer), Mili Avital (Israeli actress) and Rochelle Ovitt (American actress).
As of Jan 2018, David Schwimmer called Schwim (Nickname) is at 49. Schwimmer stands at the height of 6 Feet 1 Inch. His body weight is 189 lbs.
Schwimmer with Hangdog expression has big brown colored eyes. David has a dark brown colored hair. Scorpion is his birth sign. He has an allergy to cats. David belongs to Jewish descent and possesses white ethnicity.
Besides being a public figure, he is a great-hearted human being. David supports several social problems such as helping the victims of Rape, a campaign to ban drugs, a charity for prevention of Child Abuse and Violence against children, and so on.
David is active on the internet sources like Facebook, Instagram, Twitter, and so on. So, you could visit the mentioned pages for more updates.
Stay updated with SuperbHub to know more about Hollywood celebrities.