Professional baseball player, Danry Josue Vasquez started his career as an international free agent in 2010 with Detroit Tigers. Former Houston Astros minor league player, Danry Vasquez net worth increased with his baseball career playing for West Michigan, and Class A Lancaster JetHawks.
Vasquez baseball career was gaining recognition and he even signed the contract with Lancaster Barnstormers in 2018.  But, his one wrong move made him lose his contract.
Danry Vasquez was thrown out from his Pennsylvania team shortly after the disturbing video of August 2, 2016, was released by Corpus Christi Police.  The video showed merciless Vasquez hitting a woman. And that woman was his own girlfriend now ex, Fabiana Perez.
The couple was in a relationship for long six years, however, they parted their ways in 2016 after Fabiana Perez was physically abused by her boyfriend Danry Josue Vasquez.
Danry Josue Vasquez was born on January 8, 1994, in Ocumare del Tuy, Miranda, Venezuela. Danry Josué Vásquez Blanco has a Venezuelan nationality.
With $1.6 million bonus, Vasquez was signed to Detroit Tigers as an international free agent in 2010. Later, in 2012 he played with the class A baseball West Michigan Whitecaps where his performance was not so good and he was downgraded to Connecticut Tigers of Class A-Short Season New York-Penn League.
In 2013, the player participated in the game with West Michigan and scored 281 batting average with 39 runs batted in and five home runs. The same year in July 2013, Danry was traded and a player to be named later to the Houston Astros.
Similarly, in 2014, Danry played with Class A Lancaster JetHawks. In 2018, he signed a deal with Lancaster Barnstormers. Danry Vasquez net worth was set to increase with another signing amount but the team immediately released him after seeing his disturbing video. According to the News Week, The manager of the team Ross Peeples said;
"There is no choice but to sever the relationship. Neither I, nor the Barnstormers' organization can associate or condone with that behavior."
Danry arrested for abusing ex-girlfriend
Hooks officials reported they discovered the footage of 2nd August 2016 at What a burger Field after the male employee of the Hooks spoke about the threatening behavior of player Danry according to the affidavit.

The footage was captured in the stadium staircase which became the proof to team Hooks to call the police for Danry's arrest. The police arrested the player 0n 4th of August 2018 for his violence. But, Danry was soon released on $10,000 bail according to the USA Today.
In an interview, Danry ex-girlfriend Fabiana said she was so committed to the player thinking that he is the only guy for her. Whenever she watches her abusive video, she recalls all the incident of and questions herself, how could that happen to her, why didn't she react, why didn't she do anything?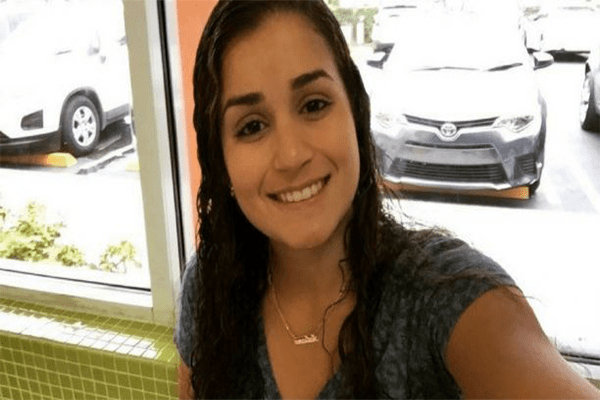 Fabiana Perez ex-girlfriend of baseball player Danry regrets forgiving and not putting charges for his behavior. 
Image source: Fox News
She wants to send the message to all the women to get rid of an abusive relationship if they aren't being respected by their partner. Fabiana regrets not putting any financial charges against Danry after the incident happened she added according to the Daily Mail.
Danry, on the other hand, was in a pre-trial diversion program that included anger management and counseling for domestic violence according to Mark Gonzalez, Nueces County District attorney.
After the few months of the incident happened, Danry broke up with Fabiana.

Above video is about Danry getting engaged to another woman in November 2017 according to TMZ. Currently, he married the same woman in the video.
The player Danry said he knows what image he has set in the eye of the public after his violent video. He said the video is really hard to watch and he is ashamed of his behavior. Danry said he wants a chance to prove himself that he is totally changed and such behavior won't be repeated by him.
According to Fox News, Vasquez recalled and said;
"I am a married man but not with the girl with that incident happened and I am totally changed. I have been involving in the activities that are helping me to change. "
Danry was often afraid that the video incident would cost his career. Many of the baseball players such as Justin Verlander, Lance McCullers Jr., Jerry Wayne Hairston Jr. cruised him on the twitter for violent behavior.

Stay tuned with SuperbHub for more Entertainment.