Daniel Negreanu who is widely known by his nickname as "Kid Poker" is a Canadian professional poker player.
Global Poker Index, the independent poker ranking recognized Daniel as the best poker player of the decade in  2014.
The famous poker artist was born on 26th of July, 1974 in Toronto, Ontario, Canada. In order to give children better lives, Daniel's parents moved to Canada after leaving Romania.
At an early age of 16, the famous poker discovered an affinity for gambling, poker and pool hustling.
Considered as one of the best and successful poker player, Daniel has got 6 World Series of Poker bracelet.
Daniel's competitive thirst was quenched with his love for numbers and probability. He didn't even complete his high school and left one art credit short and went full-time poker playing with adults twice his age.
Net Worth and Earnings
According to Celebrity Net Worth the Canadian professional poker player, Daniel Negreanu, has a net worth of $50 million.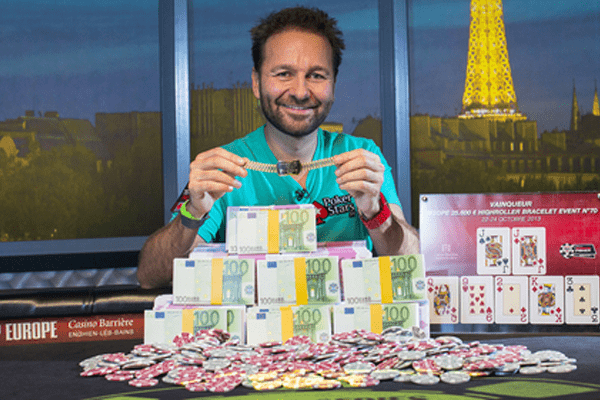 Daniel Negreanu after winning his 6th Bracelet at World Series Of Poker (WSOP). Image Source: Pinterest.
Daniel Negreanu is the biggest live tournament poker winner in history. He has won more than $33 million in prize money. For his achievement, Negreanu was inducted into the Poker Hall of Fame in 2014.
The 43-year-old is one of the richest poker players in the world.
"Kid Poker" has also released books. Here is the list of books published by Daniel along with their respective prices.
Power Hold'em Strategy. ($24.56)
Hold'em Wisdom for all Players. ($1.44)
More Hold'em Wisdom for all. ($14.13)
The millionaire poker player also has a futuristic and lavish house in Las Vegas. The house has got a number of rooms, a swimming pool, a poker table and arcade games with one machine that features 8,000 games and a beer tap on the side.
That's the type of lifestyle I too want if I ever become a millionaire. Since  Daniel has got a net worth of $50 million, it gives him a pleasure and access to afford such expensive and lavish lifestyle.
Here is a sneak peek into Daniel Negreanu's super futuristic house.
Family
The rich Canadian poker player hasn't got a large family. His Father Constantin Negreanu and mother Annie Negreanu must be proud of their millionaire son who has carved his name in the poker wall of fame.
Constantin and Annie emigrated from Romania, hoping to start a new life in the US but ended up settling in Toronto. The profession of Constantin was an electrician and sold confectionary.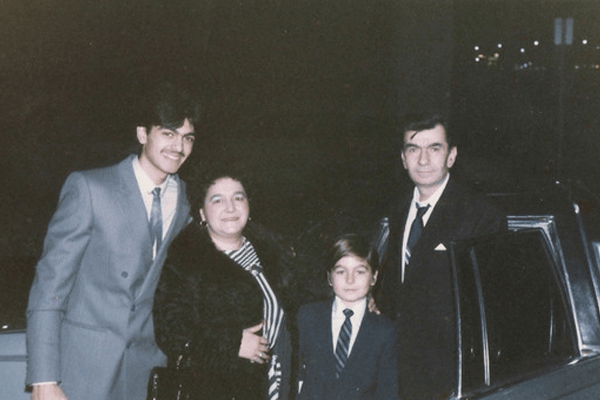 Daniel Negreanu along with family, father Constantin, mother Annie and brother Mike(from right to left).
Photo Source: iGaming.
Before that Daniel's father also worked as a boxer.
Daniel is not the only son in the family, aside from him, the Negreanu family has another son named Mike Negreanu. Mike is 5 years elder than Daniel.
Wife, Marriage, and Divorce
Daniel married a Michigan girl named Lori Weber in Las Vegas on 19th of August, 2005. The post-reception party was held at Le Bete, a nightclub.
When it comes to gambling, Daniel has got plenty of luck but it seems like the professional poker player could use some luck when it comes to his love life.
And unfortunately, Negreanu announced that he and Lori had agreed to a civilized divorce. The details further read that there was no need for any lawyers and they had taken care of details by themselves.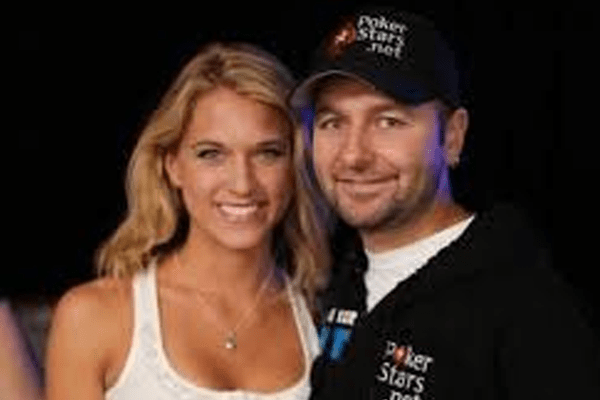 Daniel Negreanu with his Lori Weber divorced in 2007.
Image Source:  Famous Fix
Like many other famous celebrities couples, Daniel Negreanu and Lori Weber parted ways because of a busy schedule.
After their divorce, Daniel has been linked with a number of poker celebrities including rumors of a romance with Shanon Elizabeth, American Pie hottie.
For more News and Entertainment follow SuperbHub.