Many people aspire to spark their entrepreneurial selves and work for themselves. Very few among many make their dream come true one way or another. Amongst the few is CNN host, Chris Cuomo's wife, Cristina Greeven Cuomo.
Let's know about the beautiful wife, a mother, and the CEO and editor of PURIST.
Who Is Cristina Greeven Cuomo's Husband, Chris Cuomo?
Love helps people evolve and be the best version of themselves. Lucky people find their soulmate at their first attempt of love, and such a lucky person is Chris Cuomo's wife. The couple shared their vows in 2001 and are still going strong.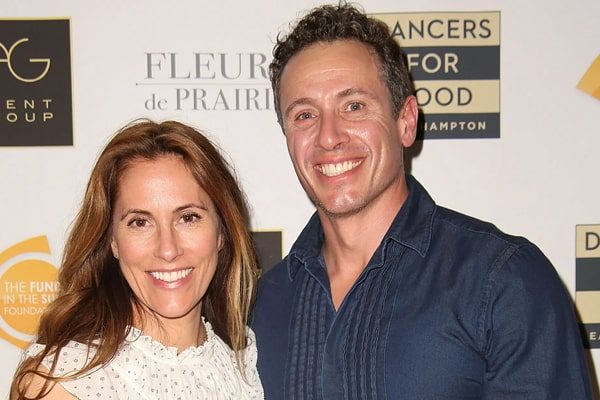 The couple has been married since 2001 and is still in love with one another. Image Source: Getty Images. 
Cristina Greeven Cuomo's husband Chris Cuomo is an American journalist known for Cuomo Prime Time, a weeknight news analysis show on CNN. Born on August 9, 1970, as Christopher Charles Cuomo, he began his career as a journalist. He has been climbing throughout his career and has earned a massive success.
Wedding and Children
Along with success came love. Cristina Greeven Cuomo married her husband, Chris, on November 24, 2001. The ceremony was held at the Sacred Hearts of Jesus and Mary Catholic Church in Southampton, Long Island. According to the New York Daily News, Cristina was half an hour late to the ceremony.
Furthermore, Cristina Greeven Cuomo's father-in-law, former Governor Mario Cuomo, joked about them having a great story with the journalists outside. Today, the couple is parents of three adorable children; Bella Cuomo, Mario Cuomo, and Carolina Regina Cuomo.
Let's hope the couple continues to fall in love with one another for centuries.
The global pandemic has taken a lot of lives across the world and is spreading rapidly. Presently, Cristina Greeven Cuomo's husband and CNN's prime time host, Chris Cuomo is tested positive for novel coronavirus. He shared his concerns about not transmitting to others via social media.
Furthermore, Chris wrote that he was exposed to people who were subsequently tested positive for the virus. He further wrote that he is quarantined in his basement and does his shows from there. Let's hope Chris recovers soon and gets back to his schedule.
What Is Cristina Greeven Cuomo's Net Worth?
Cristina Greeven Cuomo's net worth is impressive as she runs her magazine, PURIST. She has been running her editorial program since 2017. The magazine has both print and online editions and focuses on physical and emotional wellness.
Greeven Cuomo's website reveals that wellness is no longer an indulgence but a necessity. And hence, her magazine focuses on the well-being of mental, emotional, spiritual, and physical. Thus, this shows that her business ventures support Cuomo's net worth.
Before starting her own business, she worked as the editor-in-chief of the magazine's Manhattan and Beach. Unfortunately, according to the New York Post, she was laid off in November 2016 when the company downsized.
Besides publishing, Cristina has appeared in movies such as Blind, Gossip Girl, and Plum Daily. All these appearances may have benefitted her fortune a significant time.
Earlier in her career, she began her journey from Plum Hamptons and worked with Jason Binn as the editor in chief of Hamptons and Gotham magazines. Likewise, when she was not editing, she worked on a coffee table book on surfing for Assouline Publishing.
Hence, Cristina Greeven Cuomo's net worth is backed by all the works she has done. Her husband, Chris Cuomo's net worth, also influences her fortune, which happens to be $12 million. Let's hope Cristina's magazine achieves a huge success and allows her bank account to multiply.
Who Are Cristina Greeven Cuomo's Parents?
Born on January 12, 1970, Cristina Greeven grew up in New York City and Southampton, Long Island. Likewise, she attended the Chapin School, an all-girls school on the Upper Ear Side od Manhatten. Greeven went on to graduate from Cornell University with Bachelors of Arts.
Cristina Greeven was a fun child and heart of her parents, Regina Greeven and Rainer Greeven. Cristina Greeven Cuomo's parents got married in 1964 and gifted her with a sweet sister, Andrea. Mrs. Cuomo is a big fan of showing her parents to the world and wish them on their special occasions.
Let's hope Cristina Greeven Cuomo's big heart continues to fill with love and compassion. Likewise, let's hope she earns fame and money, along with stability in life.
Don't Miss To Follow SuperbHub For More Updates On Celebrity News, Entertainment, and Biography.