Professional Road Racer Connor Cummins aka the Ramsey Rocket made his debut in the Isle of Man TT in 2006 and has four podium finishes under his belt and holds the fastest lap of 131.767 mph. In 2009 Conor finished second in the Senior TT race on a McAdoo Kawasaki, 19.54 seconds behind the race winner Steve Plater.
Cummins is set to go down the Bray Hill again at the 2018 TT onboard the Honda CBR1000RR Fireblade SP competing in the Superbike and Senior TT race. Ramsey Rocket Cummins has been given the honor of number one plate to ride away first on the Glencrutchery Road.
Conor Cummins Biography
Born on May 27, 1986, on Douglas, Isle of Man, Cummins rides extensively on British Racing events and the annual closed-road racing TT in his hometown on the Isle of Mann. Conor is currently signed to Batley based team Padgett's Honda racing and has the Fastest Lap of 131.767 mph.
Initially, Conor started his career in the British Championship and Virgin Mobile Yamaha R6 cup. Considering him as a laidback and a likable character, Conor is still looking forward to winning his first TT race. Road Racing is in Conor's DNA as his father Billy Cummins is also a Manx Racer competing in the TT himself.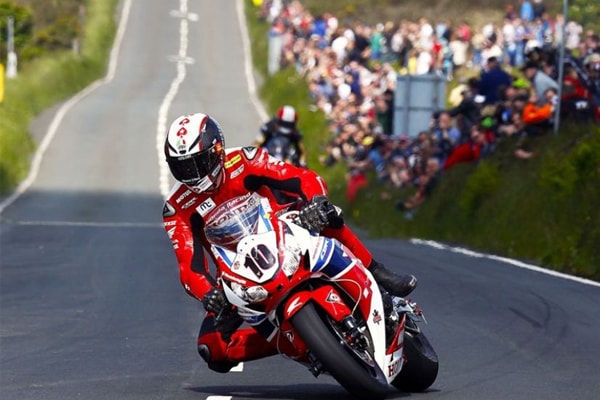 Conor Cummins aboard the Honda CBR 1000RR Fireblade on the Isle of Man TT.
Image Source:  IOM TT news
Conor Cummins Road Racing Time- Line
2006
Conor was awarded the title of fastest newcomers at the Vauxhall's North West 200, the Southern 100 and the Isle of Man TT. Conor was also entitled winner at the Newcomers Race on the Ulster Grand Prix.
2007 
Conor Cummins became the both Irish Superbike Road Race Champion and Irish Supersport champion. The 2007 season was well tucked for Cummins as he bagged 13 Irish National Road Race Wins. Manxman Cummins finished second in two races at the Ulster Grand Prix and a podium finish in the British Superbike Cup.
At the Isle of Man Cummins recorded four Top-8 finishes and two 5th place. In the Superstock race, Cummins made the record for the fastest local racer where he lapped in 18 minutes and 10.78 seconds and claimed the Duke Road Race Ranking Champion.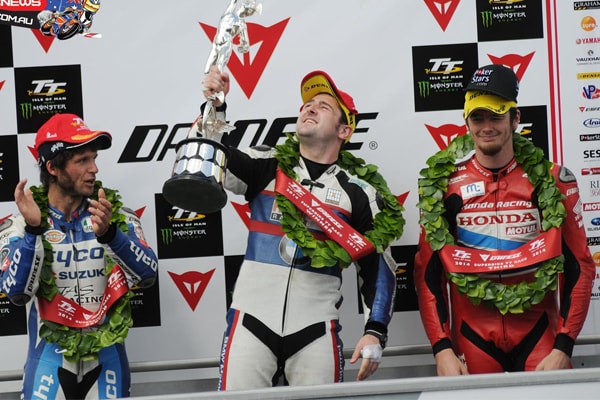 Conor Cummins standing at the Podium on the 2014 Superbike TT along winner Michael Dunlop and Guy Martin. 
Image Source: Motorcycle News 
2008
Manxman Cummins rode for Team VanFit Yamaha in the British Superstock starting in third place at the Oulton Park. Cummins hope for a podium finish was destroyed after his bike saw mechanical problems.
Manxman Cummins claimed 5th place on the Isle of Man TT in the Superstock and 7th on the Supersport Junior TT. Mechanical Problems are the worst fear for riders and Conor Cummins was forced to retire in the Senior and Supersport Race 1.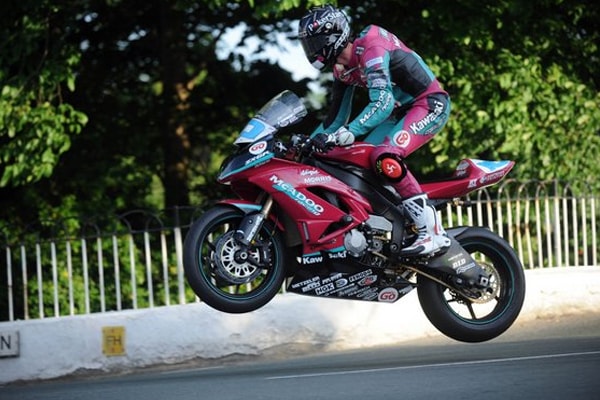 Conor Cummins onboard the McAdoo Kawasaki at Ballaugh Bridge on Isle of Man TT 2009. 
Image Source: Stephen Davison
2009-2011 Conor Cummins Brutal Mountain Accident
After parting ways with Vanfit team Cummins signed a deal with Cookstown based McAdoo Kawasaki Racing for the 2009 racing season. Cummins sealed his first TT podium finish in third place in Supersport Junior TT behind Michael Dunlop and Bruce Anstey.
Cummins became the fastest racer and won the Dunrod 150 Superbike race after a long race battle with Guy Martin, Ian Hutchinson, and Ryan Farquhar shattering the lap record with a final lap of 133.284 mph.
Watch Conor Cummins 2010 TT crash:
2010 season had a good start for Cummins on the TT and North West 200 onboard the Macadoo Kawasaki. It was in June when Cummins crashed on the mountain course at a speed of 150 mph sustaining five broken vertebrae which were completely shattered and a series of rods were inserted to stabilize the spine. The 11-hour operation was a success and Conor made his comeback at the Snaefell course after a year.
2012
Cummins signed a deal with TAS Tyco Suzuki team along with team member Guy Martin. Despite the high hopes Cummins had set for the year which was shattered after being struck by Gary Johnson which also included Martin Jessop who broke his collarbone.
Ramsey Rocket Cummins sustained an injury in his wrist and was only able to participate in the Practice lap of TT. Following the medical advice, Cummins withdrew from the Isle of Man TT 2012 without competing in any of Races.
2012 saw the first time of the TT race being canceled due to bad weather in its history of 105 years.
2013 Milwaukee Yamaha 
Cummins signed a new deal with Yamaha and finished third in the Lightweight TT race.
2016-2018 Padgetts Honda
In May 2016, Cummins switched from his longtime sponsor Jackson Racing to Padgett's Racing team for the Supersport 600 and Supersport. Cummins looks forward at 2018 to fill the void of 2017 season after struggling with his injury.
Conor Cummins and Padgetts Honda racing are honored as being the first one to set down the Bray Hill on the number 1 plate. Manxman Cummins will race Honda CBR 1000RR Fireblade in the Superbike race as well as the Senior TT race with Honda Racing team.
Conor made an impressive finish in the 2018 Classic TT onboard the Yamaha finishing third besides Host Saiger.
Conor Cummins Coffee Shop CONROD's
Besides Road Racing Conor also has the passion for beans and coffee. It was in 2015 when Conor launched his roving barista business with the same passion he throws onboard a bike. After being inspired by the coffee outlets Conor saw during his time in Australia.
Ramsey Rocket studied the art of coffee making and marketing course to be well tucked in his business. Conor says that his business has given him a dual purpose as when he is not racing he is serving coffee and running his business. Cummins coffee shop is named Conrod's which is located in his hometown Ramsey on the ground floor of Kermode House on Parliament Street. Conor Cummins Net Worth amasses from his road racing career and his ventures of Coffee Shop.
Conor Cummins Wife and Wedding
Cummins married his sweetheart Danielle Cuskeran Cummins on 4th November 2017 in St. Mary's Limavady Parish. Conor Cummins wife Danielle is from Northern Ireland and the duo had met in 2013.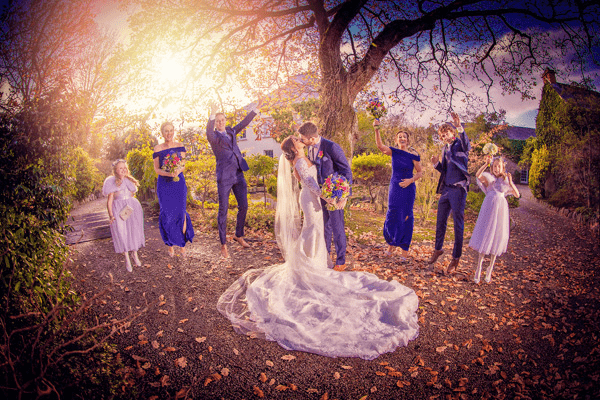 Conor Cummins Wedding to Danielle Cummins on 4th November 2017.
Image Source: Getting Married
2018 TT will see the absence of 23 times TT winner John McGuinness, Flying Kiwi Bruce Anstey, and Englishman Ian Hutchinson. Conor who is determined and likely to seal his first TT win this year with the absence of some world-class road racers.
15 times TT winner Michael Dunlop is signed to Tyco BMW and will get onboard the TAS Racing S 1000 for the RST superbike and Pokerstar senior races at the Isle of Man TT.
For More Celebrity News and Entertainment: SuperbHub.