Colin Firth is an Oscar-winning English actor who portrayed the role of King George VI on 2010's biography-drama The King's Speech. Known for his exceptional lead performances in movies like Pride and Prejudice (1995), Bridget Jones's Diary (2001), Love Actually(2003), Mamma Mia (2008), Colin Firth net worth touches the figure of $25 million.
Born on 10 September 1960, as Colin Andrew Firth in Grayshott, Hampshire, England, this revolutionary actor chose to become Italian citizen in 2017. Well, the reason is his marriage with wife Livia Giuggioli who is an Italian film producer and fashion consultant.
Firth has one son from his first wife, Meg Tilly. After the divorce, Colin married again to his sweetheart Livia and gave birth to two sons who are also Italian citizens. So, the family decided to get the same citizenship. On this matter, Colin Firth expressed that no matter what, he will always remain 'extremely British.'
Net Worth and Earnings
Theatre, Film and Television actor Colin Firth net worth is estimated to be $25 million according to The Richest. His movies were successful and was able to earn more than $4,604 million worldwide. Firth's September 2017 box office collection worldwide for the movie Kingsman: The Golden Circle alone was around $411 million.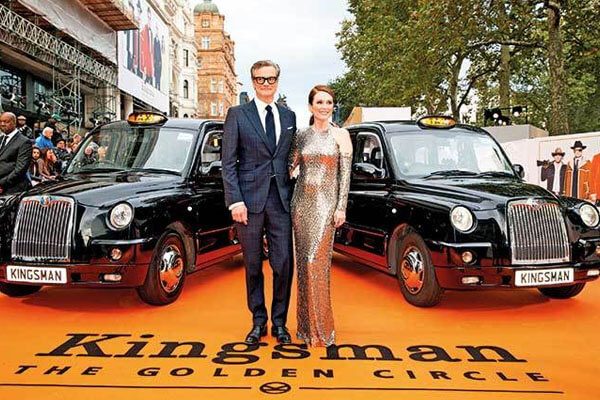 Colin Firth with his co-star Julianne Moore in London at the movie Kingsman: Golden Circle  premiere.
Have a look at Colin Firth's Hundred Dollar Million Box Office Sales and earnings from some of his movies;
| Colin Firth's Films | Box Office Earnings (in millions) |
| --- | --- |
| Mamma Mia(2008) | $609.8 |
| Kingsman: The secret service(2015) | $414.4 |
| Kingsman: The Golden Circle(2017) | $411.0 |
| The Kings Speech(2010) | $410.9 |
| Mamma Mia: Here We Go Again(2018) | $393.8 |
| A Christmas Carol(2009) | $325.3 |
| Shakespeare in Love(1998) | $289.3 |
| Bridget Jones's Diary(2001) | $281.9 |
| Love Actually(2003) | $246.9 |
| Bridget Jones's : The Edge of Reason(2004) | $262.5 |
| The English Patient(1996) | $232.0 |
| Bridger Jones's Baby(2016) | $212.0 |
| Nanny McPhee(2005) | $122.5 |
| Source: Box Office Mojo | |
These are the earnings in hundred thousand dollars. Firth has acted in many more films and have been successful in making a decent amount of money.
Initiating his drama career as a stage performer in 1983, Colin's first movie was the film adaptation of the play named Another Country, which released in 1984. Four years later, the evolving actor enticed the audiences with his portrayal of the real-life soldier, Robert Lawrence in the BBC drama, Tumbledown.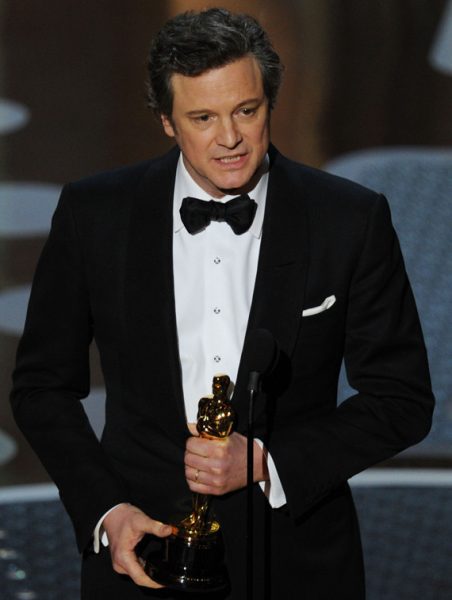 Colin Firth receives an Oscar with The King's Speech in 2011. Image Source: Huffington Post
Colin had continued his acting career with his prominent performances and it was in 2010 when Firth's performance on 2009 drama movie A Single Man earned him an Oscar nomination under the Best Actor category. A year later, he got his hands on the Oscars with 2010 epic historical drama The King's Speech.
Colin Firth along with his family lives in their luxurious estate at Città della Pieve , the town at the rolling countryside of Umbria. The place is known as Italy's lakeside retreat. Any ten-bedroom house in the great estate cost around € 2.2 million ($2.50 million)
Other than that, Colin has a massive car collection which includes Aston Martin DB9 which is worth $65K.
Relationship with Wife Livia Giuggioli
It was in 1997 when the Hollywood heartthrob Colin tied a wedding knot with Italian film producer, Livia Giuggioli. Before that, Firth was in a relationship with Meg Tilly, his co-star in the 1989 movie Valmont. The couple paired with one another in 1989 and had a son named William Joseph in 1990. However, the couple couldn't keep pace with their relationship and parted ways in 1994.
Since holding each other's hand in 1997, Colin and Livia have been together. However, they have had some ups and down which led to their discreet separation between year 2015 and 2016.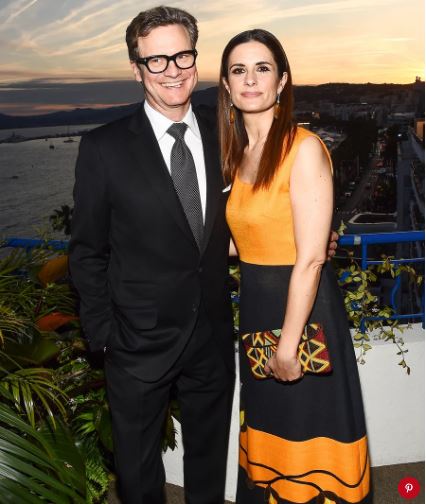 Colin Firth has been married to his wife Livia Giuggioli since 1997. Image Source: People
Nevertheless, with the time being, the couple has found a way to secure their bond. Colin, who looks more committed than before, was seen supporting his wife when the pair accused Italian journalist Marco Brancaccio of stalking Livia.
Colin Firth's wife too admitted that she had a kind of fling with her childhood friend during the time of her separation with her husband. However after she reunited with Firth, the friend turned into a stalker sending harassing messages.
The couple however reached out of court settlement with Livia's ex-lover and the issue was solved.
Since the reunion, the couple is living a happy life alongside their two sons, 16-year-old Luca and 15-year-old Matteo, and Colin's son from his first marriage.
Quick Facts on Colin Firth's Parents, Siblings, Marriage
Firth was born as the eldest of three children to his academics and teachers, parents.
Colin's father, David Norman Lewis Firth, served as a history lecturer and mother, a comparative religion lecturer at King Alfred's College. Firth's sister, Kate, is an actress and voice coach, and his brother, Jonathan, is an actor.
Throughout his childhood, Colin moved places due to his parents' work.
Colin Firth got married with second wife Livia in a church outside Città della Pieve,which was also the home of 50 cm-wide Vicolo Baciodonna, Italy's narrowest street.
Colin and wife Livia seperated twice
Colin Firth got an Italian citizenship just because the whole family has Italian citizenship and passports.
Stay with SuperbHub for more Biography and Entertainment posts!