Chris D'Elia is a famous name in the comedy world. He is an american actor, stand-up comedian, presenter and a writer who is known best for appearing as Alex Miller on the NBC sitcom Whitney. Also a rapper, who released his parody rap album, Such is Life in 2013, Chris D'Elia net worth has certainly crossed Celebrity net worth's reported $6 million of 2015.
After starring in (2014-2016) NBC's comedy series, Undateable, Chris became busy with stand up comedy tours, his Congratulations with Chris D'elia Podcast, and online store with varieties of Sweatshirts, T-shirts, Hats, Hoodies for sale.
Chris D'Elia was born in New Jersey, United States of America on March 29, 1980. He was born to father Bill D'Elia, who is famous as American TV screenwriter, director and producer of many TV shows. Bill's noteworthy direction can be seen on shows like, 'The Grey's Anatomy', 'The Resident' and 'The Good Doctor' episodes.
Son of mother Ellie D'Elia, Chris spent his childhood in New Jersey. He and his younger brother, actor and Filmmaker Matt D'Elia had a very good bonding. D'Elia family moved to Los Angles when Chris was 12 years old.
Chris had already started acting during his high school days. After completion of his schooling from La Canada High School in 1998, Chris went on to attend New York University. He studied acting there. But, he dropped his studies and went on to pursue a career of his interest.
Chris got busy in writing scripts before his stand-up career took off when he was 25. He has been working in the stand-up comedy field since the year 2006 till date. He also prefers to be called a stand-up comedian rather than an actor and the earnings from his tours add substantial amount in Chris D'Elia net worth.
Chris featured on Comedy Central Presents and Comedy Central Live at Gotham. Moreover, he also featured on Showtime Live Nude Comedy. He also appeared in 2010 comedy series 'Glory Daze.'
Besides these, Chris D'Elia also hosted the Ten Minute Podcast. Not only that, he also happened to be the co-star in the NBC comedy series titled Whitney with co-star Whitney Cummings from 2011-2014.
Chris also released his Comedy Central one hour Special, 'White Male. Black Comic' in December 2013.

He also released a parody rap album, Such is Life in January 2013. Moreover, Chris was cast in the lead role of the NBC sitcom Undateable. He headlined the Leafy 420 comedy Tour show in the year 2016.
Although Chris D'Elia has portrayed the role of a frequent drinker in Whitney and Undateable, he has never actually consumed drugs or alcohol in his real life.
Enlisted in Top 10 comics to watch by Variety, Chris D'Elia Man on Fire is featured in Netflix since 2o17. And the director was his proud father. Chris debuted in Netflix through his standup 'Incorrigible' in April 2015.
Launched in February 2017, Chris has been hosting a very successful 'Congratulations with Chris D'Elia weekly podcast. It has gained place on iTunes comedy podcasts charts since.
In 2017, D'Elia also signed and worked for a supporting role in Life in a Year drama with Cara Delevingne, Nia Long, Jaden Smith and Cuba Gooding Jr. He also became a main part of 'Little Evil' a Netflix horror comedy with Evangeline Lilly and Adam Scott.
Chris D'Elia net worth is estimated to be $6 million according to Celebrity Net Worth. Well his fortune can be estimated more than that with his increasing engagement in shows, tours and podcasts. His podcast has been quite successful and so is his tours.
For instance, in March 2018, Chris D'Elia had tours on places like in Ruby Diamond Concert Hall FSU, Tallahassee, Florida, Hard Rock Live, Orlando, Charleston Music Hall, Charleston, South Carolina. His ticket price start from $29.25-$30. And the tickets are always sold out adding to Chris D'Elia net worth.
He also received enough salary as a comedian. For instance, Comedy central paid $15,000 for an half-hour special, which increases with a half or year experience, according to New York Times. This stat was based in 2012. Similarly as a TV show actor, Chris might have earned salary not less than annual $60,000. Podcast runners also earns annually $60,000-$70,000.
His online store sells clothing including Hat, sweatshirts, hoodies, T-shirts, pants and even pencils.
Along with adequate earning, Chris D'Elia net worth includes his property at Los Angeles. He purchased the house from famous TV host, Craig Ferguson in 2013.  However, according to LA Times, Chris D'Elia sold his Spanish style house in lower Beachwood Canyon for $1.9 million in 2016.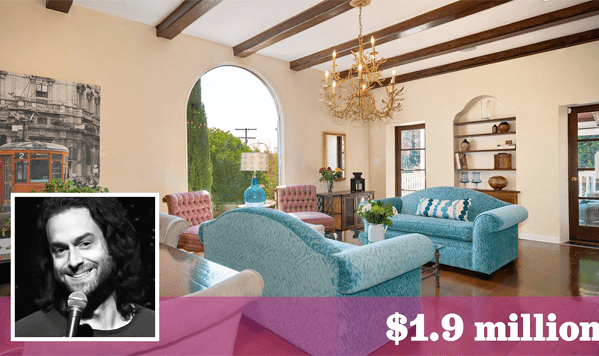 Chris D'Elia net worth includes the $1.9 million money he received after selling his 2,600 square feet house. Source: Los Angeles Times
The beautiful house consisted a kitchen, three bedrooms, four bathrooms, an office and also a media room. Chris is still known to be living in Los Angeles.
Along with his house, Chris D'Elia net worth is really amazing as he rides New Audi RS 7 luxury car whose 2018 model price starts at $113,900.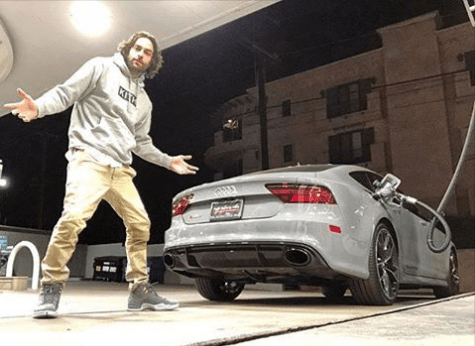 Chris D'Elia net worth: Rides Audi RS 7 luxury car worth $113, 900. 
Source: Chris D'Elia's Facebook
Chris D'Elia was initially dating Emily Montague, 'Fright Night' actress. After dating for few years, they decided to tie knots. The couple's wedding took place in the year 2006 and Emily finally became Chris D'Elia's wife.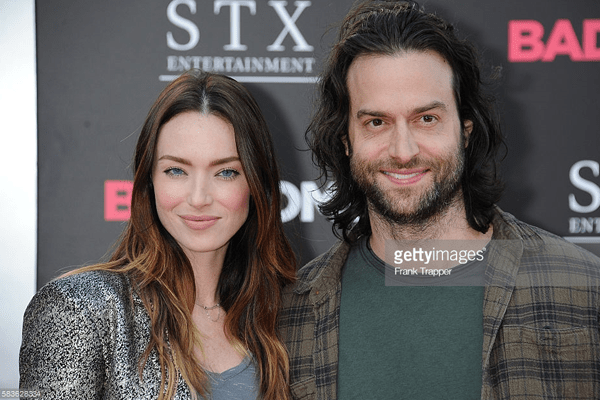 Chris D'Elia with ex-wife Emily in STX Entertainment's 'Bad Moms' premiere.
The couple did not have any children and after four years being together, the once sweethearts decided to get divorced.
They sadly ended their relationship in 2010. Chris D'elia was rumored to have dated his Whitney co-star Whitney Cummings, However, the rumor is not confirmed to be true. He not been spotted dating anyone after that. He might be busy with his career or might be disinterested to start a new relationship.
As of 2018, Chris loves to spend time with his boy.
Originally published on April 10, 2017, and updated in March 27, 2018.
For more biographies of celebrity and entertainment, stay with SuperbHub.