Cherry Seaborn is known for her relationship with famous singer and musician Ed-Sheeran. She was born on May 6, 1992, in Suffolk, England.  She has a very impressive resume which proves she is much more than sweetheart of Ed-Sheeran.
According to The Sun, it is known that she worked as a senior consultant in an accounting firm in New York, before moving back to Britain in 2016. The earnings from the company definitely add to Cherry Seaborn net worth.
Cherry is the daughter of Matthew Seaborn and Ann Lancaster. Cherry has one brother named Charlie Seaborn who plays rugby at the College of St Hild and St Bede, Durham University. Her father played cricket and soccer at the former Oxford Polytechnic in Oxford, England.
Born in the family of athletes, Cherry might have got interested in the sport too. According to Famous Birthday, She was the hockey champ in 2012 and 2013 at Durham University in the U.K.
Cherry Completed her secondary education from Thomas Mills High School in Framlingham, England. Cherry has always wanted to study at Duke University since childhood, so she moved to the United States for Master of Management Studies.
Cherry is really a sportsperson with a very good qualification and athlete history.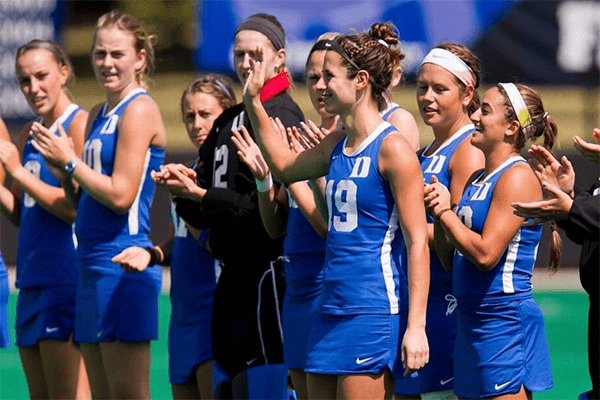 Cherry Seaborn with her team in hockey championship in 2013.
Image source: The News and Observer
Ed-Sheeran and his fiancee Cherry Seaborn was school classmates at Thomas Mills High School in Framlingham, Suffolk. Ed-Sheeran had a crush on Cherry since his school days and he was always sure that Cherry was perfect for him.
It is reported that they have been dating since 2015. Cherry was the inspiration for the hit song Perfect says Ed-Sheeran to US Magazine.
Being in the long-distance relationship with Ed-Sheeran, Cherry flew back to England in 2016 to be with him.  Their relationship was under the wrap until Cherry and Sheeran were seen kissing on the photograph from Taylor Swift holiday.

It is not sure when the couple started living together but, on Last February with BBC Radio 2, Sheeran said that they are living together with cats and he feels secure. On January 20, Sheeran announced his engagement with Cherry.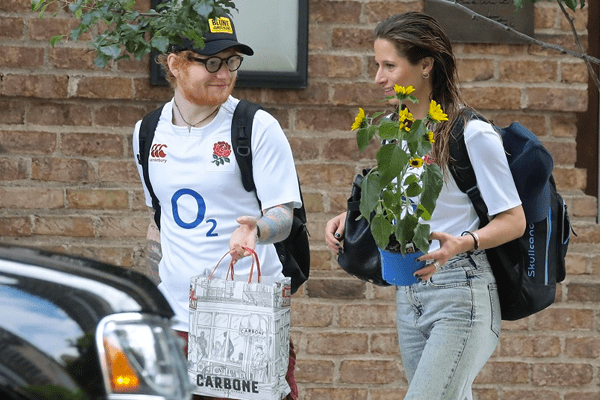 Ed Sheeran and fiance Cherry Seaborn live together with their cats.
Source: Spy News
Ed-Sheeran's fiancee Cherry is rumored to have worked as a Senior Consultant in Deloitte, an accounting firm, the company with over £10 billion per year. It was a company based in New York. Cherry has been now living with her fiance Sheeran in U.K.
Since Deloitte has it's company in U.K, she might have been continuing to work there. However, Cherry Seaborn's earning has not been disclosed yet. Since Cherry is engaged with Ed-Sheeran, we can mention the Net Worth of Sheeran as part of her. According to that, Cherry Seaborn Net Worth would be $37 million as of 2018.
Be connected with SuperbHub for more Celebrity Biography.