This generation has allowed every individual to shine on their talent via different social media platforms such as YouTube, TikTok, Instagram, etc. Teenagers and many stars are emerging through these sites and are earning reputations. Among them is Chase Hudson, aka Lil Huddy.
Chase Hudson rose to fame as his TikTok videos went viral. A part of his glory is aided by his relationship with fellow TikTok-er, Charli D'Amelio. Let's get to know more about this handsome TikTok artist and YouTuber.
Are Chase Hudson And Charli D'Amelio Dating?
Chase Hudson is a cheeky boy with a charming attitude and equally shining fame. Chase Hudson's girlfriend, Charli D'Amelio, is an American social media personality and dancer who has been called the "reigning queen of TikTok" by the New York Times. She has appeared in many talk shows like The Tonight Show Starring Jimmy Fallon, The Ellen Show, etc.
Moreover, the Hype House member began duets with Charli D'Amelio since November 2019, and there sparked rumors of dating as they had undeniable chemistry.
Along with the adorable TikTok videos, Dixie D'Amelio's sister, Charli D'Amelio, posted sweet pictures of them without explanations. However, posts became more frequent and romantic, while Chase Husdon posted another eye-raising photograph with an adorable caption.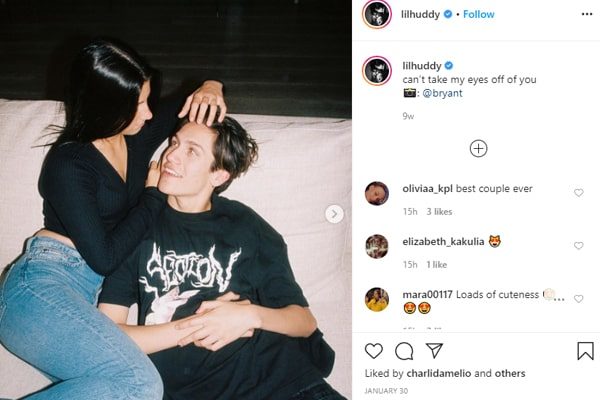 Although the couple was not official, Chase and Charli uploaded adorable pictures. Image Source: Chase Hudson's Instagram.
Likewise, they were spotted in different places getting all cozy and holding hands. Finally, Chase Hudson officially announced their relationship in February 2020 with cute photographs. The couple shared awesome TikTok and entertained their audiences.
According to his interview with ET, Lilhuddy revealed that the couple had been unofficially together since late December. He also revealed that they were taking things slow, steady, and talked about their pretty dates. Furthermore, what Chase Hudson loved about his girlfriend was that she was shy and showed her personality, which stood out for him.
The couple dated for a couple of months before the "cheating bomb" was thrown at Charli D'Amelio's boyfriend.
Did Chase Hudson, aka Lil Huddy Cheat On Charli?
Everything was going well and smooth before members of another TikTok group, the Sway House,  Josh Richards, and Bryce Hall came out with a diss track. The track claimed that Chase Hudson slid into Josh Richard's girlfriend, Nessa Barrett, and sent elicit images.
Among the lyric is "This is to tell all of your fans you still be f*cking with girls. Telling people Charli's your world." A real messed up situation for the young couple to deal with within three months into the relationship. However, Chase Hudson's girlfriend, Charli, has maintained her silence regarding the mess.
Fed up with all the rumors, mama D'Amelio commented, "Ugh, this is disgusting!! No one but Charli and Chase knows what is going on with them! Everyone has decided they know what happened. How can anyone have these thoughts? They are horrible!! Please spread positivity!!! Please!! Always!!!"
Likewise, Chase Hudson came out clean via Twitter and claimed to love only one woman while Bryce and Nessa are in denial. They weren't buying Hudson's tweet and claimed to have failed the purpose of diss track if it was all a lie.
Let's hope the misunderstanding ends soon, and the clouds of rumors clear up before their relationship crumble down.
How Much Is Chase Hudson's Net Worth?
Chase Hudson is an American social media personality and tik tok star who has earned fame and money at a very young age. After all the hard works and fun, Chase Hudson's net worth has escalated to $3 million. He is best known for his TikTok videos and has 18 million followers on TikTok, 6.8 million followers on Instagram.
Chase Hudson gained popularity with his lip-syncing videos to artists, including Justin Bieber and Pitbull. Furthermore, he co-founded the Hype House in 2019 along with Thomas Petrou. He is a member along with girlfriend Charli D'Amelio, Addison Rae, and other TikTok creators.
View this post on Instagram
Likewise, Hudson signed with one of the largest talent agencies, WMR. Chase also has a YouTube channel and has 1.02 million subscribers. Hudson's earnings from the channel are estimated somewhere between $10.1K – $162.3K yearly as he has uploaded only 13 videos.
Likewise, Chase Hudson's fortune is aided by his merch. Some of the lilhuddy merches are listed below with their respective prices.
 Chase Hudson Graffiti Black Mineral Wash Hoodie: $35.20
Jellyfish ' Black Hoodie: $35.20
Graffiti Black Mineral Wash t-shirt: $19.20
Graffiti Black Joggers: $27.20
As Chase Hudson is the co-founder of the Hype House, his source of income includes the merch of the house as well. Few items are listed below:
Hype House Logo Hoodie: $59.95
Rainbow Purple Tee: $24.95
90's Tank top: $24.95
Hype House Beanie: $19.95
Logo Cap: $24.95
Since Chase Hudson is also a social media personality, he earns from endorsements and sponsorships. Let's hope the TikTok star uses his platform for fame, money, and good deeds in the future.
Where Are Chase Hudson's Parents?
Born on May 15, 2002, in Stockton, California, United States, Chase Hudson is making his parents, Tamora Hudson and Cole Hudson, proud. According to Familytron, Chase Hudson's father is a teacher at Lodi Unified School District, accompanied by his mother.
Chase Hudson's fans recognize his mother as "Mama Hudson" as she appeared in a cooking video. Chase grew up alongside two sisters, Marlena Hudson and Karissa Hudson. The siblings seem to share an excellent bond. Hudson's elder sister also makes TikTok videos
Chase Hudson is a high schooler and is continuing his study along with TikTok. Although he is famous and everything, Hudson is still a teen who happened to be famous; therefore, he cares about what people say about him.
Let's hope Chase Hudson, aka Lil Huddy, learns to cope with negative comments and enjoys his career more without pressurizing himself.
Fun Facts
Chase Hudson likes BTS and has a celebrity crush on Billie Eilish.
Hudson is insecure and cares about what people think about him.
As a kid, Hudson and his best friend wanted to be a rollercoaster designer.
His dream vacation is in Bora Bora, and he wants his honeymoon in Bora Bora.
He likes to cook.
Hudson's biggest pet peeve is chewing with mouth open.
Hudson previously dated TikTok star, Cynthia Parker.
Don't Miss To Follow SuperbHub For More Updates On Celebrity Entertainment, Biography, and News.