Brittany Lopez is no strange name to the followers of famed American actor, voice artist, and producer, Christian Slater. Slater fans are well aware of the fact that Brittany shares a romantic bliss with the Golden Globe-winning actor.
Besides holding her identity as the wife of an entertainment superstar, Brittany possesses a professional identity of her own. Previously serving as an assistant director in the Museum of Contemporary Art, Lopez has excelled her interest and skills in arts and design.
Brittany's Short Bio: Family, Education
Born on 14 August 1987, Brittany is one of the three daughters of her businessman father, Albert Lopez. Albert is the owner of General Asphalt: the biggest civil contractors in South Florida.
Brittany, who possesses American nationality and belongs to Caucasian ethnicity, completed her studies in literature and economics from the Carleton College in Northfield, Minnesota. Subsequently, Lopez diverged her career into arts and design as it was her childhood interest.
Brittany Lopez Net Worth, Career
Fascinated by the true colors of art, Brittany collaborated with the Museum of Contemporary Art where she served as an assistant director until 2013. Following that, Brittany decided to work independently with the art ideas she managed to explore.
Though her professional success seems to cherish her with a handsome paycheck, Brittany's actual net worth still remains confined on the internet. However, she enjoys the hefty net worth of her superstar husband, who amasses $30 Million as of 2018.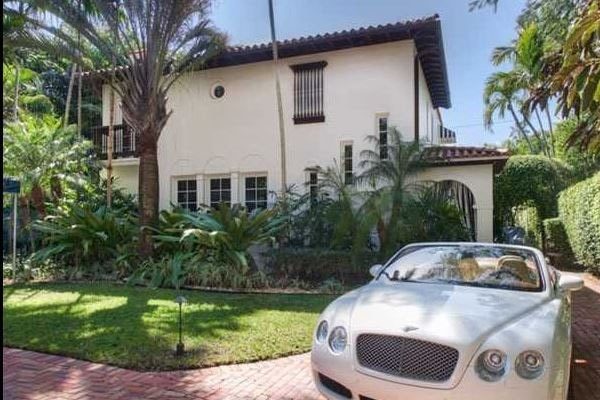 Brittany Lopez's Net Worth includes $2.2 Million-worth Miami House. Image Source: The Huffington Post
Besides, Brittany shares a luxurious lifestyle with her lifepartner in their $2.2 Million-worth home in Miami's Coconut Grove, which Slater bought in 2013.
Brittany Lopez's Married Life: Second Wife Of Christian Slater!
The date 2 December 2013 marked a new beginning in Brittany Lopez's life. That's right! The charming and gorgeous art lover tied the knot with a charismatic actor at the courthouse in Coral Gables in Florida.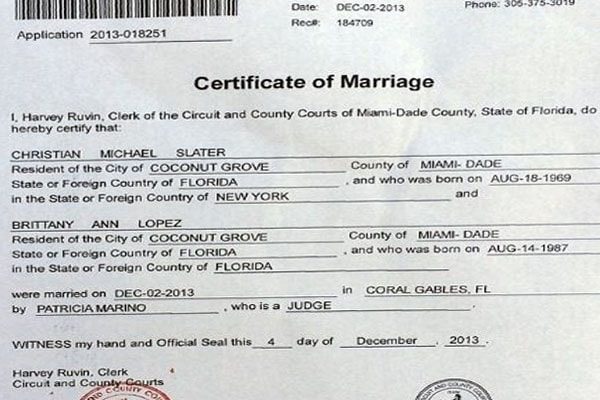 Brittany Lopez gets married to her husband, Christian Slater at the courthouse in Coral Gables in Florida in 2013. Image Source: Daily Mail
It was a decision at a flash as the couple only headed to the court to get their marriage license. All of a sudden, the pair couldn't resist feeling the charm of a soothing bond and decided to hold each other's hand— a replica of Slater's scene in the 1993 movie, True Romance.
Brittany first met Christian back in 2009 at the Little Palm Island in Florida two years after Slater ended the marriage terms with his first wife, Ryan Haddon. Despite sharing the bliss of two kids: Jaden Christopher Haddon-Slater and Eliana Sophia Haddon-Slater with his former wife, Christian parted ways with Ryan in 2007—after seven years of togetherness!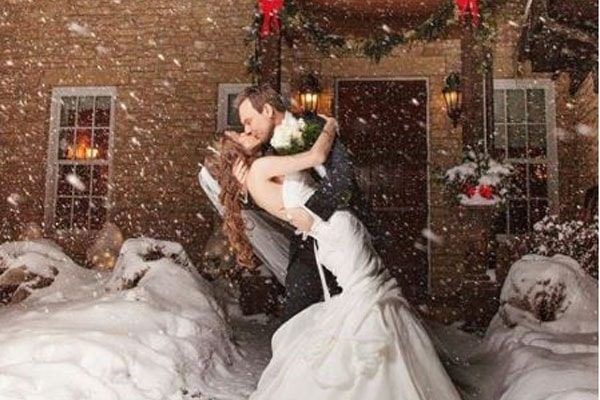 Brittany and Christian celebrate their wedding in a blissful occasion. Image Source: Instagram
Brittany never seemed to be bothered by Christian's past life as she decided to get engaged with him in February 2013. Following that, the couple shared the marriage vows and is keeping up with their promises up until now.
Some Facts About Brittany Lopez
When Slater initially met Brittany, he thought that she was a lesbian as she was walking alongside a slightly older lady. Suddenly, Brittany went down on one knee and proposed to the older lady in the spot which was famous for proposing. However, when Christian rushed over to congratulate them, he found out that the other lady was Brittany's aunt and they were making a joke.
Brittany's engagement with Slater came to the knowledge of the paparazzi when the latter actor confirmed the news on Late Night with Jimmy Fallon.
To get more  Entertainment, News, Biography, Article, and Health & Beauty updates, stay tight with SuperbHub!