Bretman Sacayanan aka Bretman Rock was born on July 31, 1998, in the Philippines. He is an Instagram star, YouTuber and Viner and is known for his makeup content and funny videos. His parents raised him along with his sister, Princess Mae.
Bretman Rock's net worth is estimated to be $1.2 million. He is gay and is possibly single. Not just with his makeup skills but Bretman is also a well-known meme subject. Many users upload different posts and make memes using his photos.
Net Worth and Earnings
As mentioned earlier, Bretman Rock's net worth is estimated to be $1.2 million. The young rising star's primary source of income is from YouTube and Instagram. He has also made merchandise personalized with his name and earns a good sum from it too.
He launched his YouTube channel in September of 2012 but did not start creating content on YouTube until 2015. According to Social Blade, Bretman Rock's YouTube channel generates an estimated monthly earning ranging from $4.9k to $77.6k and an estimated yearly earning which ranges from $58.2K – $931.4K.
Before his fame, he was just a normal social media user who joined Twitter in May of 2011.
At present, the talented boy is a world-famous YouTuber and Instagram star who posts makeup tutorials time and again. He currently has more than 9 million fans on Instagram and 5.7 million subscribers on YouTube.
You can find Bretman Rock's merchandise in different online sites. He provides his fans with different beauty and clothing products.
Family
Bretman was born in the Philippines and relocated to Hawaii, but is also of Portuguese descent. In an interview, Bretman said "My dad was obsessed with wrestlers, and he liked Bret Hart and the Rock, so that's how he got Bretman Rock," Besides that no actual real information about his parents been revealed ever publicly.
In his first challenge video, he featured his sister Princess Mae.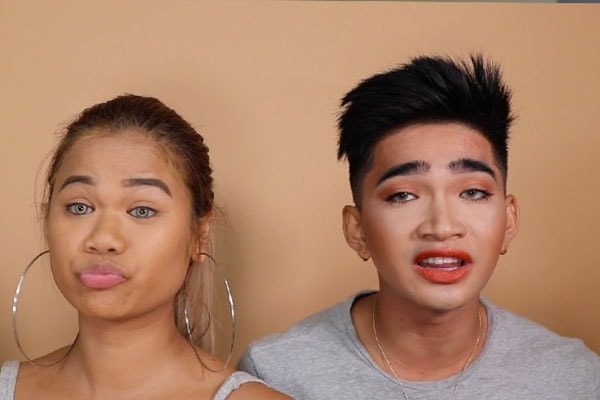 Bretman with his sister Princess Mae, in a makeup tutorial. Image Source: YouTube.
He also has got a niece named Cleo, whom he also features across his social media.
Relationship and Dating
The YouTuber Bretman Rock is openly gay. He revealed about his sexuality through his tweet on 21 November 2017, saying he is gay.
On Valentine's Day of 2018, Bretman Rock surprised his fans by posting a photo with a guy, who was holding him. He even wished his fans saying "Happy Valentine's Day." His fans were shocked and surprised to hear it.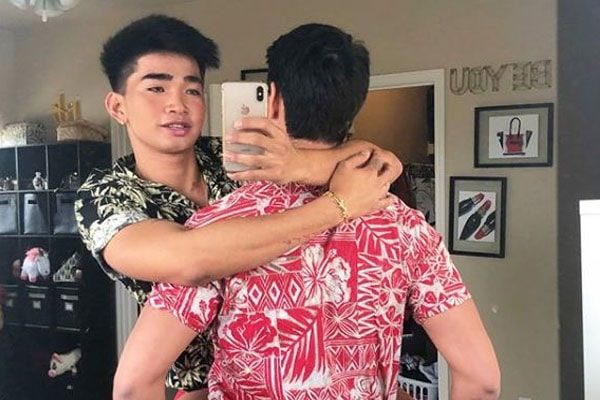 Bretman Rock once uploaded a photo with a guy during Valentine's Day. Image Source: Bretman's Instagram.
The fans repeatedly asked him who was that guy but the identity of the mysterious guy hasn't been revealed yet. Meanwhile, at the beginning of the year 2019, he made a confusing announcement about his personal life in the Instagram video.
On the Q&A video uploaded on Instagram on 31 January 2019, one of his fans asked him whether he was single at the moment. He replied saying "Yes" in the video. Plus, he even believes that being single is a choice. Whether that guy was Bretman Rock's boyfriend or not? or did Bretman uploaded the photo just to play with his fans? Well, the answer is only known by Bretman himself.
So we can assume that the talented American makeup artist Bretman Rock is single.
Stay connected with SuperbHub for more News, Biography and Entertainment.