World Box Council (WBC) winner Mike Tyson, is an American former professional boxer who is titled as undisputed and heavyweight champion. Boxer Mike Tyson was the youngest to win a heavyweight title.
Mike Tyson was named as Michael Gerard Tyson by father Jimmy Kirkpatrick and mother Lorna Smith in his birth. He was born on June 30, 1966, in Brooklyn, New York. Mike Tyson was the younger sibling to two elder brothers named Rodney Tyson and Jimmie Lee Kirkpatrick and an elder sister named Denise Tyson.
Mike Tyson involved in street fighting, criminal activities along with his gang named as Jolly Stompers. The gang had assigned him to clean out cash registers. He was only 11 years when he involved in such activities. Mike Tyson and his gang member used to do numerous illegal acts but they somehow managed to escape every time from the police. But, by the age of 13, Mike got arrested for more than 30times.
Looking at his educational history, Mike Tyson had been enrolled to Tryon School for Boys because of his bad behavior from the early age and later on to Catskill High School.
While Mike Tyson enrolled to Tryon, he got a chance to meet Bob Stewart, an Amateur Boxing Champion. He progressively started to have interest in boxing after the meeting. Eventually, he requested his counselor to teach him how to use his fists.With a condition of working hard and not involving in criminal acts, the counselor accepted his offer.The counselor taught him everything what he knew and introduced the aspiring boxer to legendary American boxing manager and trainer Constantine Cus D'Amato.
Cus D'Amato had a gym in Catskill, New York and had handled the careers of several successful boxers including Floyd Patterson and Jose Torres. With a single look to Mike Tyson, D'Amato uttered, "If you want to stay here or want to listen you could surely win the title of heavyweight champion someday". Mike Tyson accepted his suggestions and joined him. Later, the relationship between D'Amato and Mike Tyson wasn't just of professional trainer and a boxer.It was more like father and a son.
Mike Tyson was regarded as the wing of D'Amato. Back then, he joined to D'Amato's full time custody. For the young athlete, D'Amato set a training schedule in the evening so that Mike Tyson can attend High School during the day.D'Amato subsequently encouraged Mike in amateur boxing matches and smokers or non-smokers sanctioned fights. This way he could teach him the techniques how to deal with older opponents.
As of 1982, Mike Tyson had to go through several personal losses. He lost his mother at the same year. She died of cancer and Mike Tyson got emotional by remembering,"she only knew me as a wild kid with a very bad characters and we even didn't get sufficient time to know about each other." Besides that, he was also expelled from Catskill High School for his violent and intolerable actions.
To surpass the traumatic events, he developed and trained himself for participating at the Olympic trials in 1984. He challenged but unfortunately lost to Henry Tillman who was a regular gold medalist.  With Mike Tyson's failure, D'Amato thought "this is the right time for converting his fighting into a professional boxing."
Boxing Record and Achievements
Tyson worked really hard and On March 6, 1985, Mike Tyson gained a nickname "Iron Mike" for his strength, quick fists and defensive ability. His opponent parties were afraid of his hits and thus no one dared to challenge him for fighting. Though that was the year of his first success in boxing, he wasn't satisfied with his achievement. Because,he lost his trainer D'Amato the same year. D'Amato died of pneumonia.
After D'Amato's death, boxing trainer Kevin Rooney took over his duties. Being involved in the coaching class for several years,  Mike Tyson started his journey to the path the D'Amato had suggested. He went to Houston to show his strength where he won the title of thirteen knockout. There, Boxer Mike Tyson dedicated his win to D'Amato.
By 1986, November 22, Boxer Mike Tyson, at the age of 20, finally reached to the stage he dreamed of for several years. There, Tyson received his first title fight against Trevor Berbick for the world Boxing Council heavyweight championship.  He even broke the title of youngest heavyweight champion in the history.
Following the victory of WBC,  Boxer Mike Tyson kept moving and defended the opponent parties. Constantly, he was renowned as the first heavyweight champion who had been able to gather all three major boxing belts by winning the International Boxing Federation title from Tony Tucker.
His victory put him into the attention of media people and he began to live a celebrity life. While gaining one after another achievements, Boxer Mike Tyson got his insight into television actress . They began dating and married on February 7, 1988 in New York.
Downfall, Consequences and Imprisonment
In the mean course, Tyson started to loose his grip in boxing. He blamed his boxing trainer for the reason and fired him. Known for the wild and rude behavior from the early age, he couldn't tolerate the level of his defeat.  He began to lose his control in and out of the rings. There was also a news rumor of Tyson forcing his wife Robin Givens and her mother to leave the home. The matter went to the police. However, his fans criticized his wife and called her a gold digger. The situation became worse when he began to fight with street gangs. He even had an accident as a result of careless driving and was found unconscious. A bone in his right hand was broken.
With further and detailed investigation, it was clear that the accident was due to the excessive use of drugs. He was then fined $200 for speeding. During the same period,  his wife filed for divorce. He was also initially sued for his inappropriate or forceful behavior towards two ladies named Sandra Miller and Lori Davis at nightclub patrons. In 1989, February 14, he and his wife got officially divorced.
To make it worse, Boxer  Mike Tyson began to fall in many illegal cases. In 1991, he was arrested for the rape of 18 years old girl Desiree Washington. But then, with proper investigation by lead prosecutor Gregory Garrison,  he denied and claimed that she herself wanted to have sex with him.The case was up to the court but he lost the case because of the lack of strong proof or instructions. Then on March 26, 1992 he was penalized for six years imprisonment. Mike Tyson was released on March 1995.
After several ups and downs and unstable emotional experiences Boxer Mike Tyson wanted to built up positive outlook towards his life. Tyson appeared in boxing ring with new courage, new strength, new life. He won against Peter McNeeley and Buster Mathis Jr. The telecast crossed more than $96 million and was purchased at $1.52 million for PPV viewership and revenue record.
Boxer Mike Tyson further, in 1996, regained one belt by defeating  Frank Bruno and added WBA belt by defeating champion Bruce Seldon in the same year.
By 2009, Boxer Mike Tyson tried his luck in acting along with boxing by  appearing on television series like Entourage, How I met Your Mother and Law & Order: special Victims Unit. Similarly, in 2012, Mike Tyson made his debut in one-man show Mike Tyson: The Undisputed Truth. In August 2013, while giving an interview," he insisted that he needs someone to help him throughout his decision. He felt like as if he is dying when he lives alone."
In 2014, October, Boxer Mike Tyson's character in Mike Tyson Mysteries was aired on Cartoon Network's Adult Swim. Boxer Mike Tyson was given a nickname as The Baddest Man on the Planet.
Boxer Mike Tyson was supposed to have married thrice. His first marriage was to Robin Givens. Secondly, Monica Turner (April 19, 1997- January 14, 2003) and the couple were blessed with 2 children named Amir (son) and Rayna (daughter).  Mike Tyson then married to Kiki Spicer at the age of 32. The couple welcomed two children named Milan (daughter) and Morocco (son). He in several interviews stated that he is happy with his love life at present and further made a statement , "I don't deserve such a caring wife and children I'm really blessed to have them as the part of my life."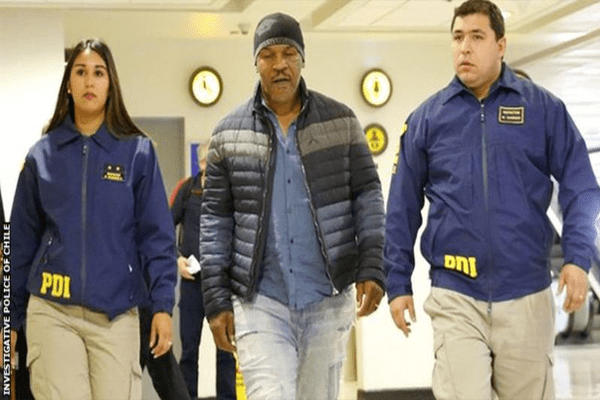 Mike Tyson with two agents of the Investigative Police at Santiago airport in Chile on Thursday
Due to his criminal record, retired former heavyweight champion and Boxer Mike Tyson was prevented from entering Chile on November 9, 2017. Tyson was visiting Chile to attend an awards ceremony in Santiago.
But due to his convictions for assault, rape and cocaine possession, he was put on a flight home by immigration police.The Police also stated that he had been deported because he did not comply with immigration law.Earlier in 2013, Tyson was stopped from entering the UK because of similar previous convictions.