Bill Farmer is a legendary American voice actor and comedian. He was born on born November 14, 1952, in  Pratt, Kansas, the USA as William Robert Farmer. Bill is the man behind the iconic voice of Goofy and Pluto. He was given the title of Disney's Legend in 2009.
Bill's journey to his stardom was not as easy as they say. It takes patience to become successful and ohh.. boy, Bill has shown patience alright. He has struggled so much before and later on, he landed the part of voicing Goofy and look what it turned out to be. An iconic journey of an iconic man, know how it all began.
Early Life
Bill Farmer, before giving his voice to Goofy was already voicing Western stars like John Wayne or Walter Brennan. Similar to any success story his story also had a normal beginning. He started working in radio and TV and then gradually moved on to stand-up comedy. He worked for some period of time as a comedian in the Comedy Corner and then moved to Hollywood to try his luck. His luck turned when he got the opportunity to voice Goofy in January of 1987.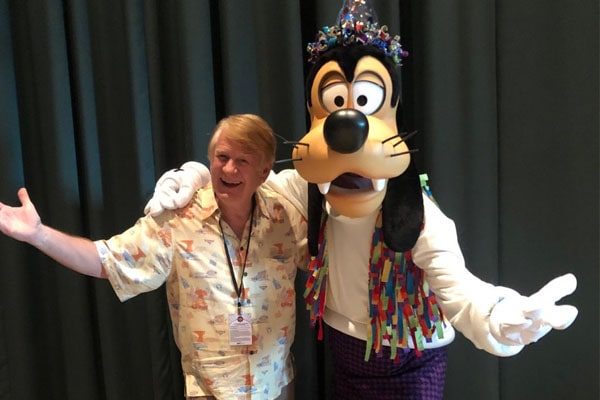 Bill started off by providing an additional voice in Alvin & the Chipmunks TV series. Image source: Bill's Twitter.
Bill Farmer is a very talented man and has mimicked a lot of artists in their respective voices. Seeing his talent, a Dallas commercial agent gave him the advice of trying his luck in California. But the main problem was, he was recently married to Jennifer Wynne Farmer. As they say behind every man's success there is a woman, Bill has got his wife. Bill Farmer's wife made a hard decision to stay back home and let him pursue his dream.
View this post on Instagram
Bill Farmer started off with Alvin & the Chipmunks, providing additional voices. His portrayal as Goofy began with the TV movie named DTV 'Doggone' Valentine. Besides voicing Goofy and Pluto, he has also provided voices for many well-known characters such as Sylvester, Horace Horsecollar, Foghorn, and many more. He has also worked with Wayne Allwine and Russi Taylor, the original voice behind Mickey mouse and Minnie mouse.
We can simply say that he is the man behind making our childhood so marvelously fantastic.
Net Worth & Earnings
Bill Farmer's net worth is not yet publicly revealed but we can simply say that he must have a hefty load of cash laying around. We can assume that through his career as a voice actor, Bill has accumulated a lot of money for himself. Seeing his past presence in many wonderful and blockbuster movies such as Hercules, A Bug's Life, House of Mouse, etc we can just imagine how much money he has amassed for himself.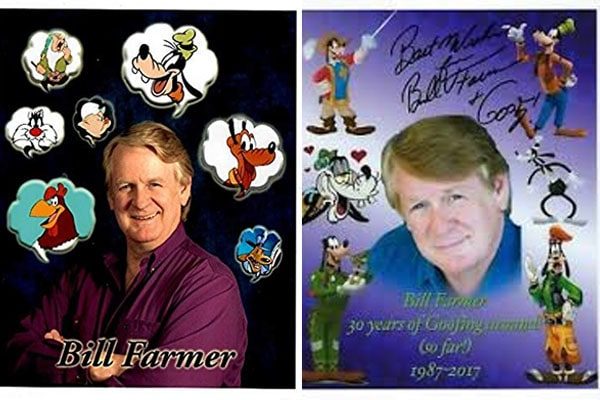 Bill Farmer has provided his voice for many famous cartoon characters. Image Source: eBay/Amazon. 
Furthermore, Bill has also contributed his voice for not only movies and TV shows but has also provided his iconic voice for video games. He has done special cameos in many well-known movies like The Lion King 3: Hakuna Matata and Cars for which he must have got a fair amount of share.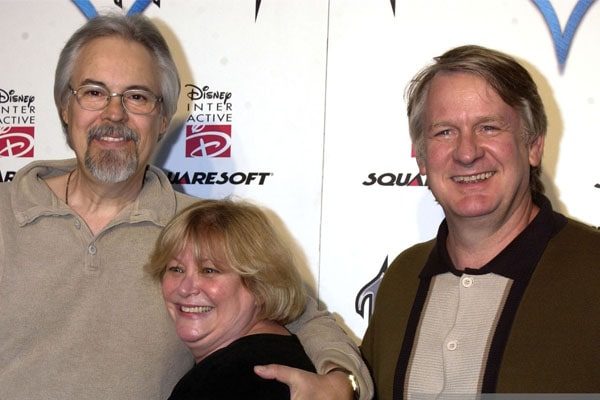 Bill alongside Wayne Allwine, Mickey's voice, and Russi Taylor,  Minnie's voice. Image source: Getty Images.
Moreover, Bill has also been seen in Disney Land portraying his famous character Goofy. They say he is a single man with many voices. He has amassed a fair amount of fortune providing voices to some of the iconic characters that we have come to love and care for. As a result, he is living a comfortable life outside the limelight with his beloved wife Jennifer.
Wife, Children & Family
Bill Farmer's partner Jennifer Wynne Farmer is also a director/ producer. The couple got married back when Bill was still a comedian in 1985. The married duo has come so far yet they are going strong. They also have a son named Austin Farmer.
Bill Farmer's son Austin was born on December 13, 1989. Bill and his son share quite a special relationship with one another. According to Austin's Twitter, he is a drummer, a sound engineer and the co-host of UnPOP Podcast. And at times, Bill posts about his son as well.

Besides spending an adorable relationship with his son, Bill is quite a down to earth man. He never says no to his fans whether they want a picture or an autograph. He is also seen sharing a lovely chat with his fans goofing around with his Goofy's voice.
Well, to conclude, Bill is not only a kind man for his family but also for his fans. He is one of those men who made us laugh throughout our childhood and is still contributing to the cartoon industry.
For more updates on  Celebrities News, Articles, Entertainment and Biography visit SuperbHub