Wife of President George H.W. Bush, Barbara Pierce Bush was not only the most loved and popular first lady but an inspiration to her five children, seventeen grandchildren and seven great grand children. Suffering from heart and respiratory disease Barbara Bush left the world on Tuesday, April 17, 2018 at the age of 92.
Founder of the Barbara Bush Foundation for Family Literacy, Barbara Pierce Bush was the only woman after Abigail Adams to become both the wife and mother to president of the United States.
Barbara Pierce Bush net worth increased as her husband George H.W. Bush became the president of the United States in 1989. Similarly, her son George W. Bush became the president of the USA in 2001.
Early Life and Education
Barbara Pierce was born on June 8, 1925 in New York City, United States of America. Her mother, Pauline, was the chairwoman of Garden Club of America while her father, Marvin Pierce, was the president of the McCall Corporation.
She grew up in an Episcopalian family in Rye, New York. As a child, she was athletic and witty who was an avid reader. Bush attended Rye's Milton Public School and Rye Country Day School. Afterwards, she went to a boarding school in Charleston, South Carolina, Ashley Hall, in 1940.
Husband and Family
When Barbara Pierce was 16 years old, she met her future husband, George H.W. Bush who was 17 at the time. They met in their Christmas break in 1941 at a dance. During the time George H.W. Bush was a senior at Phillips Academy in Andover, Massachusetts.
Even though they saw each other for a few times after George finished his high school, they wrote faithfully. George joined US Navy as a youngest combat pilot after high school and fought in World War II.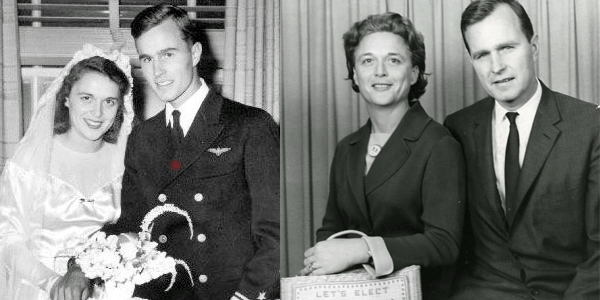 Barbara Bush with her husband George W. Bush; together since 1945 until her death in 2018. Source: Pinterest
Barbara Pierce Bush dropped out of Smith College in 1944 after her freshman year. George survived bombing run in Pacific when he was serving the US Navy as a pilot. After all, the couple married in 1945.
The newlyweds moved to New Haven, Connecticut after World War II ended where George enrolled in Yale University. Barbara Pierce Bush gave birth to their son, George Walker Bush, in 1946. George took up the oil business after graduation from Yale in 1948. Therefore, the Bush family moved to Texas and then to California.
The following year, Barbara lost her mother in a car accident while her father got injured. Since Barbara was pregnant at the time of her mother's death, she was advised not to travel a long distance to attend funeral.
Barbara gave birth to a daughter three months later. George and Barbara named their daughter Pauline Robin Bush in honor of Barbara's deceased mother.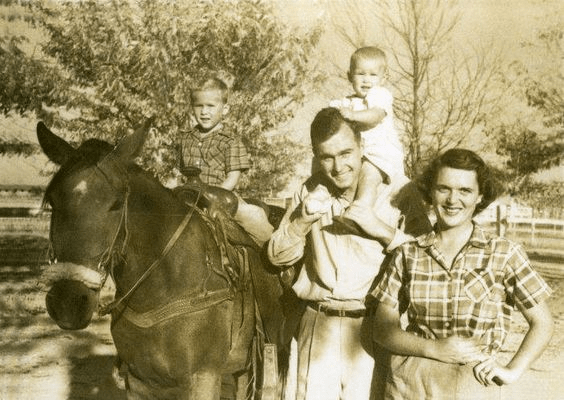 George and Barbara Bush with son George and daughter Robin during 1950. Source: Pinterest
The couple was devastated after their daughter, Robin, died of leukemia in October 1953.
The couple has three more sons: John Ellis "Jeb" Bush, Neil Mallon, born in 1955 and Marvin Pierce Bush, born in 1956. Jeb was born just before Robin's diagnosis. They also have a daughter Dorothy "Doro" Bush, born in August 1959 and named after George's mother.
Barbara spent the next two years taking care of her family. In addition, she volunteered for organizations like YMCA and United Way. Afterwards, the couple settled in Midland, Texas. There, George became a successful businessman in petroleum industry. Barbara was also the reason behind her husband's success.
Similarly, Barbara helped her husband pursue his career in Republican politics by participating in his campaigns. For the first time, George got elected to Congress in 1966. The following year, the Bush family moved to Washington, D.C.
Politics and George's Success Story
In 1970, George gave up his seat in the House of Representatives to run for the US Senate in Texas. President Richard Nixon suggested George to do so; however, he lost the election to Lloyd Bentsen.
Later, George lobbied Nixon to appoint him US Ambassador to the United Nations. After this, the family moved to Waldorf Astoria Hotel in New York City. While in New York City, Barbara Pierce Bush became popular with her social charisma and engaging personality.
In 1974, Nixon resigned in disgrace following the Watergate scandal. A year before, he asked George to take over the Republican National Committee resigning from his position as UN ambassador. Out of several options, George chose the position of chief of the US Liaison Office in PRC (China).
Barbara travelled abroad for the first time with her husband taking over a new position. She blended with the Chinese culture quite well but they did not stay there for long time.
The then president, Gerald Ford, asked George to return and become director of the Central Intelligence Agency (CIA). Due to this, Barbara was concerned that this new position could sabotage her husband's future in politics as CIA was under fire for its involvement in Watergate and Vietnam War.
When George was busy in CIA and children were far, Barbara fell the victim of depression. However, she stayed silent about her condition and did not even seek medical help. The condition instead gave her a greater understanding of mental health issues.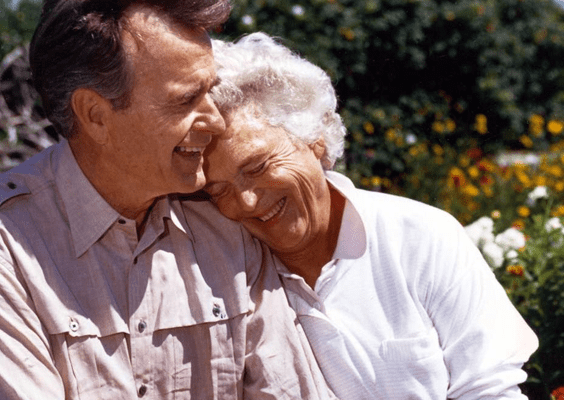 "All I ever did was marry and birth well"; said the late lady Barbara Bush. Source: NBC 5
Barbara Pierce Bush net worth rose as she backed her husband when he was campaigning for his White House run in 1979. Even though the campaign could not take over the momentum Ronald Reagan gained, the nominee chose George as his vice-presidential running mate.
As a result, George gained victory as Vice president under Ronald Reagan in 1981.
First Lady and Advocacy
After her husband took over the position of vice-president, Barbara Pierce Bush net worth increased as the wife of vice-president. She travelled representing the United States interests abroad and built long lasting friendships with foreign heads of state.
Barbara Pierce Bush net worth heightened with her popularity as she dedicated herself to supporting literacy as she had always been an avid reader. She earned the motivation also because of her son Neil's dyslexia. Soon, Bush actively partook in advocating several organizations and gathered knowledge about issues of child and adult illiteracy.

George served in Reagan's office for two years after which he ran for presidency for the second time. He began a tough campaign and defeated his Democratic opponent Michael Dukakis. George became the 41st president of the US in January 1989 while Barbara Pierce Bush net worth grew turning into the first lady of the US.
As a first lady, she did not put much effort in her fashion as compared to her predecessor, Nancy Reagan. She turned to her designer Arnold Scaasi for he knew her fashion perfectly. Barbara is known for wearing multiple strands of beads around her neck.
Barbara stayed out of White House policy decisions. Furthermore, she kept her political views private. The year she moved to the White House, she developed Graves' disease. It is the thyroid gland malfunction that made her eyes red and puffy. To cure the disease, Barbara went through radiation treatment. Nevertheless, the disease did not weaken her commitment to public service.
The Barbara Bush Foundation for Family Literacy
Barbara Pierce Bush net worth hiked as she established her own literacy organization, the Barbara Bush Foundation for Family Literacy. It had a motive to support organizations across the United States for reading skills of both parents and children.
Eventually, Barbara Pierce Bush net worth accelerated as her authored Millie's Book: As Dictated to Barbara Bush raised nearly $1 million for literacy program. The book detailed the portrait of the White House from the point of view of Mille.
During the tenure of George H.W. Bush, the White House underwent triumphant changes in international turmoil. One of the achievements was that the US arrested dictator Manuel Noriega invading Panama in 1989 and launching Operation Desert Shield in 1990.
The Bush couple spent their Thanksgiving in Saudi Arabia visiting 1000s of American troops serving in the operation.
Barbara Pierce Bush net worth gained a new height with her husband's popularity in 1991 following The Gulf War victory. However, the country suffered economic slide in 1992. As a result, the Bush administration also suffered.
Meanwhile, Bill Clinton had successfully captured the voters in the polls. This resulted in Clinton winning the election in 1993 and Barbara and George bid farewell to Washington. They returned back to Texas.
Afterwards, Barbara doubled her dedication to public service and continued her commitment to literary projects. Barbara Pierce Bush net worth elevated as she successfully raised million of dollars for the project. She also spent much of her time with her family.
In 1998, George H.W. Bush made a comeback winning second term as governor of Texas. Similarly, his son Jeb won the position of governor of Florida.
Family Legacy and Health
In 2000, George Walker Bush became the president following his father's footsteps and then again in 2004 for second term. Barbara Pierce Bush net worth this time rose as the mother of the president of the US.
Furthermore, she stayed active in the Barbara Bush Foundation for Family Literacy in addition to serving for AmeriCares as an ambassador.
George H.W. Bush got admitted in hospital due to acute respiratory problem in January 2017 however, he got discharge after few days. Barbara also got hospitalized the same month for fatigue and coughing for few days.
Later, the crowd cheered the couple when they attended the Super Bowl LI in their hometown stadium NRG (Houston).
Barbara Bush was hospitalized frequently but Bush discontinued her medical treatment as she wanted to focus on comfort care.
And then came the announcement by the office of George W. Bush;
Such a loving personality will surely be missed. Rest in Peace, one of most loved kind, compassionate and caring first ladies, Barbara Bush.
Published on September 27, 2017 and updated on April 17, 2018.
For more updates on celebrity biographies, entertainment and news, be with SuperbHub.