Ashley Elizabeth Wagner or Ashley Wagner, in short, is an American figure skater. As her career is prospering, she has won gold medals at the US Championships in 2012, 2012 and 2015.
Wagner was born at a US Army base in Heidelberg, Germany on 16th of May, 1991.
Being a daughter of a lieutenant colonel, Ashley often had to move as a child. She has resided in California, Alaska, Kansas, and Washington state.
Skating has been Ashley's passion from her early age. She learned to skate as a 5-year-old. Even at that young age, she showed flashes of unusual talent. After training with coach Shirley Hughes in 2002, Ashley's true color bloomed, during that time she was staying in Alexandria, Virginia.
Ashley Wagner Net Worth
The figure skater Ashley Wagner's net worth is estimated to be at $2 million. Most of her fortune is being collected from her figurative skating career.
Young Ashley had trouble choosing between ballet or figure skating and she eventually picked up skates over pink shoes.
The American figure skater has managed to win silver once and bronze twice in the Grand Prix of Figure Skating Final.  The winner takes home a whopping amount of $25,000 whereas the second and third place takes $18,000 and $12,000 respectively.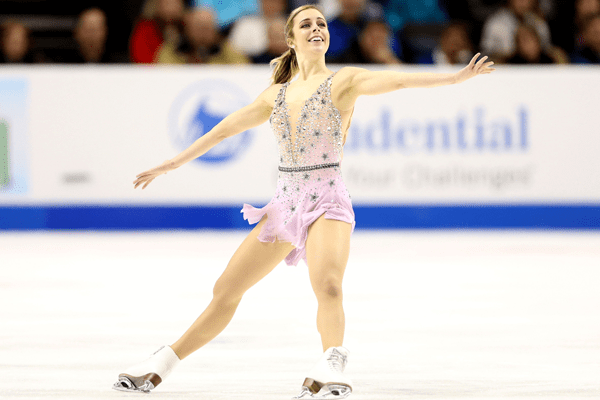 Ashley Graham during one of the competitions showcasing her prolific skating skills. Photo Source: People Magazine.
Ashley won a gold medal in Four Continents Championships in 2012 held in Colorado. The winner bags a huge amount of $20,000.
The 27-year old has participated in a lot of competitions and won a lot so all the prize money she has won from those events contribute a substantial amount of money to her $2 million net worth.
Brands like Nike sponsors Wagner and she is also the style ambassador for Pandora Jewelry. Also, in October 2013, Wagner was named as the face of CoverGirl.
Ashley Wagner Career
Ashley began skating from the age of 5. She has been a prolific skater from the very beginning. She even won a gold medal at her first competition.
The American figure skater began her training with Shirley Hughes in January 2002.
It took Ashley a couple of years of hard work and determination to win her first international event. She won the Triglav Trophy in April of 2006. That same autumn, Wagner won two ISU Junior Grand Prix competitions in order to qualify for the Junior Grand Prix Final where she finished second.
It was only in 2007, Wagner was able to nab her first senior international medal with a bronze at the Trophée Eric Bompard.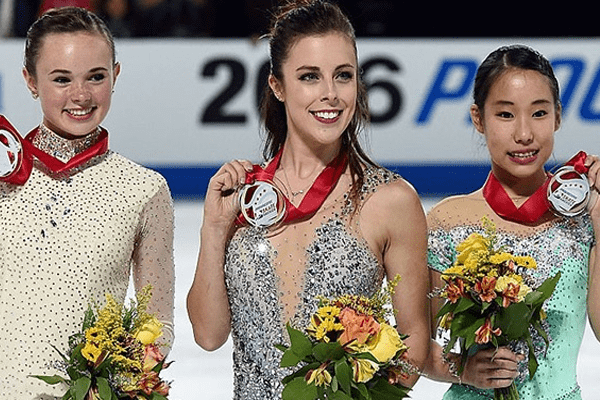 Ashley Wagner with fellow competitors Mariah Bell and Mai Mihara in the podium with their respective medals. Image Source: Team USA.
Olympics
As the young Ashley watched Tara Lipinski win a gold medal in the 1998 Winter Olympic, she dreamt of competing in the Olympic.
After some amazing performances in a series of tournaments, Ashley was named to the US team for the 2014 Winter Olympics in Sochi, Russia.
Despite her effort, Ashley failed to win any individual awards but she managed to win a team bronze medal at the Olympic.
Until today, the figure skater has managed to reach the podium a number of times. Here is a table representing Ashley Wagner's top achievement throughout her career.
| Competition | Medal Earned |
| --- | --- |
| 2006-07 ISU Junior Grand Prix | Silver |
| 2007 World Junior Figure Skating Championships | Bronze |
| 2009 World Figure junior Skating Championships | Bronze |
| 2012 Four Continents Figure Skating Championships | Gold |
| 2012-13 Grand Prix of Figure Skating Final | Silver |
| 2013-14 Grand Prix of Figure Skating Final | Bronze |
| 2014-15 Grand Prix of Figure Skating Final | Bronze |
| 2016 ISU World Figure Skating Championships | Silver |
| Figure Skating at the 2014 Winter Olympics | Bronze (Team) |
Ashley Wagner Family
Ashley Wagner was born into a military family. Her father is Lieutenant Colonel Eric Wagner of US Army (retired). Her mother Melissa James is a former schoolteacher. She has got a younger brother named Austin Wagner.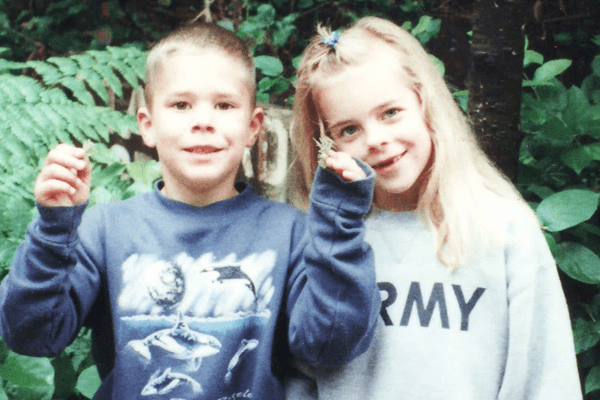 Ashley Wagner with her brother Austin Wager when they were just kids. Picture Source: NBC Olympics.
Like Ashley, Austin is also a skater and has competed on the national level.
Before entering school, Ashley was homeschooled by her mother. In addition to English, Ashley also speaks German. She is also an avid Instagram user where she keeps her fans updated about her life.
Ashley is currently in a relationship with her boyfriend Jimmy Reed. The relationship between the two hasn't even completed a year but the closeness between them show how deeply they are in love with one another.
Originally published on June 4, 2017, and updated on June 19, 2018.
For more News and Entertainment follow SuperbHub.