Alyssa Miller was born as Alyssa Elaine Miller; she has been a sensation in the fashion world. In fact, she is Victoria's secret diva and Sports Illustrated Swimsuit model. Furthermore, she has achieved an immense success from her modeling career. Miss Miller has also been associated with many companies. For Instance, Vogue, Elle, Harper's Bazaar, Allure, etc.
Born in Los Angeles, California on July 4, 1989, Miller has been in the fashion industry since she was forteen.  Till date, she has worked with world-class designers like Stella McCartney and Blu Marine. Currently, she lives in New York and is an owner of a Boutique. Alyssa Miller's net worth is approximately $1.1 million.
Not to mention, Miller is one of the global ambassadors of Stomp Out Bullying. And this helps to eradicate the nation's bullying problems by raising awareness. Also, she is an ex-girlfriend of Jake Gyllenhaal.
Miller spent her most of child in her birthplace, Los Angeles. She grew up with her brother Tom Miller. She was always an acting and modeling enthusiast. Miller has taken an acting class as well as improvisation classes. At the age of 14 her father, Craig Miller mailed few pictures of her to a Modeling Agency. Since then she embraced the fashion world and is enticed by all her fans.
Miller belongs to German, Austrian, English, Irish, Scottish and Welsh ancestry. Since her childhood, she has been praised for her dark brown hair, appropriate curves and full eyebrows. Definitely, that helped to enhance her career.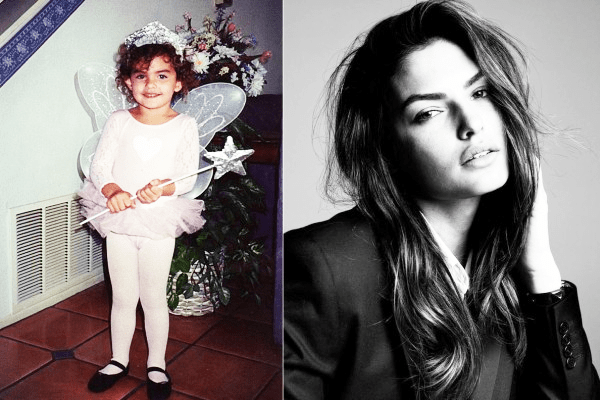 Caption- Alyssa Miller now (right) and childhood picture(left).
Image Source- Ma Facon De Mode
Initially, Miller also wanted to be a Soccer player, but her father changed her world upside down. Till date, she has worked with top designers like Stella McCartney and Blu Marine.She has the fortune to appear in well-known Vogue and Elle covers. Furthermore, Miller has been an editorial story in prestigious magazines like Harper's Bazaar, Allure and Japenese Vogue.
Caption-Alyssa Miller appears for Elle Kazakhstan.
Image Source- IMG Models
Miller was an up-and-coming model with the Marilyn NY agency in 2005 and did fall campaign for Stella McCartney in the same year. In late 2010, she became one of the new faces of Guess clothing, by following cover appearances for the October 2006 German Vogue and Italian Elle in July 2010.
Miller has also modelled for Victoria's Secret. She also has ad work that included Bebe, Billabong, Diesel, Elie Tahari, Juicy Couture, La Peria and Laura Biagiotti.
Miller participated in the annual Sports Illustrated swimsuit edition of David Letterman's Top 10, in both between 2011 and 2013.
Miller became the muse of Blumarine Bellissima fragrance in 2012 and played the mermaid in the 2013 music video for "Mermaid" by Train.  On May 1, 2013, she became an advocate against bullying and cyberbullying, along with Super Bowl XLVII champion Jameel McClain, by becoming a global ambassador for STOMP Out Bullying.
Miller appeared on the cover in December 2013, and in the Calendar Girl Issue of the fashion magazine Galore in 2014. Miller and fashion publicist Robyn Berkley launched a meditation-wear collection for Berkley's line in July 2014.They live the process, with a percentage of sales to the David Lynch Foundation.
Alyssa Miller Model is included in top fashion model list in America. Throughout her modeling career, she had appeared in Vogue cover Germany and Elle, Italy. Importantly, she is among Victoria's secret model.
Apart from this, she is a photographer and also a songwriter and singer. Also, she is a designer and retail entrepreneur. Furthermore, she is the owner of an online Boutique, Pilgrim The Label. This boutique sells clothes collected on her travels and designed by her. For instance, her boutique website sells 60's Blue Trench Coat for $150 and Pink Floral Slip Dress for $95.
As a whole, this boutique earns enough to add Alyssa Miller's net worth of $1.1 million. Not only this, her home located in Austin, Texas is also included in her fortune. She lives with two dogs, one pot-bellied pig and a cat.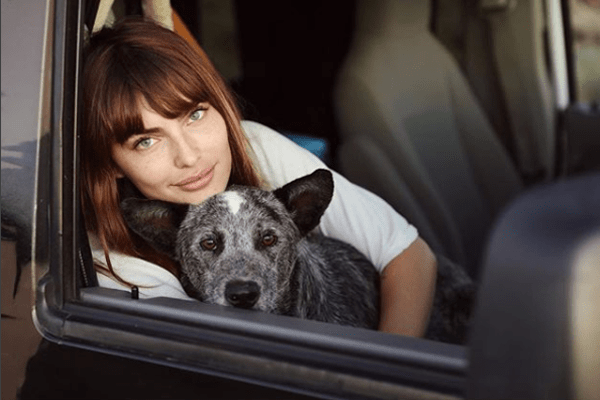 Caption-Alyssa Miller poses for the camera along with her pet, George in her car.
Image Source- Instagram
Furthermore, she is also the owner of a Mercedes Classic car. And the cost of such Mercedes classic cars can be more than $42,000.
Not to mention, she has dated the Passenger's star, Jake Gyllenhaal. The couple just dated for a year. Furthermore, Jake Gyllenhaal's net worth is $65 million.
 Is Hot Alyssa Miller Dating Someone?
Previously, Alyssa was dating Bjorn Looss and Jake Gyllenhaal. Relationship with Bjorn didn't end up marrying. The couple began dating since 2010 and dated for more than three years. But things didn't work between the pair, and they broke up in 2013.
After her break-up with Bjorn, she was seen with Jake is the same year. Perhaps, Jake might be the reason behind her break-up with her ex-boyfriend.
According to US Magazine, Jake and Miller met at their New York City gym in June 2013. Instantly, the couple fell in love and started seeing together. Things were good until the duo split in December 2014.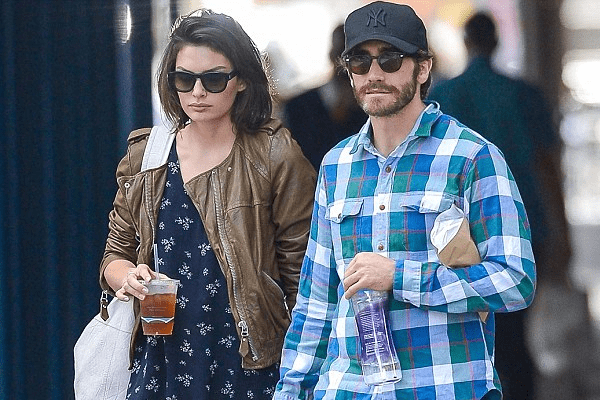 Caption- Alyssa Miller's boyfriend, Jake and Alyssa were dating from 2013 to 2014.
Image Source- Daily Mail
The reason behind the breakup is Miller's misconception. Jake was busy in the gym and had to spend much of time in a gym. To be exact, he was preparing for the upcoming movie, and he was devoting all his sweat for the movie.
At the same time, he wasn't able to share the time with her girlfriend, Alyssa. So, this might be the reason why the duo split.
After Jake, she has been dating Cameron Avery. Alyssa Miller's boyfriend, Avery looks handsome in those long hair and bulky beards. Alyssa's Instagram post suggests that she is happy with Avery and possibly the duo will be taking wedding vows.

Be with SuperbHub for more Celebrity Biographies.
This article was published on 12/21/2017 and updated on 3/19/2018.