Undoubtedly, thousands of fans had a childhood crush on Mindy Crenshaw of the Nickelodeon series "Drake & Josh".  Actress Allison Scagliotti has carved out a successful Hollywood Career. She portrayed a notable character "Claudia Donovan" in SYFY 2009 hit series Warehouse 13.
Most recently her portrayal of Camille Engelson on the ABC's series Stitchers was equally famous. Besides the onscreen romances, this Actress has kept her relationship status box unchecked. But, there are chances of her having a boyfriend.
Apart from her acting career, Allison's interest in music turned out to make her a music enthusiast and guitarist as well. She has a lot of pictures playing guitar on her Instagram. Being a multitalented and gorgeous, actress, model, and guitarist, Allison Scagliotti's Net Worth is definitely impressive.
Scagliotti was born in Monterey, California on September 21, 1990, and is of Irish, Italian, English, and Jewish descent.
She was passionate about acting and joined her school's drama club at age five in Mandeville, Louisiana to pursue her career as an Actress.  Scagliotti studied at New York University and Glendale Community College.
Allison relocated to Los Angeles with her mother Lauren Scagliotti in 2003 and continued to stay in Hollywood. She often traveled to her hometown "Monterey" in possible circumstances.
Initially, she started with small T.V. roles, and her first leading role was Maddie in the short film Redemption Maddie (2005). Her professional breakthrough revved from the 13 times Kid's Show Award-winning Nickelodeon series Drake & Josh.
Allison Scagliotti's famous onscreen romance with boyfriend Josh Peck
Josh and Mindy was once everything to the fans of Nickelodeon's Drake and Josh. Allison played Josh's intelligent and boastful girlfriend Mindy, who is at times Josh's rival.
The characters on-set chemistry became an integral element to present the off and on relationship in a comforting manner. Though they were always at each other throat's criticizing one another, the fans knew that they really cared about one another.
In an interview with MTV, Actress Allison Scagliotti recalls her first kiss on the show and explains that it was a bit uncomfortable as she was then 14 and kissing an 18-year-old onscreen boyfriend.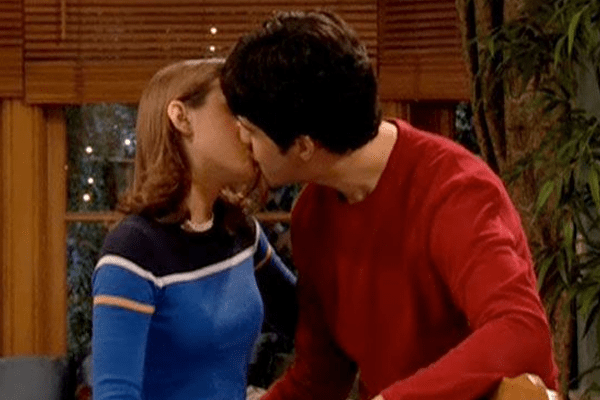 Image Source: MTV News
TV Shows
Warehouse 13 became SYFY's biggest hit and exposed Actress Allison Scagliotti to widespread recognition. The series premiere on 2009 amassed 3.5 million viewers and made debut for SYFY. Success of her TV shows is the main reason for today's Allison Scagliotti's net worth.
Her notable character Claudia Donovan was introduced in the early premiere of the 2nd season in 2010 and appeared in rest of the episodes till 2014. In 2010, she reprised the same character in an episode "Crossing over" of the series Eureka.
Warehouse 13 ended in 2014 after successive five seasons and 64 episodes, Allison then landed the role of Camille Engelson in the ABC's Stitchers. The show premiered in 2015 and got canceled shortly after three seasons in 2017.
Actress Allison Scagliotti co-starred and co-hosted many shows like Ghost Hunters Live, Smallville, Destination Truth, the Nerdist Podcast, Geek &Sundry's Table Top, CSI: Crime Scene Investigation and recurring roles in The Vampire Diaries.
She has also played lead roles in Theater Plays Unhealthy 2012 and 2014's Jasper in Deadland. Being a part of so many shows, Allison Scagliotti's net worth reached heights.
Allison Scagliotti's Parallel Career: Musician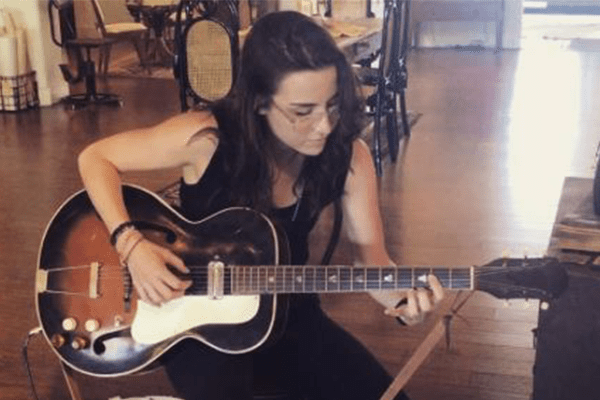 Image Source: Allison Scagliotti Instagram
Apart from her big screen career, Actress Allison Scagliotti is also an accomplished musician. She started playing piano at the age of seven and ballet at three.
When she attended the Monterey Jazz Festival, she stumbled upon Berklee's info booth and joined the online Blues guitar course.
While working on Warehouse 13, Scagliotti performed the song of Pixies, The Runaways, and Garbage. She also played covers at open mic nights in Toronto.
In 2015, Allison enrolled in Berklee's Online Bachelor of Professional Studies degree program majoring in Interdisciplinary Music Studies.
Allison completed a Master Certificate in Guitar and Specialist Certificate in Vocal Styles with Berklee Online. She earned her musical degree without disrupting her acting career.
Allison is fascinated by music culture and aspires to be a rockstar; her musical inspirations include The Rolling Stones, Jack White band, The Pixies, Nirvana, Radiohead, Steppenwolf and the Runaways.
Allison Scagliotti plays guitar for the band Nice Enough People alongside Jerry Trainor (Crazy Steve of Drake & Josh), Mike O'Gorman and Andrew Zuber.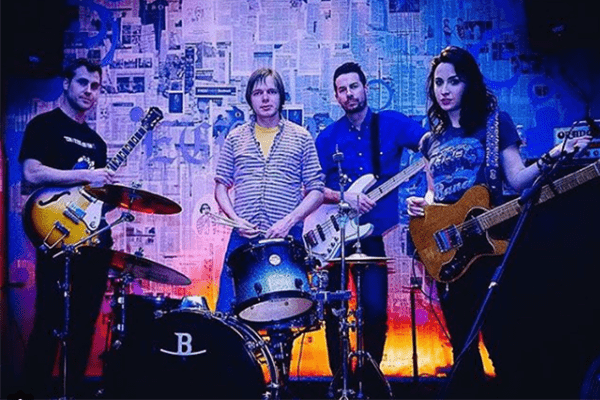 Image Source: Allison Scagliotti Instagram
Their debut EP "Hanover Hideaway" was released on June 22, 2016, available on iTunes, Apple Music, Spotify & Amazon. The band's YouTube channel comprises live videos of their songs performed in The Mint, Los Angeles.
The actress often posts cover videos of songs on her Instagram account. She also appeared as a solo guitarist in the music video of Maxie Dean's "Some are Girls."
Allison's favorite guitar is her Guild Starfire semi-acoustic guitar with a vibrato which she calls "Blondie."
Who is Allison referring to "My Man"?
The glamorous actress in her Instagram account has spilled a few beans addressing someone as her man.
Well, here she's talking about her dog. Both the dog and owner look gorgeous. Allison's instagram is filled with pictures of her posing with many men. One of them could be her possible boyfriend.
Allison Scagliotti's  boyfriend would be really a lucky man. Who is the mystery man?
Well, it's still a mystery. Actress Allison Scagliotti hangs around with men often. In her Instagram account, she is spotted with her bandmates and friends. She has not yet talked about any possible relationship or mentioned anyone as her boyfriend.
Actress Allison Scagliotti earned a substantial net worth from her roles in Drake and Josh, Warehouse 13 and Stitchers at an early age. Allison Scagliotti's Net Worth is estimated to be $4 Million according to Muzul.
For more updates on Allison Scagliotti's net worth, relationship, boyfriend, Music band and Show details, stay updated with us.