Aleister Black, whose real name is Tom Budgen, is a Dutch professional wrestler. He currently wrestles for WWE, the biggest pro-wrestling company in the world, and is assigned to their developmental territory NXT. He is the current NXT champion and is in his 1st reign as champion.
Before joining WWE, Black worked for over a decade in the independent circuit, mainly in Europe. He also competed in various promotions in Japan and USA. During his time in the independent circuit, he wrestled under the nickname Tommy End.
Black is one of the most charismatic performers in the world of pro-wrestling. He is poised to become one of the biggest stars in WWE, emulating the likes of  John Cena, Stone Cold Steve Austin and Dwayne "The Rock" Johnson.
Early Life
Aleister Black was born on May 19, 1985, in Alkmaar, Netherlands. His father was part of a religious cult. He has an extended background in martial arts.
Black trained in as well as competed in various forms of martial arts like Pencak Silat and kickboxing from the age of 9 to 15. He still trains in kickboxing and has adapted kickboxing into his wrestling style.
Wrestling Career
Independent Circuit (2002-2016)
In his early career, Black extensively wrestled in the independent circuits of Europe, mostly in the UK. He wrestled under the name of Tommy End. He wrestled in promotions like Progress Wrestling, Westside Xtreme Wrestling, Revolution Pro Wrestling and many more.
Black also wrestled in various international promotions. He participated in North America's Combat Zone Wrestling, Evolve, Japanese promotion Big, Japan Pro Wrestling, and Pro Wrestling Guerrilla.
During his run in the independent circuit, the 32-year-old Black won multiple championships, including the ICW Tag Team Championship, wXw Unified World Heavyweight Championship, Progress  Tag Team Championship and many more.
WWE
NXT (2016-)
In June 2016, Aleister Black signed a contract with WWE. He appeared in many house shows before finally making his in-ring debut against Lince Dorado at a house show on November 11. He made his televised debut at NXT Takeover: Orlando, defeating Andrade "Cien" Almas.
Black was positioned as a top babyface in NXT. He competed in big-time Takeover events on multiple occasions. He faced and defeated Hideo Itami, Velveteen Dream, and Adam Cole at NXT Takeover: Brooklyn III, NXT Takeover: War Games, and NXT Takeover: Philadelphia respectively.
At the NXT year-end awards of 2017, Black won as many as three awards, including the coveted NXT Male Competitor of the Year. At NXT Takeover: New Orleans, he won the NXT Championship from Andrade "Cien" Almas, becoming the top face of NXT in the process.
Occult Personna, Tattoos
Aleister Black was a unique persona in wrestling. He has a cult-like persona and is heavily influenced by black metal and kickboxing. He said that his occult persona was inspired by his father who was a part of a religious cult.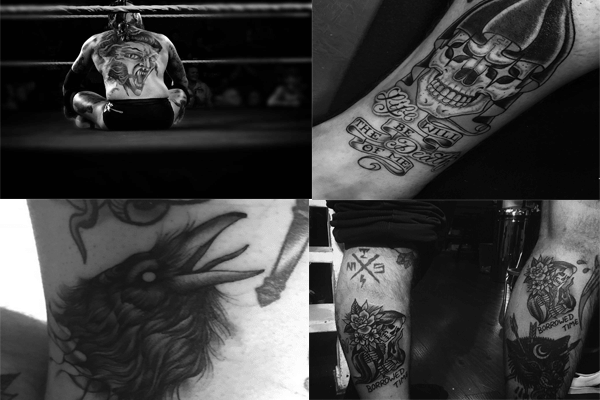 Aleister Black's wide range of tattoos, Image source: Aleister Black's Instagram
Black has a lot of tattoos on his body. As part of his persona, he has multiple tattoos on his body od demons and religious deities. He also has tattoos of birds and animals.
Net Worth
As of May 2018, Aleister Black's net worth is $3 million. He makes most of his money from WWE. He earns about $500,000 a year from WWE.
Hoodies of Aleister Black, Image Source: WWE Shop
Black also makes additional money through his merchandise sales. He has a nice house in Amsterdam as well as a car that costs $600,000.
Personal Life
Aleister is a very private man. Much details about his life are not known. He resides in Orlando, Florida. He is not married yet and doesn't have any kids.

Details about Aleister Black love life are pretty scarce too. However, there were rumors that he was dating Zelina Vega while he was feuding with Vega's client Andrade "Cien" Almas. But the rumors were shut down since Vega is engaged to Austin Aries, who left WWE last year.
For more news and entertainment, visit Superbhub.