Ahna O' Reilly is an American Actress born on 21st September 1984 in Palo, Alto, California, U.S.A. Ahna grew up in a middle-class, working family by her parents James O' Reilly and Wenda O' Reilly. Ahna O' Reilly is best known for her supporting role as Elizabeth Leefolt in the 2011 Satellite award-winning drama film "The Help." Ahna O' Reilly Net Worth is estimated to be $3 million.
Ahna O' Reilly graduated from Menlo School in 2003 and dropped out after a year at University of Southern California.
Ahna is an attractive actress of height 5 feet 5 inches with a slim body measurement 35-24-34. She has a blonde hair, and her eye color is green. Ahna O' Reilly Net Worth comes from her work and currently lives a luxurious life in California.
Ahna started her acting career in 2003 movie Bill the Intern.
She appeared in movies like Dinocroc(2004), Nancy Drew(2007), Just Add Water(2008) and Forgetting Sarah Marshall(2008).
Ahna appeared in television series like CSI: NY, Unhitched (2008), The Vampire Diaries (2011) and Prime Suspect (2011).
In 2011, Ahna worked on the movie The Help based on Kathryn Stockett's best-selling novel of 1960's. The film got good reviews and hit the box-office success with a worldwide gross of $211,608,112. The film won several awards including National Board of Review Award, Screen Actors Guild Award, and Satellite Award. Ahna O' Reilly Net Worth is a success of her career.
Ahna co-starred in the film Jobs (2013) alongside Ashton Kutcher and Josh Gad, about the life of Steve Jobs.
In 2016, Ahna appeared in the production of The Robber Bridegroom. A cast recording released on September 9, 2016, featured her as Rosamund.
Ahna O' Reilly's Filmography is listed below:
2003 Bill the Intern as Actress
2004 Dinocroc as Beach-Goer
2007 Succubus: Hell-Bent as Bikini Babe
2007 Good Time Max as Girl Jumping on Bed
2007 Nancy Drew as 'No' Woman
2008 CSI: NY   as Halie
2008 Forgetting Sarah Marshall as Leslie
2008 Unhitched as Blind Hostess
2008 Just Add Water as Tammy
2008 Incitement as McKenna
2009 The Harsh Life of Veronica Lambert (5 Nights in Hollywood) as Maya
2009 Herpes Boy as Christine
2010  Crazy/Sexy/Awkward as Cindy
2010  House Under Siege as Lana
2011 0s & 1s as Caitlin
2011 Girls! Girls! Girls!
2011 The Vampire Diaries("The Descent")   as Jessica Cohen
2011  The Help of Elizabeth Leefolt
2012 I Am Ben as Max
2012 The Tournament Challenge Challenged   
2012 The Time Being as Olivia
2012 The Perfect Fit as Goth girl
2013 Miss Dial as Concerned Pet Owner
2013 CBGB as Mary Harron
2013 The Big Ask     Zoe
2013 Fruitvale Station    Katie
2013 Jobs Chrisann Brennan
2013 As I Lay Dying        Dewey Dell Bundren
2013 Lucky Them   Charlotte
2014 How I Met Your Mother as Kelly  (Season 9, Episode 16 "How Your Mother Met Me")
2014 The Sound and the Fury as Caddy Compson
2015 She's Funny That Way as Former Prostitute
2015 No Way Jose as Dusty Morrison
2016 Elvis & Nixon as Mary Anne Peterson
2016 In Dubious Battle as Edith "Edie" Malone
2016 All I See Is You 
Is Ahna O' Reily still in touch with James Franco?
Ahna was in Relationship with James Franco from 2006 to 2011. James Franco disclosed in the August 2011 issue of Playboy, that his six years of relationship with Ahna was over.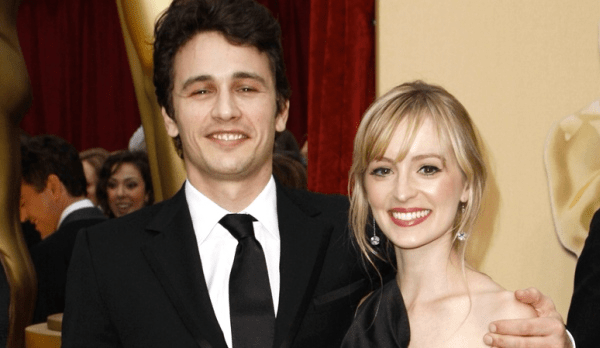 Picture Credit: ctvnews. ca
The cause of the break up was James Franco's tiring schedule and distance.
"It is over. We had been living together in L.A. and then I came to New York to go school for two years. Then I joined up for more school at Yale. I think that was it for her." James Franco explained about the five years relationship.
Rumors are heard of Ahna seeing some men, but her current relationship status is still unknown.
Ahna and James were in news in 2015, that they are both collaborating to develop the movie Alex Marwood's "The Killer next door".
Well, they both are professional actors and would try their best not to let their personal differences be the hindrance in their work. They have moved on and possibly they do not let their past lives disturb their present.
Is Ahna O' Reilly allergic to Bananas?
Ahna O' Reilly is allergic to Bananas and has Bananaphobia. This Fact is absurd to hear, but it's true, and the American actress herself stated: "I hate Bananas so much, it verges on a phobia."
The beautiful American actress Ahna O' Reilly Net Worth is around $3 million.
Her career as an actress is a significant source of Ahna O' Reilly Net Worth.
Ahna O' Reilly is active in Social Media and keeps her fans updated on her life and pictures.
She officially joined Twitter in August 2013 and is active since she has 4 k followers.
Ahna can also be followed on Instagram and has 9k followers.
She has fans on social media from different countries around the world who shows their love and support towards her.