Barron Trump's appearance and his facial expressions captured many people's hearts and attention during the inauguration. The youngest of President's Trump children, Barron serves as America's first son in White House.
Born on March 20, 2006, Barron received his education from Columbia Grammar & Preparatory School and St. Andrew's Episcopal School. These are the 10 facts on Barron Trump:
1. Barron enjoys playing alone
Barron reportedly enjoys spending time alone and often play by himself for hours. His mother Melania Trump says he likes playing with legos building towers and buildings.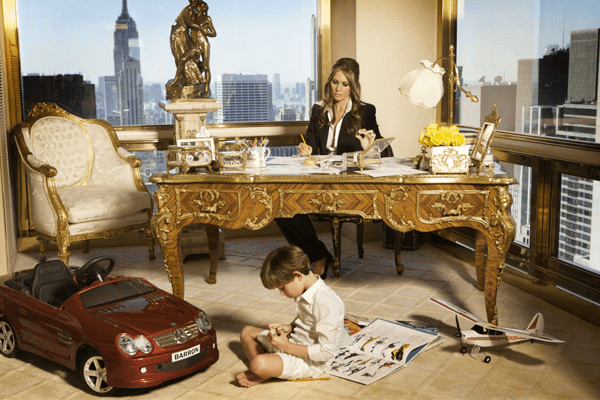 Barron Trump loves to play alone. 
Source: The Buzz Tube
Looks like the young Trump is following his father's footsteps. Barron might soon emerge as a young businessman building towers like his father, as he has also stated that he wants to be a businessman. The buzz tube reported that Barron Trump has also been mimicking his father when he was a toddler.
2. Rumors of Barron having Autism Spectrum

Well it's not confirmed if Donald Trump's youngest son actually has autism but there are several speculations and rumors about it.  The rumor reached heights and was the most debated issue when comedian Rosie O'Donnell tweeted about Barron Trump possibly being autistic. She even made a video of him showing signs of autism.

Some of the signs according to Rosie, was Barron's way of clapping at the RNC. His hands were not touching and were moving erratically when he was clapping. And he was spotted making strange movements in his seat. However, the video was removed and Rosie had to apologize for her suggestion.
Melania Trump even threatened lawsuit over the YouTube video suggesting her son Barron to be autistic.
Many people didn't like the video. They criticized and slammed Rosie for doind so. They argued that Rosie had a long-term feud with Donald Trump and she had gone after his ten-year-old son. Rosie apologized for bringing out the issue and revealed that her daughter Dakota is also diagnosed with autism. Because of which, she is learning more about the condition.
3. Barron Trump is the White House's first son since J.F.K. Jr.
Well, it seems strange that all children who lived in the White House for last 50 years have been daughters. And Barron Trump is the first President's son in White House after John F. Kennedy Jr. He lived at the White House till 1963, three days before his third birthday. The day when J. F. Kennedy was assassinated.
Trump's youngest son had been living in Manhattan in Trump Tower and attended Columbia Grammar and Preparatory School in New York. After his father became the president, he moved to White House with his mom in June.

He currently studies at St Andrew's Episcopal School, Maryland.
4. He is an Uncle
Donald Trump is already a grandfather to seven grandchildren through his five children. Barron was born in 2006, he is 29 years younger than his oldest sibling, Donald Trump Jr.
This makes Barron closer in age to his nephews and nieces, counting Ivanka Trump's daughter Arabella Rose Kushner. Since he's Donald Trump Senior kid, he is uncle seven times over.
 5. He is bilingual
As president Trump talks about immigration and various policies, it can't be forgotten that his son himself is Immigrant. Barron is fluent in his mother's native Slovenian, which he uses to communicate with his mother's parents living in New York.
6. Melania makes him use her line of skin products
Barron's mother Melania cover him from head to toe in her brand's moisturizer, Caviar Complex C6, after he takes a bath every night.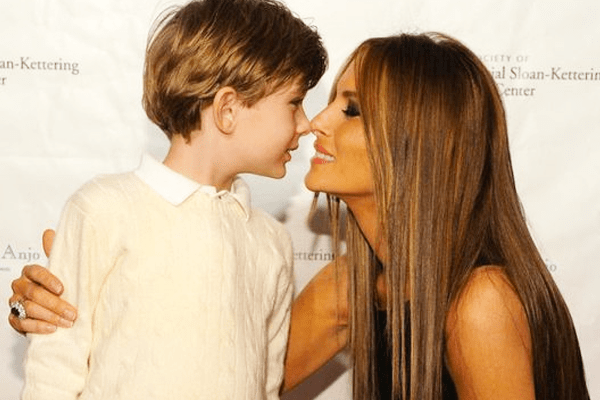 Melania Trump with son Barron Trump. Barron uses his mother's brand moisturizer, Caviar Complex C6. 
Source: Red Book
Melania said that Barron really likes the moisturizer. She had said in a press release:
"I have researched and worked with top chemists to identify a new anti-aging treatment for more than a decade. The result of which is my skin care collection."
She uses the skin care product on her own skin and son as well.
7. Barron has his own floor in Manhattan penthouse
Barron has space on most New Yorkers could have on their dreams. Barron lived on an entire 66th floor in the Family's Manhattan $80 million Penthouse.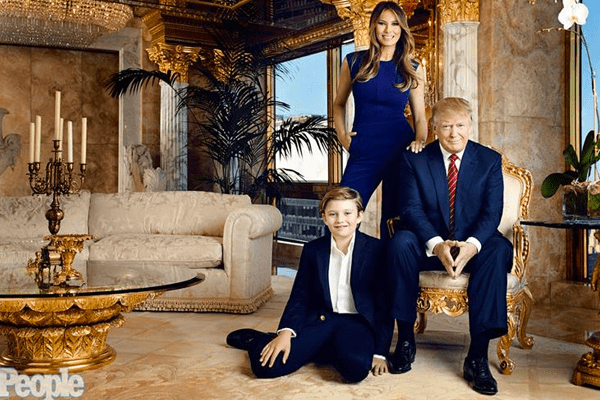 Barren Trump has his own floor in Trump Tower.
Yes, the junior Trump has the three-story penthouse's entire floor in Trump tower. The space not only has his oversize bedroom but his own living room too. According to New York Daily news, Barron had asked about the size and space of White House so that he can invite his friends for sleepovers.
8. He prefers to suit-up
For a young boy like Barron, he prefers to wear suits over sweatpants. No wonder, he is nick-named as Little Donald.
Melania Trump once said;
"Barron is a very strong-minded, special and very smart boy. He is independent and opinionated. He knows exactly what he wants. He is a mixture of us in looks, but his personality is why I call him Little Donald."
9. Barron has been on Oprah
Barron Trump already lives more accomplished life than most of the other peoples. He has been on Oprah with Oprah Winfrey twice, the first time he went when he was newborn in 2006 and second in 2011 with his family.
Also read: Oprah Winfrey reaction to Donald Trump tweets
10.  He loves golfing
It's natural for growing children to have interest in sports but Barron's favorite business is golf.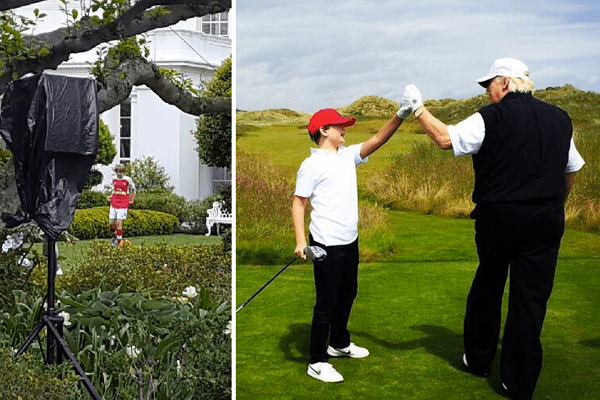 Source: TMZ, Barren Trump loves golfing, spends time on green fields with father Trump playing golf.
Alongside his father, Barron spends time on green fields and understands the significance of the game.
Stay tuned with SuperbHub for more Celebrity news and entertainment.