You can always make money while traveling "No Matter Your Age". The life and travels of the late renowned traveler Anthony Bourdain can remind us of the allure of wanderlust.
Anthony,  who traveled the entire world observing human culture and cuisine, famously said;
"Travel changes you. As you move through your life and travel in this world, you make slight changes to things, you leave your marks behind, however small that maybe. And in return, all your travels leave marks on your body and soul. Most of the time, these multiple marks—are majestic. Often though, they hurt very badly."
May the ideas below serve as an inspiration to put you on the road to adventure.
Travel Blogger
This is perhaps the dream of all dreams and can apply to all professional blogging topics, not just travel. But travel blogging, as well as vlogging, is likely on your radar. Who wouldn't love to get paid to write about the fantastic places they spend time in around the globe? From registering a domain name to writing posts, a lot more is required to make this a viable source of income. Learn from the experts and be realistic in expectations. It can take years for a travel blog to become profitable, and most bloggers make money via sponsorships and speaking opportunities.
Remote Worker
With a laptop, internet connection, and marketable skills, becoming a remote worker is within reach. There might even be a change that your current employer would be willing to allow your position to become a remote one. Editing, writing, or transcription skills apply excellently to remote work. Plentiful opportunities exist for designers and programmers as well. Unless you have a rather hefty amount in savings, it's advisable to start freelancing while employed in a 9 to 5 job as you learn the ropes and plan your related travel adventures.
English Teacher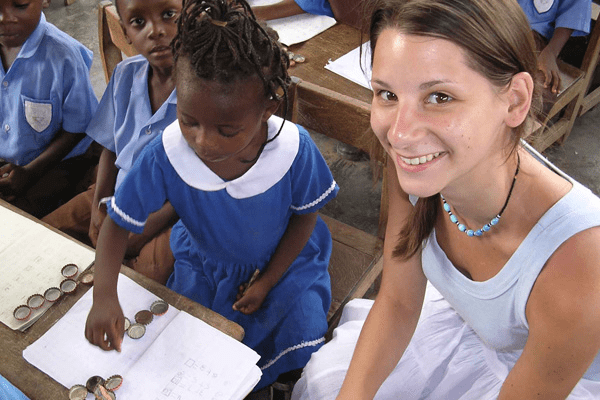 African kids being taught by foreign travelers, Image credit: Travelers Worldwide
English teachers are in high demand in many countries. While a degree in education is not required, a four-year degree of some sort generally is. It's also not necessary to be able to speak the language of the country you'll be teaching in, though it never hurts to learn some key phrases. TEFL certificates can often be earned in conjunction with teaching placement companies, but all not always required. This varies from country to country. Tutoring is also another possibility in this area as well. Once you settle into a teaching routine, it would be possible to branch out to taking on private pupils as well.
Hospitality Worker
Such positions can be found in resorts, cruise ships, national parks, campgrounds, etc. Jobs range from hospitality, housekeeping, janitorial, maintenance, retail, to wellness (think masseuse or yoga instructor). Those with the most limited experience will likely start washing dishes or cleaning rooms, but promotion is likely. Allow at least three months' duration for most contracts, though six months often allows for a better experience. As fun as travel is, settling into a new place tends to take some time.
House sitter or Au Pair
While pay usually isn't part of being a house sitter, a free place to stay will save a traveler a good deal of money over paying rent or staying in a hotel. Pet sitting may often be involved. Au pairs are typically younger women, but that's not a given. Salaries can vary widely, but living with a family is certainly a great way to experience culture up close and personal.
Peace Corps
A two-year commitment to work in a developing country allows for the chance for an immersive experience due to the longer timeframe. A housing and living allowance is included as are dental and house insurance as well as student-loan assistance. Also, at the end of service, a re-adjustment stipend is given. Such a sojourn will likely be a life-changing experience. To be assigned a certain country throws in an additional exciting curve.
Tour Guide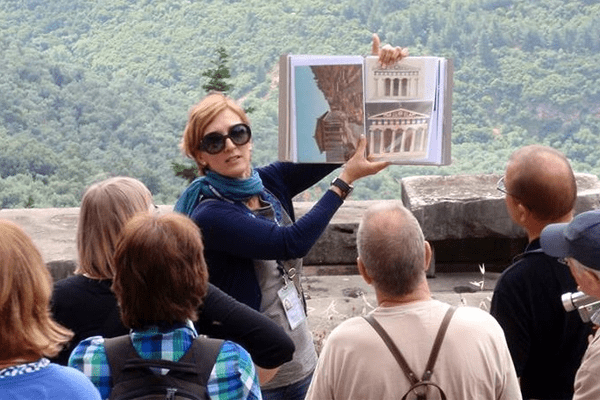 Travel guide helping tourists, Image Source: Boris Hristov
This could entail either giving tours in a city or being mobile with a travel company. Tour directors tend to be freelance, so that means providing your own health insurance and also needing to continually be on the lookout for more work (as is the case with most types of freelancing). However, the number of interesting people you will get to meet and travel with to beautiful and exotic locations can more than makeup for some of the downfalls.
The offerings here are a small slice of the ways to make a living while you travel. Many more work opportunities await, start exploring more jobs now. While you may be able to work in your chosen professional field, there is much to be said for traveling to live rather than working to travel. Isn't getting outside of your comfort zone what travel is really about?
What ways to make a living while you travel are you most likely to try?