Tiffany Boone hasn't officially confirmed a boyfriend or the dating guy. But, the Extra TV might have formally assured, in January 2018. The article was published mentioning Dear White people actor and, Tiffany Boone's boyfriend, Marque Richardson, and Tiffany as star couple.
Their Instagram post assures they might be dating or sharing vibes since 2015.
Here is Tiffany's post on Instagram that gives us the clue. It was clicked on Tiffany Boone's boyfriend Marque's birthday. They look great with each other and seems to have amazing chemistry. Their intimacy in the picture shows that Tiffany and Marque share good vibes.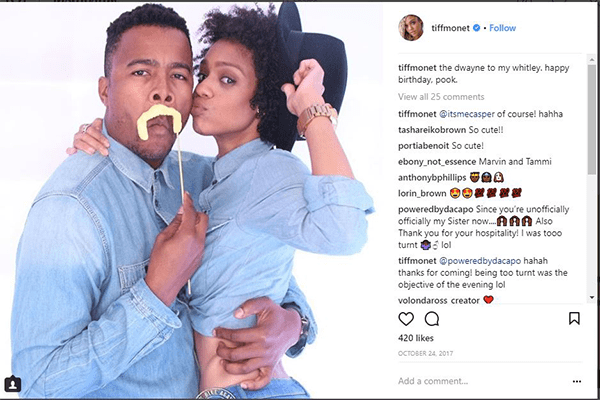 Tiffany Boone's Boyfriend getting clumsy with girlfriend Tiffany Boone
If this picture isn't enough to prove them as a couple. Have a look at another post from Tiffany.
This "made for each other" couple attended NAACP Image Award where Marque has a nomination. Tiffany writes, "This guy asked me to his date last night. How could I say no?" Also, "Blessed to stand beside you." Genuinely, this suggests their affair.

Actor from Beautiful Creature and  The Chi, Tiffany Boone, is undoubtedly not single. 
The couple seems caring, devoted, and promising, according to their posts.
Is Tiffany Boone getting married to Marque Richardson?
Social media implies they probably are seeing each other since 2015.
Tiffany Boone's boyfriend, Richardson,32, and Tiffany,30, are sharing quality time, attending the various ceremony and award shows. Importantly, their attitude seems to match. That is why the relationship is showering good vibes for four years.
Here is the video, where they are together interviewing with "Extra's" Tanika before attending the NAACP awards. Also, they talked about how their respective TV shows create empathy.
Take a look!!
The togetherness of the couple seems exciting and promising. The couple probably is getting married soon.
It looks like Marque Richardson will surprise Tiffani Boone with an engagement ring.
Here is another post from Tiffany Boone that shows her love, care, and belongingness towards Marque.  She mentioned
"he's in emmy magazine…but he's all mine"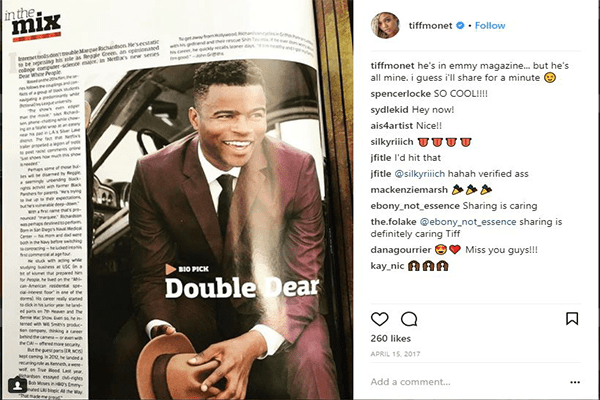 Quick Facts on Tiffany Boone
Tiffany Boone's Boyfriend and Tiffany recently attended the NAACP awards.
She will appear on the Television show The Chi which is going to premiere on Sunday, February 11, 2018.
Tiffany often mentions about the relationship with Marque Richardson on her Instagram and Twitter account.
In 2013 fantasy film, Beautiful Creature, she played the role of Savannah Snow.
According to Famous Birthdays, Boone loves to hear the voice of Beyonce. Also, she is very active on Tumblr page.
Tiffany loves to experiment with her hair as she tries different hairstyles.
Here is another video clip from Tiffany Insta Post, where she is kissing his boyfriend Marque Richardson. Admittedly, this will eradicate the remainings of doubt about their relationship.
Stay updated with Superb Hub for more entertainment news.