First of all, people are not easy to handle and that too for a lifetime, it requires a lot of patience and endearing capacity. Thus, that be the reason, couples split.
A similar fate occurred to Doctor Who star, Matt Smith and gorgeous Lily James. They split after five years of being together. Here is everything to know about them.
The Reason Behind Matt Smith and Lily James' Breakup
Doctor Who star, Matt Smith and The Downton Abbey actress Lily James broke up after 5 years of being together. The couple hasn't made any public appearances and the rumors sparked for a while now.
A source claimed to the Sun, that the couple was experiencing strains for months and were not in shape to handle their relationships hence, they called off on their romance recently around October 2019. Fans are heartbroken by the news of their split as it spun during the first weeks of December.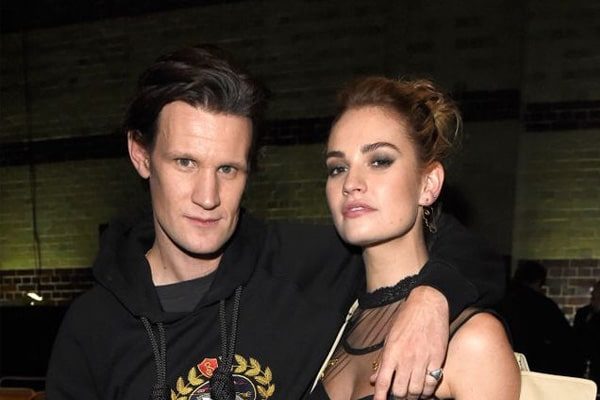 Lily James and Matt Smith were not photographed together since August. Lunch at The Spaniards Inn in Hampstead was their first appearance after four months. Image Source: Cosmopolitan.  
Both public personnel are awfully busy people and they have their own tight schedules. Matt Smith is also rumored to have gotten close to his co-star, Claire Foy. The couple has many mutual friends so, hopefully, they'll manage to maintain their awkwardness.
When Did The Golden Couple Start Dating?
The 37-year-old Primetime nominee, Matt Smith and Lily James met in 2014 on the set of Pride and Prejudice and Zombies. They reportedly started dating shortly after and confirmed the relation at Milan premiere of Cinderella.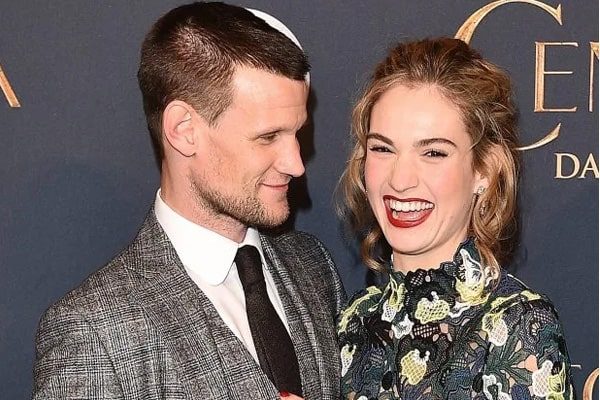 We'd all want someone who looks us like Matt looks at Lilly. Image Source: Getty Images. 
Furthermore, they were also spotted together during the Cannes Film Festival in May 2014 and were strolling around the streets of London after their arrival in London the same year.
The Pride and Prejudice and Zombies actress hinted of wanting to get a little further into the relationship with Matt in an interview with Marie Claire. She also mentioned that her joy of getting flowers and making things looked pretty.
Everything Was Smooth Until 2018
Lily James baffled everyone with a dazzling ring around her ring finger during the BAFTA. Rumors of engagement were speculated around that time. However Matt Smith's ex-girlfriend Lily dismissed the rumors saying she's not a huge fan of the "ring-superstition.
The Cinderella star wore a diamond ring and bedazzled her fans sprouting engagement rumors. Image Source: Getty Images.
On the other side, Matt also revealed his willingness to have babies with his gorgeous partner Lily James. Aforementioned, Lily and Matt both have a common friend circle. When asked about her, Matt suggested, he too is looking forward to the greater advances in his life with Lily.
Lily once again fueled the rumors of an engagement back in January 2019. She was spotted wearing a gold ring and fans were having serious melt-down.
The Power-Couple Were Always Cautious
The beautiful duo of Matt Smith and Lily James were always cautious about their public appearances. They attended selective awards together and avoided paparazzi the most.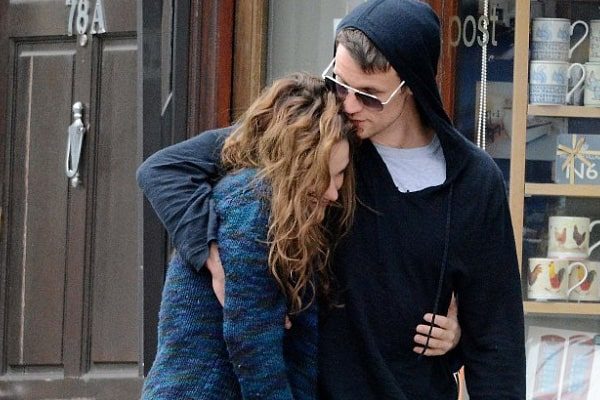 Matt Smith's girlfriend, Downtown Abbey star, Lily James was ready for the shift in their relationship before the unexpected happen. Image Source: Daily Mail.
They further had appeared in 2017 MET GALA in New York City and 2018 Burberry Fashion Show.
Before Lily and Smith Met
Before the golden couple met one another and made fans believe that they were "the match made in heaven", Lily was linked with actor, Jack Fox. The ex-couple split after the release of Cinderella.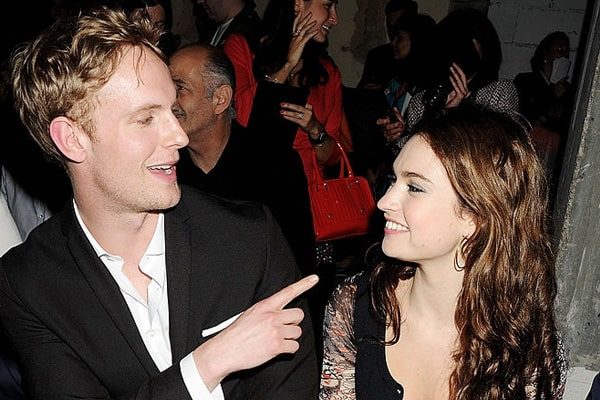 The gorgeous actress, Lily James dated Fresh Meat actor, Jack Fox for a year before parting ways. Image Source: Getty Images.
Lily James's ex-boyfriend Matt Smith was also in a relationship with a model, Daise Lowel. Reasoning the work dedication, they also parted ways after 18 months of being together.
Despite all the rumors and all the admiration, in the end, the couple had to part their ways because of their own personal reasons. Mostly noted to be the hectic schedule and the increasing closeness with his on-screen wife of Netflix series, The Crown.
As of now, Lily is enjoying her life and her schedule pack to notice all the rumors in the first place. A similar case is with Matt Smith. Let's hope the duo find a ground to stay or find solace somewhere because frail is a human heart and hard to console it is in solitude.
Make Sure To Follow SuperbHub For More Updates On Celebrity News, Entertainment, and Biography.