Pamela Hensley is an American actress reckoned for her TV series roles like Buck Rogers in the 25th Century and Matt Houston. She is also a remarkable author who published a cookbook named The Jewish-Sicilian Cookbook. 
Besides having a career as an author and actress, Pamela Hensley is fortunate for relationships and marital life. She has been married to a successful television producer, E. Duke Vincent.
Thus, from here on, we shall talk about Pamela Hensley's husband, E. Duke Vincent, and his whereabouts.
Worked In Television Industry For Forty Years
Aforementioned, Pamela Hensley's husband, E. Duke Vincent, is an American television producer born in New Jersey as E. Duke Vincent Edward Ventimiglia.
Vincent started his career in 1967 and went on to spend forty years in television writing and production. Furthermore, some of Vincent's series are Dynasty, Charmed, Melrose Place, Wanted, Vega$, Sunset Beach, Savannah, Summerland, etc.
Furthermore, the Seton Hall University graduate previously served as a naval aviator and was a member of the Blue Angles flying team in the early 60s. After the massive success and a prolonged career in the television world, Duke Vincent focused on writing novels since 2006.
E. Duke Vincent Has Been Writing Novel Since 2006
Aforementioned, E. Duke Vincent transitioned his career from a television producer to a writer. Thus, he has been writing since 2006 and has published at least four books.
Although Pamela Hensley's husband, E. Duke Vincent, started his writing career in 2006, he'd already published a novel, Mafia Summer: A Novel, in 2005. The novel was reportedly a fictionalization of real organized crime.
Similarly, the list of E. Duke Vincent's books is listed below, along with their respective prices.
The Strip: $14.39 (Kindle Edition)
Black Widow: $9.99 (Kindle Edition)
The Camelot Conspiracy The Kennedys, Castro, and the CIA E: $8.60 (Hard Cover)
Mafia Summer: A Novel: $17.18 (Hard Cover)
Given the impressive career as a television producer and writer, E. Duke Vincent's net woth must be exceptional. Thus, it wouldn't be an exaggeration to say if Vincent is living a very luxurious and comfortable life in Montecito, California.
Furthermore, the Vincent couple has been married since 1982, did you know that?
Married To Pamela Hensley Since 1982
As stated earlier, actress Pamela Hensley and author E. Duke Vincent have been married since 1982.
Unfortunately, Helsey and Vincent decided to keep their marriage dynamics confidential. Therefore, we do not know much about their wedding details, but it must have been quite a celebration.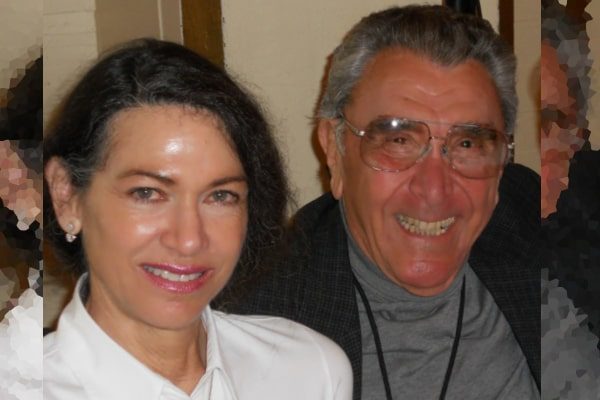 Pamela Hensley and E. Duke Vincent got married in 1982. Image Source: Vincent's Facebook.
Interestingly, it wasn't the first wedding for both E Duke and Pamela. Vincent was previously married to Sandra Carol Freeman and Dian Parkinson before Pamela. Similarly, Pamela walked down the aisle with record producer and musician Wes Farrell.
Another shocker from the Vincent couple is that they did not welcome any kids together. However, Pamela's beau shares two kids with his first wife, Sandra.
Did Not Welcome Any Child Together
As stated earlier, Pamela Hensley and E. Duke Vincent did not welcome any kids together.
However, E. Duke Vincent welcomed two kids with his ex-wife, Sandra. The former pair were married for 14 years before parting ways.
Regrettably, Vincent and Pamela prefer to keep their kids away from social media. Well, fans aren't entitled to celebrities' personal lives if they choose to keep them confidential. Thus, let's respect Pamela Hensley's husband, E. Duke Vincent's choice and hope to read another novel soon.
Don't Miss To Follow SuperbHub For More Updates On Celebrity Entertainment, Biography, and News.