Nelly Furtado is a Canadian singer-songwriter cum record producer who received a Grammy from her debut album Whoa, Nelly!. Known for her musical versatility, she has managed to sell over 40 million records worldwide.
Nelly has won several awards, including Grammy Award, Juno Award, BRIT Award, Billboard Award, and many more. Besides the thriving career, Nelly is still searching for a faithful companion after parting ways from her former spouse, Demacio.
In terms of career achievements, Furtado's career is massive and impressive. However, here, we shall talk about Nelly Furtado's ex-husband, Demacio Castellon, and his whereabouts.
A Triumphant Sound Engineer
Nelly Furtado's ex-husband, Demacio Castellon, is the most sought-after American-Cuban sound engineer in the music industry. Having worked with star-studded musicians like Madonna, Jay-Z, Rihanna, Justin Timberlake, etc., Demacio has garnered massive respect in the industry.
According to his IMDb, the recording/mixing sound engineer and producer, Demacio, have a few soundtrack credits, including Homecoming: A Film by Beyoncé, Madonna: Girl Gone Wild, Madonna: Celebration, Madonna: Miles Away, etc.
The Full Sail graduate with a degree in Associate of Science (AS) Recording Arts, Demacio's hardworking nature lured prestigious nominations and awards his way. Furthermore, Castellon bagged a Latin Grammy in 2010 for his work.
Likewise, Nelly Furtado's former spouse, Demacio Castellon, also helped produce Madonna's Emmy-nominated Super Bowl XLVI halftime show.  According to Full Sail University, Demacio revealed that he values people being touched by his album more than any platinum plaque.
Despite living through teenage years surrounded by drugs, violence, and tragic death, Demacio, aka Demo, overcame his past with persistence and dedication toward sound engineering.
During an interview, Demo revealed that he started off as a DJ before being intrigued by sound engineering. Therefore, growing up in Miami's streets taught him to work and become a dedicated human being. As of now, Demo is not just a sound engineer but also a life and financial strategist.
Demacio Is A CSO At Epikos Management
As stated earlier, Demacio hustled his way up in the music industry. Besides music, he also acts as life and financial strategist and shares about overcoming misfortune and the importance of having clearly defined results.
According to Demacio Castellon, aka Demo Casanova's LinkedIn, he currently serves as the Chief Strategy Officer (CSO) for Epikos Management. He has been associated with Epikos since August 2018. He is a certified Jack Canfield  Methodology Trainer and also mentored by Bob Proctor.
Additionally, Demo also co-founded and is a chairman of FEEL GOOD NOW. Likewise, he is the CEO of Well-Off.Life since January 2019 and previously worked for The Demolition Crew for more than a decade.
Besides being a Key-note speaker and strategic performance coach, Furtado's former spouse also contributes as a regular lecturer at Full Sail University and other institutions.
Although overcoming massive milestones careerwise, Demo went through a harsh divorce in 2016 after eight years of marriage.
Was Married To Nelly For 8 Years
As mentioned earlier, the renowned sound designer, Demacio, was previously married to a Canadian singer-cum-songwriter, Nelly Furtado. The pair had a superbly private relationship, and their fans know very little about their relationship dynamics.
Previously against the idea of being abided by society, singer Nelly Furtado got hitched on 19 July 2008. She verified the news of her wedding via an interview with Entertainment Tonight Canada.
Nelly further added that she loved it and claimed it was a lovely phase of her life. She also described her feelings as relaxed and excited about her future.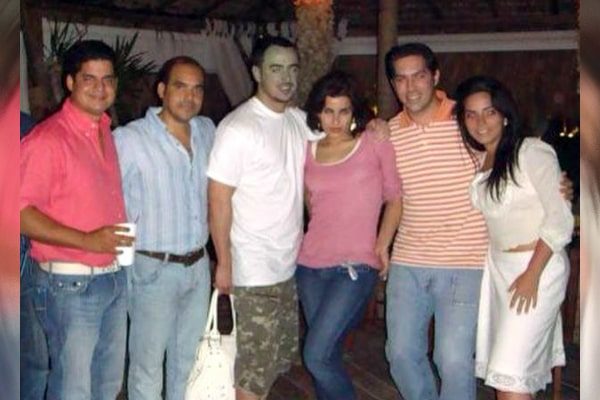 Nelly Furtado and her ex-husband Demacio Castellon got engaged in 2007 and married in 2008. Image Source: Nelly Furtado Portugal Facebook.
The former partner also worked together on her album, Loose, and was engaged in 2007. Both Nelly and Demo's close friend Timbaland confirmed the news of their engagement.
Unfortunately, despite being together for several years, working together, and being married for eight years, the couple parted ways privately.
Nelly and Demacio's Secret Split
Singer and songwriter Nelly Furtado and her husband of eight years, Demacio Castellon, separated after eight years of marriage secretly.
During an appearance on ITV's Loose Women, the Canadian singer Nelly confirmed the news. She said that she's single and someone needed to update her Wikipedia. She added that it wasn't helping her dating life.
Furtado further revealed that she went through an emotionally difficult time and wrote and sung songs to get through it. The Furtado and Castellon couple were private about their lives from the very start. Thus the news about their split in the summer of 2016 came as a surprise.
Despite opening up about divorce and calling out Wikipedia for being slow on updates, Nelly did not disclose the reason behind their divorce.
As of now, Nelly Furtado's ex-husband, Demacio 'Demo' Castellon, is living a very private life, and his social media has zero posts. Well, Castellon's decision to maintain his life confidentially is understandable, but hopefully, we will soon get some updates on his personal life.
Don't Miss To Follow SuperbHub For More Updates On Celebrity Entertainment, Biography, and News.