Zoe Sugg and Alfie Deyes have been dating for seven years. They are probably one of the first YouTube couples that people really admired.
As of now, the YouTuber couple of Zoe and Alfie are not engaged but living a happy romantic life. The fans call the pair "Zalfie." Let's take a peek into their romantic life.
Zoe Sugg and Alfie Deyes's First Meeting
The start of the "Zoe Sugg and Alfie Deyes's love story" was virtual. It all began in 2012 when Zoe liked one of Alfie's vlog. After that, Alfie posted a reaction video with titled 'Zoe Sent Me'. This caught both's attention and the pair began talking online.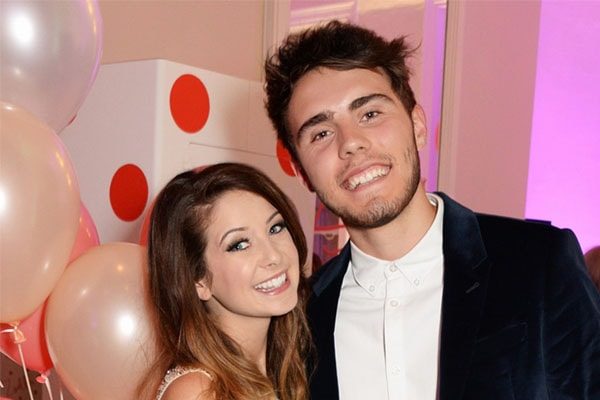 Zoe Sugg and Alfie Deyes have been in a relationship for quite some time now. Picture source: Evening Standard.
However, they first met up during Summer in The City 2012 in real life. It is reported that they were seeing each other from 2013. But in August of 2013, they went public with their relationship and that was only because Jim Chapman accidentally revealed the picture of Zoe and Alfie kissing.
Together Since 2012
After Jim accidentally revealed the picture, Zoe Sugg published a statement to her blog explaining about their relationship. They had been friends for some time and started to date later. She also wrote how fan put stress on them. However, the couple didn't stop and after publicly dating for a year they moved into a flat in Brighton together in October of 2014.
Plus you will also find tons of videos of the lovely pair. They ofter upload vlogs where they talk about their marriage and children.
Zoe Sugg and Alfie Deyes kept their moving process secret and revealed in a vlog that they settled together. After spending around two and a half years in the Brighton, they were forced to move to a new place because of fans and media constantly invading their privacy.
View this post on Instagram

The couple also has a black pug named Nala. The pair's dog has been with the YouTuber couple since November of 2014 shortly after they moved together.
Are Zoe Sugg and Alfie Deyes Engaged?
As of now the couple is living together but not engaged yet. Back in July of 2018, Zoe was pictured holding a ring leaving many fams guessing whether she is engaged or not.
One of her followers asked, " Are you engaged Now?" Later she replied saying "No! haha. " So this proves that the YouTuber couple is not engaged yet.
Keep connected with SuperbHub for more News, Entertainment and Biography.