Golfer Holly Sonders is currently dating Kliff Kingsbury, Arizona Cardinals new head coach. Holly sonder was previously married to her ex-husband Erik Kuselias and got divorced in 2016.  
After divorcing Erik Kuselias, Holly Sonders remained single for a while. However, she found a perfect man for her now. Erik Kuselias affair with Stephania Bell could have been the reason behind the divorce.
Holly Sonders Opened Up About Relationship
The sports host for FOX broadcast, Holy Sonders made things public by posting her support for Kingsbury's hiring in Arizona Cardinal. Sonder shared a video of Kingsbury's introduction from the Arizona Cardinals in her Twitter account. She is so proud of Kingsbury's selection as a new coach for Arizona. And apparently, she mentioned a heart too.
Right now, Holly Sonders' boyfriend Kliff must be feeling like he is in the top of the world. Kingsbury was hired as Arizona Cardinals after he was sacked as the head coach in Texas Tech. After being appointed, he also opened up about dating gorgeous Holly Sonders.
Holly and Kliff Were One Another's Crush
Holly Sonders also revealed that they used to have a crush on each other in the past and now they are dating each other. This is such an exciting story for Sonders and Kliff's fans.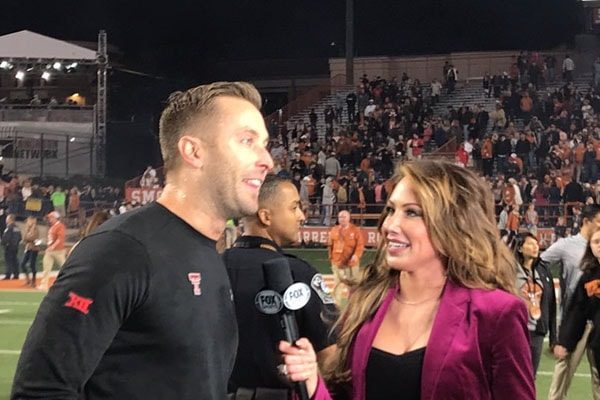 Holly Sonders interviewing Kliff Kingsbury. Picture source: Texas Tech Football.
Many followers of Holly commented on her tweet stating that someone has a crush on Kliff Kingsbury. And later on, Holly Sonders replied airing that she will always have a crush on him because she thinks Kliff is the best for her. Holly mentioned that she used to have a crush on him from the past.
Relationship With Ex-Husband
Holly Sonders was married to ex-husband Erik Kuselias. Erik Kuselias is a radio host and was a former co-worker of Holy. After dating for some time they got engaged in 2012. Eventually, the ex-pair got married. Erik has a son named Troy, who was born from his previous relationship.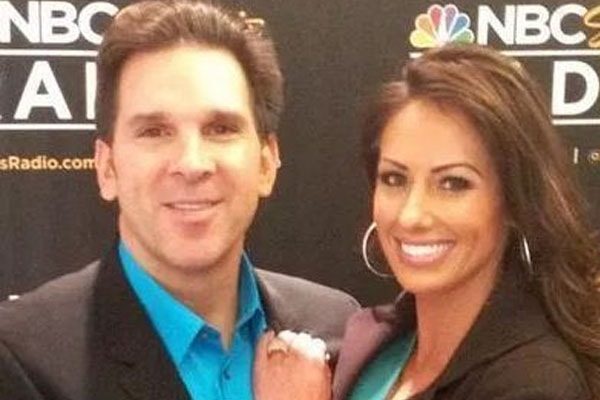 Holly Sonders with Ex-husband Erik Kuselias. Picture source: Married Divorce.
Erik doesn't have a good record. He was suspended from ESPN for sexually harassing his co-workers and cheating his first wife. And then he messed up his second marriage too. He was found flirting and having affairs with Stephania Bell for which Holly ended the relationship with Erik and got divorced in 2016.
SuperbHub for more News and Entertainment.