Dreaming is not a sin, but slacking off and complaining about it is. A person is capable of rising from an ordinary to a celebrity real quick with hard work and dedication. Half Of It star, Alexxis Lemire has proven it pretty smoothly. The woman in her 20s has amassed a massively huge fan base in a short time.
Therefore, let's get to know more about the brunette beauty from this article.
Was Known For Dating Jake Short
Alexxis Lemire's first public recognition was because of her relationship with Disney alum Jake Short. The couple dated briefly in 2016.
Alexxis Lemire's ex-boyfriend is an American actor who rose to fame after his first significant role as Fletcher Quimby in A.N.T. Farm. The Mighty Med star was head over heels for Alexxis and spent quality times together.
The utterly adorable couple's relationship was exclusive and wouldn't shy from showering their affection via social media as well.
However, the romance had an early expiry date, and both individuals moved on with their lives. They dated for a year before splitting. Although Lemire has deleted the posts, Jake Short still has the pictures uploaded with the captions removed.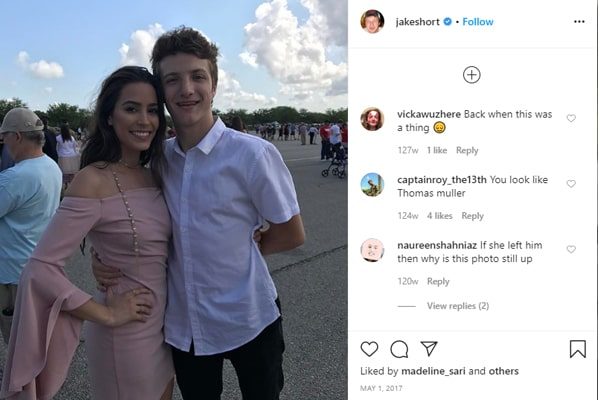 Captions perished while the memories remain. Image Source: Jake Short's Instagram.
Jake Short's ex-girlfriend, Alexxis, was rumored of dating her Truth Or Dare co-star, Luke Baines. However, nothing is confirmed, and by the nature of their bond, they look to have a solid friendship.
Looks Like She's Currently Single And Thriving
As of 2020, Truth Or Dare star, Alexxis Lemire seems to be enjoying singularity. Honestly, being single, making peace, and promises of success feels so liberating and powerful. It looks like Lemire is pursuing her career and reaching for success.
Going through Lemire's Instagram shows no hint of her dating life. It's either she's enjoying her singularity or is keeping things mellow. Likewise, her posts are all about appreciating her friends, colleagues. Whatever the case is, Alexxis thriving for her career and separating her personal life from her profession is impressive enough.
View this post on Instagram
Even though all the signs incline towards being single, let's hope she manages to work on many notable projects before she gets into a relationship. Why? Because relationships are high maintenance and don't co-operate with the burgeoning career.
Has Credits For Movies And Series
Lemire entered the entertainment industry in 2016 when she got her role in the Disney XD series, Lab Rats: Elite Force, at the age of 20. After that, she has continued to grow and appear on some critically acclaimed tv movies and series.
According to Alexxis Lemire's IMDb, she has six tv-series and movies altogether. Some of her work includes Lab Rats: Elite Force, The Half of It with Leah Lewis, The Art of Murder, Truth Or Dare, The Other Mother, Cerebrum. She has chosen some pretty good stories and has proven her skills.
Alexxis Lemire's movies have heightened her fame and thus helped her Instagram presence as well. Alexxis Lemire garners 193k followers on Instagram as of now. She continuously updates her fans with her life. Let's hope we get to see much more of Lemire's works on big-screen soon.
Half Of It Actress, Alexxis Is Inspired By Her Family
Born on May 30, 1996, Londonderry, New Hampshire, United States, Alexxis Lemire, revealed that her family members hugely inspire her. Lemire's father, Jim Lemire, is a local contractor, and her mother, Hilda Lemire, is a makeup artist.
Lemire's mother, Hilda, was inspired to turn her hobby of dolling up her daughter to the profession. Furthermore, Alexxis is not the only child in the Lemire family. She grew up with her brother, Edwin Joel Rodriguez, who serves in the U.S. Marines.
Alexxis Lemire is very fond of her family and gets inspired by them. Image Source: Lemire's Instagram. 
The Mother Star, Alexxis Lemire, gets inspired by her family every day. She explained that they work very hard to support her dreams without fail. Likewise, she continues that her parents have a very beautiful conjugal and love their children, keeps her grounded and inspires her to stay motivated.
The well mannered Alexxis Lemire's childhood seems to have been very cheerful. Let's hope she continues to hit milestones and make her parents proud.
Alexxis Lemire Is A Grounded Person
Alexxis Lemire loves to hike or run in her free time. In a Runway interview, she said running or hiking clears her mind and makes her feel free.
She sets off when she feels lazy. Besides running, she is a social bird. Alexxis loves to hang out, drink coffee, and lay watching reality tv. She further said that doing nothing makes her most relaxed.
Don't Miss To Follow SuperbHub For More Updates On Celebrity Entertainment, Biography, and News.