Remember that one girl who knows just about everybody in the class and is close to? Alike is Ozark actress Laura Linney. If we are to scroll down Linney's Instagram, all we see is her work-related posts and appreciation posts. The veteran actress has forged close relationships with her esteemed co-stars and directors, including Clint Eastwood, Richard Gere, Steve Coogan, and many more.
Similarly, many celebrity friendships are to talk about, but we shall be taping the friendly relationship between Laura Linney and Liam Neeson.
Worked On Several Movies Together
Love Actually stars Laura Linney and Liam Neeson are amongst very few celebrity friendships which demand recognition naturally. They had known one another since the 90s when both were involved in theaters.
Since the 90s, Lauren and Liam have only strengthened their friendship. Being in the same industry, they have also worked on several movies, including Love Actually, Kinsey, The Other Man, etc. Throughout the years, their friendship is only getting more vital and more profound.
Furthermore, they've appeared in numerous interviews and movie premiers. Moreover, Laura talks highly of Liam in most of her interviews. While speaking to Hollywood Outbreak, she said that Liam is the best person she knows and spoke about finding solace in work during difficult times.
Additionally, Liam also presented Laura the Webby Best Actress Award in 2018. Because of their bond, they have magnificent chemistry in films as well. We can see their chemistry in Love Actually, which is a beautiful movie about human connection.
The friendly relationship between Laura Linney and Liam Neeson is not limited to their workplaces but is involved in a few memorable life-events including Laura Linney's marriage.
Walked Laura Down The Aisle In 2009
The highlight of Laura Linney and Liam Neeson's friendship is during Laura's wedding to her second husband, Marc Schauer.
According to the NY Times, Liam Neeson gave his friend, Laura, away to her husband. Unfortunately, the wedding was just two months after the death of Liam's wife, Natasha Richardson. Laura was close to Natasha as well.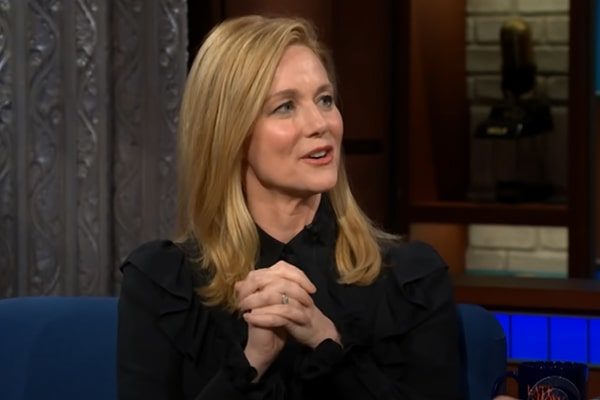 Liam Neeson walked Lauren Linney down the aisle in 2009. Image Source: Social Media.
Aforementioned, Laura and Liam developed their friendship since the Broadway era. Thus, she became closer to Liam Neeson's wife, Natasha Richardson, who died at age 45 in 2009 in a skiing accident.
Moreover, Laura recognized Liam's challenging times and thus motivated him and provided him with emotional support. She further recalled Natasha as a remarkable spirit and the glue that got them all together.
Laura Linney Values Friendships
Aforementioned, Laura maintains a close relationship with many actors and directors. As a veteran in the entertainment industry, she has seen lots and lost many close people. But Laura keeps them in her heart and memories.
Furthermore, seeing how Sully actress maintained her friendship with Liam since the 90s, she undoubtedly values friendships. When she was asked to advise women looking for freelance work, she urged them to stay away from toxic friends and relationships, quoting they are not 'worth it.'
Laura further continued that the drama might look exciting and seductive but wouldn't help in any way. Wisdom from wise Laura, who has maintained friendships for several decades with few celebrities, is to be taken seriously.
Conclusively, Laura Linney and Liam Neesan have a beautiful bond that continues to grow stronger with every passing year. Although they might feel a little too antique to share their friendship via social media, we hope to see Laura and Liam work together. Don't you?
Don't Miss To Follow SuperbHub For More Updates On Celebrity Entertainment, Biography, and News.