Everybody knows the web series, The Guild that premiered on YouTube since 2007 to 2013. Well, Felicia Day is the creator, producer, writer and most importantly an actress of the web series. Furthermore, she is a star of another famous web series, Dragon Age: Redemption.
Entrepreneur and gamer, Day's web series, The Guild were distributed worldwide across Microsoft platform of  Zune Marketplace, MSN Video, and Xbox LIVE.
This was truly a revolution as the use of such gaming tradition was very rare. According to Celebrity Net worth, Felicia Day's net is approximately $1 million and accumulated from the earning of web series and bookselling.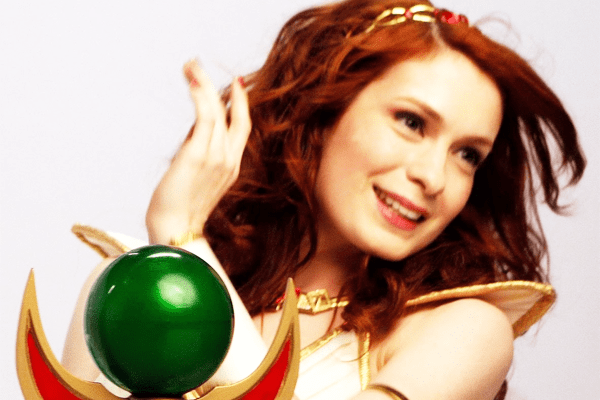 Felicia Day's net worth of $1 million is accumulated from bookselling, earning from web series and acting in movies.
Image Source- Time Wants a Skeleton
Earning from Web Series
Award-winning web series, The Guild is one of the famous web series. Moreover, the creator of the series, Felicia and partners first invested in the series by their own. For first two episodes, they invested, but they didn't have enough cash to produce another episode. So Felicia added a PayPal button on the website.
Also See: Felicia Day's Daughter and Husband
After two or three weeks, they collected enough money to fund another episode. About 550 people donated about $500 to pay expenses and to complete the scripts. Somehow, they finished the first season without paying some of the crew. Then they went to the producer, but the companies weren't interested that much.
Here is the first video posted on the Channel, The Guild

So, they decided to self-publish a DVD and sold through PayPal. Revenue generated from DVD selling was enough to pay her crew and other expenses. Even though they didn't have enough money to produce the second season. Then Microsoft came ahead to sponsor the second season. Even though budget of series was low, but she had enough to pay cast and crews.
Microsoft's Xbox introduced them in front of new million viewers, and the music-video promo was an instant hit ranking 1 in iTunes. The web series went up to six seasons. According to Social Blade, YouTube Channel, The Guild has 341,793 Subscribers and 97,395,138 video views as of April 5, 2018.
This YouTube Channel makes estimated monthly earnings of $36-$578 and yearly earning of $434-$6.9k. But Movie Maker says a creator of web series earns $1 per 1,000 views. So, she has $97,395,138 views. After calculating accordingly, Felicia Day made not less than $97,395. Undoubtedly, the earnings boosted Felicia Day's net worth.
Earning From YouTube Channel
After The Guild, she launched her own premium YouTube Channel, Geek & Sundry on April 2, 2012. In Fact, Geek & Sundry took over the production of The Guild season 6. After launching new Channel, Day created a web series Tabletop alongside Wil Wheaton.
Here is the latest video from the Channel.

According to Social Blade, the Channel doesn't earn any money as of March 5, 2018, but have 1,755,139 subscribers and 382,404,895 video views. But her official channel, Felicia Day do add some money to Felicia Day's net worth. The Channel has 239,291 Subscriber and 8,677,578 Video Views and ears approximately $8-$131 monthly and $99-$1.6k annually.
Also See: Felicia Day's Child's Father
Earning from Bookselling
Apart from her acting and YouTube career, Day is a brilliant author and narrator. Importantly, she had a fortune of writing a book; You're Never Weird on the Internet (Almost): A Memoir which is the most loved book written by her. On Amazon, this book costs $8.36 on Kindle, $14.29 for Hardcover and $8.80 for the paperback. Furthermore, the audiobook costs $15.01.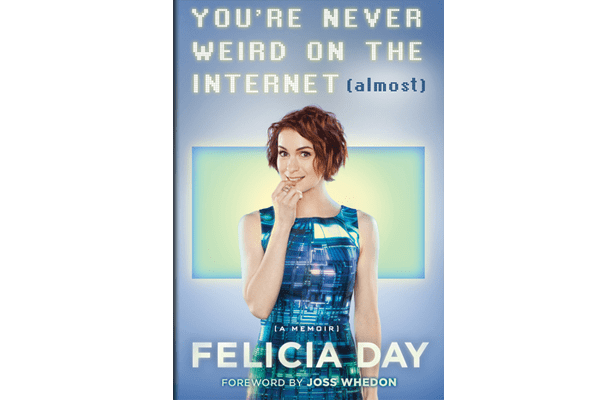 Day is a successful author and makes money from bookselling.
Image Source- Amazon
She has also written several comics books as well. Here is the list of books and cost of the books.
| Book | Cost |
| --- | --- |
| The Guild: Dark Horse Comics | from $4.99 |
| Guild Fawkes One Shot | From $23.00 |
| Guild Clara One Shot | $4.82 |
| Guild Bladezz (One Shot) Karl Kerschl Cover | $5.94 |
| The Guild 3 | $25.00 |
| The Guild Bladezz Dalrymple Variant Cover | $17.99 |
| The Guild Tink Variant Comic Book Cover | $9.99 |
So, the mainstream source of Felicia Day's net worth of $1 million is salary form acting and earning from YouTube and Bookselling.
Stay in touch with SuperbHub for Celebrity News, Entertainment, and Biographies.