The possibility of finding your soulmate unexpectedly is 100% probable. And the same incident occurred in the War Machine actor, Anthony Michael Hall.
Hall met the love of his life, Lucia Oskerova, on the set of War Machine and has been by her side for quite some time now with whom he is engaged as well. Thus, let's know more about Anthony Michael Hall's fiancee, Lucia Oskerova.
Anthony Michael Hall's To-Be Wife Is A Model
Anthony Michael Hall is a charming man with everything going on in his favor. The lovely fellow has managed to find his soulmate in Lucia Oskerova and is ready to commit to her eternally. But who is Hall's fiancee?
Hall's girlfriend, Lucia, is a very talented actress and model. She grew up in Slovakia and cherished all the love she got from her parents. Furthermore, her passion for story-telling started from childhood and was very much into cultures, destinations, and languages. By now, she can speak four different languages and has lived from Slovakia and Germany in Europe to Canada and the US in North America.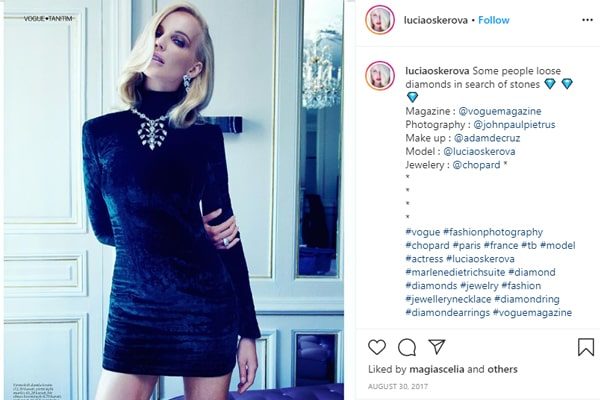 Anthony Michael's long time partner has a successful career as a model. Image Source: Lucia's Instagram. 
Lucia Oskerova's career in fashion began pretty early. At the age of 15, her unfathomable persona was noticed by a modeling scout. Since then, Anthony Michael Hall's to-be wife's career flourished as a model. She has modeled for big brands such as Prada, Dolce & Gabbana, Dior, Leone, Vetrina, Chanel, etc. Interestingly, John Casablancas took note of Lucia's fame in the industry and signed her immediately.
Similarly, Anthony Michael Hall's girlfriend enjoyed steady success as a model for a very long period, as was cast in many series like Battlestar Galactica, Very Bad Men, etc. Furthermore, Lucia was also chosen as a spokesperson for The Olympic games and other beauty products.
Lucia Oskerova's Journey To Hollywood
It is evident that Lucia enjoyed her career as a model and went across the countries and developed new interests. However, it took one degree in Interior Design and Architecture from the British Columbia Institute of Technology to realize her love for acting. Therefore, she got mentored by fabulous acting coaches like Larry Moss and Eric Moss.
Lucia Oskerova managed to be a part of VHYes, as STARDUST, which was released in 2019. She is further known for appearances in Once Upon a Time in Hollywood, Spider-Man: Far from Home, and Smallville. Let's hope to see more from the pretty blonde soon.
Lucia Oskerova And Anthony Michael Hall Met Professionally
Isn't it magical to meet someone for the first time and have an instant click? Very rarely does encounters like that lead to a relationship and then rings the wedding bell. But luckily, it happened, with model cum actress, Lucia Oskerova and Riverdale star, Anthony Michael Hall.
The couple first met in the set of 2017 movie, War Machine. The couple has been sharing their photographs since 2016, as they were rumored to have dated since then. Lucia and Michael were spotted at various events together, including Brett Ratner's Hollywood Walk of Fame star ceremony in 2017.
Engaged To Anthony Michael Hall
Since their very first meet, the couple is glued together. They share an intense love and is thankful for their existence in their life. After several years of dating, Lucia and Anthony Michael decided to commit to their relationship.
The couple got engaged on September 7, 2019, surrounded by families. The Breakfast Club actor, Anthony Michael, announced his engagement via Instagram with collages of photographs of their trip to Italy.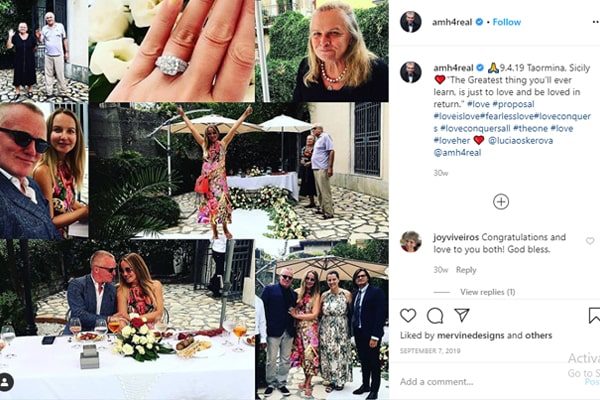 The beautiful couple got engaged amidst family during their family trip to Italy. Image Source: Anthony Michael Hall's Instagram. 
The series of photos were affectionately captioned, where Anthony Michael Hall's to-be wife showed off her ring for the camera. Let's hope to hear about their marriage pretty soon.
Is A Charitable Woman
A successful woman is a gold, but a kind and successful woman, she's worth the world. Likewise, Anthony Michael's fiancee is one heck of a woman as her kind heart goes out to every homeless child and to those who are suffering from poverty.
Furthermore, Lucia has also volunteered with different organizations like Camp Harmony that provides to needy children. She believes that this type of organization gives them a break from tension and allows them to grow talents. Likewise, she thinks that if people unite to contribute a little time or resources, the issue of needy children could be banished entirely.
Therefore, Anthony Michael Hall's to be wife is a gem and is perfect from every angle. Let's hope to hear about their marriage soon.
Don't Miss To Follow SuperbHub For More Updates On Celebrity Entertainment, Biography, and News.