Connie Nielsen's net worth is $8 million. She has earned all wealth from her career as a professional actress. The Danish actress is also popularly known for portraying the role of Hippolyta in Wonder Woman.
The-53-year-old Actress Connie Nielsen has been active since 1984 to till date. She is the mother of Hip Hop producer Sebastian Sartor. The most interesting fact about Nielsen is she can speak eight languages: Danish, English, French, German, Italian, Norwegian, Spanish and Swedish.
Net Worth and Earnings
Connie Nielsen's net worth is $8 million. She earned her fortune from her acting career. Going through her Instagram, we found that she is living a lavish lifestyle.
View this post on Instagram

Connie Nielsen started her acting career at a very young age. She landed her first job as an actress in a French movie when she was 18. She began her acting career working along with her mother. Nielsen made her appearance in Italian movie Vacanze di Natale '91 and the French film Le Paradis Absolument.
In the mid-1990s Nielsen moved to the USA and made the first appearance in an English language movie. She was starred in The Devil's Advocate as Christabella Andreoli. She also made minor roles in Permanent midnight, Rushmore and others.
In 2000, Nielsen made a major role in the movie Gladiator starring opposite to Russell Crowe and Joaquin Phoenix. This movie became her biggest breakout. Since then Nielsen has been starred in many American films such as Mission to Mars, One Hour Photo, Basic and many more. She also portrayed the role of Irish mother to an orphan child in the movie A Shine Of Rainbows.

Connie Nielsen made major roles in different movies such as Perfect Sense, 3 Days to Kill, The Runner, The Confession and many more. In 2017 her most prominent role was seen as Hippolyta in the movie Wonder Woman followed by a character of Queen Hippolyta in Justice League.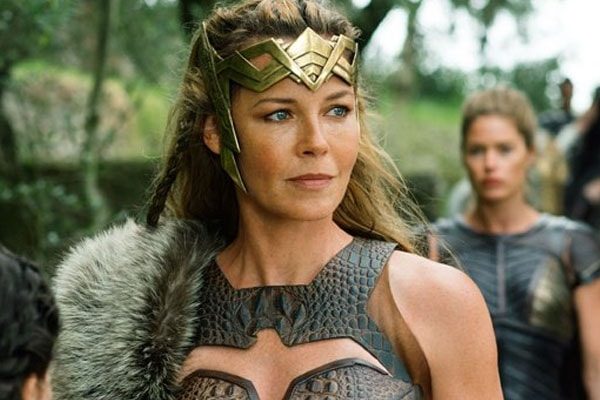 Connie Nielsen as Hippolyta. Picture Source: Super Hero Hype.
The movie Wonder Woman made huge money earning $821.8 million Box Office worldwide.  We bet Connie Nielsen must have received massive money from the movie.
Award And Nomination
Nielsen made Danish film debut through BrØdre for which she won the Danish Best Actress Award, the Bodil Award, and Best Actress at San Sebastian International film festival. She was also nominated as the Best Actress at European Film Award for her work in BrØdre.
---
SuperHub for more News and Entertainment.