Bob Barker's net worth is estimated to be $70 million. He has earned from his career as a TV host. Robert William Barker aka Bob Barker is best known for hosting of CBC's The Price Is Right. 
The same show is also the longest-running daytime game show in North American TV history which started from 1972 to 2007. And Bob is also famous for hosting Truth or Consequences.
Net Worth and Earnings
Born on December 12, 1923, Bob Barker's net worth is estimated to be $70 million. And, Bob Barker's yearly salary is estimated to be $10 million from his different endeavors. He collected most of his income share from his famous TV game shows. Bob's also made a remarkable cameo in the movie Happy Gilmore.
Earning as a Host
Bob Barker is a retired American TV game show host and a successful and experienced TV legend. He has an estimated net worth of $70 million. Bob had an excellent career as a TV host and also has the title of running the longest TV game show that is "The Price is Right." 
Bob started his TV career way early in 1956. He served as the host of "Truth or Consequences." Over the years, Bob has appeared on several other game shows, like Simon Says, That's My Line and many more. Bob's remarkable TV career thrived an impressive 51 years.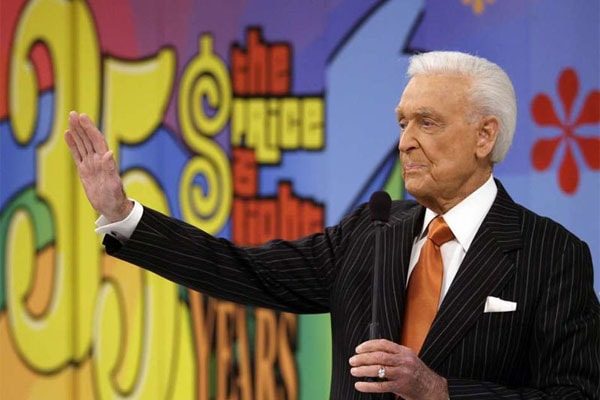 Bob Barker as a host of the popular TV show The Price Is Right. Image source: New York Daily News.
Barker has twice Guinness World Records. Having appeared in 3,524 shows; he was titled television's most durable performer. Also, Barker valued  $55 million prize money on his shows, making him the most generous host in television history. No doubt, Bob Barker's salary must have been grand for his contributions.
Bob Barker as a Philanthropist
Bob Barker is now officially retired and remains an activist for animal rights. In 2010, he generously donated $5 million to the animal activists group Sea Shepherd Conservation Society. The donated money was used to purchase a ship named "My Bob Barker."  The ship is now used to interrupt Japanese whaling boats. Bob also bought a helicopter for the Sea Shepherd Society.
Not just that, Bob also has donated $2.5 million to PETA to help build their Los Angeles headquarters. The building is now called the "Bob Barker Building."
Bob Barker donates millions in order to make this world a better place. Image Source: News Need News.
The beloved TV host Bob Barker was hospitalized back in late 2018 for back pain which was caused by an early injury.
Keeping everything aside, we pray Bob for his long and healthy life as he is not just a host but also a great person.
Keep connected with Superbhub for more News, Entertainment and Biography.