Annie Bakes is a former adult model whose fame rocketed because of her relationship with NBA player, Dennis Rodman. The beautiful blonde has been leading life in privacy after possibly the messiest divorce with Dennis.
However, let's look into who Dennis Rodman's ex-wife is and her tumultuous relationship with him.
Annie Bakes's Career As An Adult Model
Annie Bakes is a gorgeous woman with beautiful blonde hair and a delicate body. She is known for her elegance in the model industry. Having worked with numerous companies and agencies, she was first approached by a modeling agent at a very young age of 16.
Born on  February 26, 1965, as Anicka Bakes in Allentown, Pennsylvania, Annie initially modeled for print commercials. And after 18, she had posed for products like swimwear and lingerie. Furthermore, she also worked at nightclubs for extra money. Her career ended in 1986 after a road accident. It was right about this time that she met her to-be husband, Dennis Rodman.
Relationship With Former NBA Player, Dennis Rodman
Some life choices and some sudden sparks result in a very messy situation, and the cross-dresser NBA player is no stranger to that kind of circumstance. He and Annie met one another in the 80s and were involved in the on-and-off relationship.
According to an article, Annie revealed that she hooked up with Dennis in 1986 and impregnated multiple times throughout their relationship, which resulted in a few cases of miscarriage. According to The Free Library, one of her miscarriage was the result of physical altercations. Dennis Rodman's ex-wife was 18 weeks pregnant at the time.
However, the published article tells that the couple separated in 1991. During their relationship, Annie claims that she was verbally, physically, and mentally tortured by the player multiple times. The couple divorced in 1993, resulting in one of the messiest divorces.
Messy Divorce With Dennis Rodman
Some relationships are incredibly sadistic and impact individuals significantly. After a year into marriage, Dennis Rodman's first wife, Annie, filed divorce alleging Rodman of forced abortion four times after getting her pregnant six times.
Annie Bakes said that she was entitled to $1 million, plus a share of money Rodman receives from the NBA finals. She further said that the couple had an unwritten pact to share any property they acquired during the relationship equally. This agreement was made while they lived together in Sacramento, California.
Rodman's ex-partner also sought $7,700 a month in child support. The divorce was finalized in 1993, and Dennis moved on with Madonna.
Had To Get Counsellor For Her Daughter
It is always devastating to go through a divorce, but it's ten times worse when a child is involved. Annie Bakes and Dennis Rodman were not the only ones to go through the divorce, but their daughter, Alexis Rodman, was dragged in the situation she never asked to be in.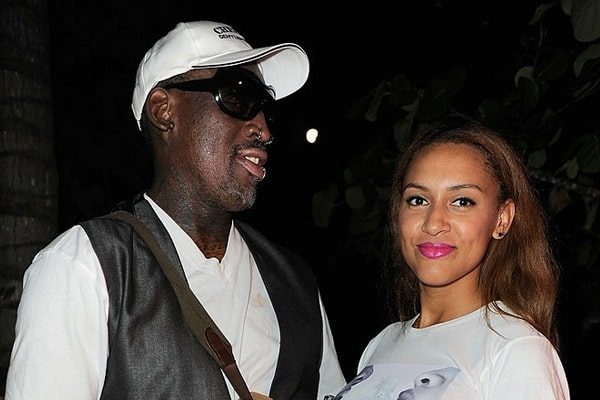 Annie Bakes and Dennis Rodman's daughter went through some anger issues as a child. Image Source: Getty Images. 
Known for Dennis's flamboyant fashion choices, he was notoriously famous for his short temper as well. While he was on the suspension for his temper, Annie Bakes' daughter, Alexis, was receiving counseling for 'anger management' related to her father's behavior.
According to Annie, the former couple's daughter showed a lot of anger and was holding anger against her mother for leaving Dennis. She further added that Alexis said that her father doesn't visit her and has girlfriends. Annie continued that her daughter hit a girl when they were playing basketball and excused it with 'Well, Daddy does it.'
As of now, Annie Bakes' daughter has grown up well and seems to have a healthy relationship with her father. Dennis congratulated her on welcoming her first child in July 2017.
Let's hope they are doing well as father-daughter and Alexis's anger issue is now solved.
Author Of White Girls Don't Bounce.
Dennis Rodman and Annie Bakes were in seven tumultuous years of relationship. During the relationship, they went through hell, including years of physical abuse, cheatings, breakups, abortions, and miscarriages.
Commemorating Annie's experience of her relationship with Dennis Rodman, she wrote Worse Than He Says He Is: My Walk On The Wild Side With Dennis Rodman. The book was published in April 1997 under the name Anicka Rodman. The book was later published as White Girls Don't Bounce.
Before publishing her book, Annie had proposed her draft, 'Bad As It Could Be: My Life With Dennis Rodman.'  She had given every tea of her relationships from two miscarriages, four abortions to contracting herpes, gonorrhea, and whatnot. Despite the details, she wasn't signed by any publishing house in New York.
Rodman even commented that Annie was lying for some lucrative cash. He sounded agitated and savage when he said, "She gets $10,000 a month for 80 days of marriage. I think that should be good enough."
Well, the relationship was nerve-racking for both the parties, and now they have moved on with their partners. Annie Bakes is now happily married to a police officer while Dennis's third marriage with Michelle Moyer was a failure as well.
Don't Miss To Follow SuperbHub For More Updates On Celebrity Entertainment, Biography, and News.